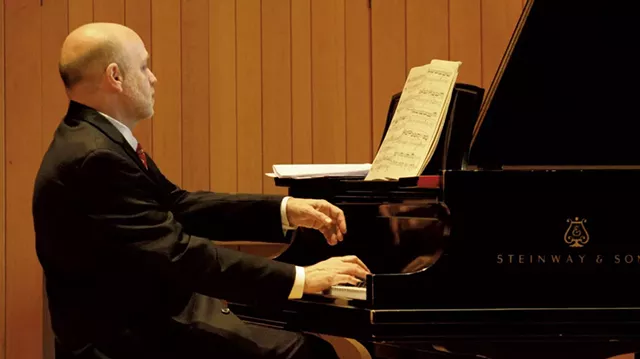 Courtesy Photo
Paul Orgel
In an earlier age — the summer of 2016 — Shelburne pianist Paul Orgel toured an all-Wolfgang Amadeus Mozart solo recital program intended to counter the anti-Enlightenment sentiments being promoted by then-presidential candidate Donald Trump.
"It was supposed to influence the election, but it didn't work," Orgel says drily. The pianist hasn't succumbed to despair, however. His solo recital this Friday, December 14, at the University of Vermont presents the music of a paragon of Enlightenment values: Haydn (1732-1809).
In "Music of Franz Josef Haydn: Sonatas and Variations," Orgel will play three of the composer's last four sonatas (two in E-flat, one in D); an early sonata in G minor; and the Variations in F minor. For an evening at least, rationality, structural clarity and invention will balance emotion.
Sonatas are one of the forms of music that Haydn pioneered, composing more than 50 of them. "He was an experimenter," says Orgel. (Haydn also pioneered the symphony, of which he wrote 104, and the string quartet, turning out 80 of them.) From the perspective of the pianist, Haydn's early Sonata in G minor is an "intriguing" oddity, Orgel says, while the later ones he'll play — also known as Hob.XVI:49, 51 and 52, after cataloguer Anthony van Hoboken — show the composer at his best.
"He did so many things in each genre, and he got better and better at all of them," says Orgel, who teaches at UVM. "Unlike Mozart, he lived a very long life, and the very latest things he wrote in all the genres are the very best ones."
Even in his last sonatas, Haydn was still experimenting. Hob.XVI:51 has only two movements and takes six minutes to play; the second movement, a two-minute presto, is playful and, according to Orgel, "comical."
Hob.XVI:49 contains the more standard three movements. Its slower middle movement — the adagio — plunges to great depths of feeling in one section, in which a sustained melody in the right hand plays over drama-building arpeggios in the left. Afterward, the movement returns to the wistful theme that began it.
Haydn, who was Mozart's friend and Ludwig van Beethoven's tutor, lived, like them, in Vienna at the peak of his career. Orgel confesses to an affinity for the Viennese trio. "I've studied fortepiano [the forerunner of the piano, the transition to which happened during Haydn's lifetime], and my grandparents were from Vienna," he says. "I've always felt close to that style."
Noting that Haydn's piano music isn't played as often as Mozart's or Beethoven's, Orgel muses over the reasons. "It's less public. It's more for diversion, more intimate, not obviously histrionic," he suggests. "Haydn wasn't a pianist; he wasn't writing [the pieces] to show off his piano playing the way Mozart and Beethoven both were. But he is showing off his wit and skill and invention."
Orgel explored music of a different era in his 2015 recording Suk, Chausson and Reger: Piano Music. But the CD's sensibility is similar: skilled interpretations of intimate compositions that lack the histrionics of those post-Romantic composers' better-known contemporaries, such as Sergei Rachmaninoff and Claude Debussy. Orgel is among Vermont's best solo pianists.
For a sense of what it's like to play Haydn, he recommends reading "Allegro," a poem by Tomas Tranströmer, a Swede who won the 2011 Nobel Prize for Literature. The final stanzas, in Robert Bly's translation, read: "The music is a house of glass standing on a slope; / rocks are flying, rocks are rolling. / The rocks roll straight through the house / but every pane of glass is still whole."
Imagine if that sensitivity and skill were brought to bear on the world outside the concert hall.