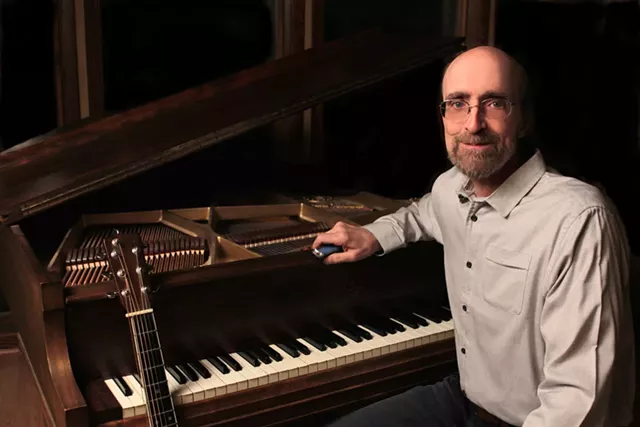 Steve Lankford
George Winston
As musical superstars go, solo pianist George Winston is a rather improbable one. Or, as the Chicago Tribune put it in a 1986 concert review, "Take a generous helping of Barry Manilow, add a touch of Frédéric Chopin, throw in a dash of Philip Glass and top it off with a sprinkle of Fats Waller, and you'll come up with one of the more unlikely piano phenomenons [sic] of the '80s: George Winston."
Journalist Howard Reich had it almost exactly right. And it's hard to fault him for the one minor misstep in that assessment, because how was he to know at the time? Winston is one of the more unlikely phenomena not just of the '80s but of the last 40 years.
The pianist exploded into the popular consciousness in 1980 with his landmark album Autumn. The record also established the label on which it was released: Will Ackerman's Windham Hill Records. Subsequent releases, including Winter Into Spring and Winston's most famous album, December, would catapult him — along with Ackerman and his label — to global fame as the biggest names in so-called new age music.
Winston, however, has long dissociated himself from that loaded genre term (Ackerman openly hates it, too). Instead, the pianist — who performs in his socks and often a flannel shirt — refers to his flowing, impressionistic style as "folk piano." And he's far more inspired by the seasons than any of the wishy-washy spirituality often (incorrectly) ascribed to his music.
Take his latest album, Spring Carousel, for example. Winston composed it while recovering from a bone-marrow transplant for myelodysplastic syndrome in 2013. But he makes no allusions to any higher power or grand purpose throughout the album's 15 tracks. Instead, these bright, circular compositions suggest something much smaller: a humble man pondering his mortality and hoping for the best — to see another spring.
Ahead of Winston's performance on Friday, December 1, at Middlebury's Town Hall Theater, Seven Days caught up with the composer by phone as he drove to a gig in Richmond, Va.
SEVEN DAYS: You drive to nearly all of your gigs. Do you have a fear of flying?
GEORGE WINSTON: I haven't flown in years. I prefer driving. I don't mind flying, but driving, you get the scenery, the seasons. And driving, the minute one concert ends the other begins. You begin thinking about the next concert while traveling to the next place. It's all part of it; it all adds in.
SD: And it's a great way to see the country.
GW: I think I've been on more roads than anybody in the history of the country. I'd love to work with the secretary of transportation. I would have some advice.
SD: Such as?
GW: Check all the bridges, don't make any roundabouts and only do one-way streets if it's a narrow alley.
SD: You're not a fan of roundabouts, huh? We have a rather infamous one here that no one seems to know how to use.
GW: Well, if there's a bunch of cars and no stop signs, you can't get on it. Nobody wants them in their neighborhoods. That's the way things are a lot. Like one-way streets — sometimes you've got to go 19 blocks to get lunch. So those are my three things: Check the bridges regularly, no more roundabouts or one-way streets. Two-way is good.
SD: You could run for office on that platform.
GW: Oh, no. I just want to give some free advice.
SD: Do you keep in touch with Will Ackerman?
GW: Oh, occasionally. He's real busy with the record company, and I'm swamped. But I send him new recordings when I've got 'em, and he sends me his.
SD: Did you send him Spring Carousel?
GW: I did, but I haven't heard back from him. But having a record company is like having a kennel of cats or a bunch of kids. It's a lot of work.
SD: So is doing it all yourself, I imagine.
GW: That's true. It takes a lot to keep yourself going. And then the medium is always changing. So, there's a constant [need to be] keeping track of everything.
SD: Has technology changed the way you approach your work?
GW: Not at all. I rely on my engineer, Howard Johnston, for all that. I've worked with him since 1982. He takes care of everything, even tone quality. I'm so focused on notes that I have no concept of sound quality, whether I'm hearing myself or anybody else.
SD: Hang on. You don't notice sound quality?
GW: I grew up listening to scratchy 78s. But I never heard the scratches, I just listened to the notes. The notes grab all my attention. I never even listened to lyrics until the Doors. To this day I don't hear lyrics.
SD: What? Really?
GW: It's like maybe some listeners don't hear chords. I have a very specific way of listening. You know, I've never danced in my life?
SD: Oh, come on. I feel like you're putting me on now.
GW: Why would I move my body when I'm listening to chords?
SD: Because it's a fun, natural response to music?
GW: I've never even thought of such a thing. I've played solo piano dances. But then I realized I have no concept of what's danceable. So, I have my own way of listening. But really, everybody does. I don't even really listen to melody much. And I certainly never listen to lyrics — unless it's the Doors.
They were just like one person with eight hands. The guitars, the drums, the organs, the lyrics — it was all one thing to me, for some reason.
SD: Why are the Doors so important to you?
GW: They're the reason I started playing. I played along with record players until I heard the Doors. Then I decided I had to get an organ and join a band. But that didn't work real well because I can't play and listen to anybody else. I didn't hear a thing anybody else was playing; I just knew how the song went. And I didn't think that was abnormal, which, for me, it wasn't. So I'm not good at playing with others. But that's all there was in 1967. Nobody played solo, unless it was classical piano or something.
SD: When did you realize you could play solo?
GW: When I heard Fats Waller in 1971. I always need a mentor to get me going. First it was the Doors, then Fats Waller. Then later it was Professor Longhair, James Booker and Henry Butler, New Orleans rhythm-and-blues pianists. That became my main focus on piano.
SD: Where did folk piano come from?
GW: Back in 1971, it was stride piano that Fats Waller did, and I came up with folk piano at the same time as a melodic style. The piano led itself toward simple melodies, so I called it folk as opposed to stride.
SD: How did Professor Longhair influence you?
GW: When I heard Professor Longhair in 1979, it took me until 2014 to come to terms with everything.
SD: Why is that?
GW: Well, if I tried to sound like him, it wasn't right. If I tried not to sound like him, it wasn't right, either. But I wanted to play his songs. So, it takes as long as it takes. It's about practice. It's about getting away from it. It's about life experiences. Apples are gonna bloom on the tree when the tree wants them to, not when I do.
SD: When you're interpreting the likes of the Doors or Vince Guaraldi, how do you know how much of yourself to impart and how much of the original to leave intact?
GW: When I'm interpreting a song, I'm, of course, loving what the original composer did, but I'm also converting it into a solo piano piece. So, what does the piano want? What do I want? All three things have to come together. Composing is similar sometimes — it's a good idea, I have a picture of it in my mind, sometimes I'll switch keys. Lowering the key can fatten up a song a certain amount, or raising it up can bring more lightness.
SD: There's nothing like a good key change.
GW: I'm glad there's 12 keys. To me, the piano is like 12 instruments. Each key is its own thing, its own shape or color. So, it's good to have 12 options.
And I like to have the option of guitar or harmonica, too. Because some songs just come to life on a different instrument. It doesn't work on guitar, but you play it on harmonica, and it comes to life, and you know it when it does. It's like if you're giving artificial respiration to someone or a cat or something, you know when it comes alive.
SD: A cat?
GW: I used to have a very old cat. And once in a while I'd put my head up to her chest and go, "Are you still breathing?" But, yeah, I guess that's a little off topic.
SD: Are you looking forward to coming back to Vermont?
GW: It will be good to be back in that part of the world. Everybody loves Vermont. Is it still part of the Union?
SD: Barely.
GW: Someday there will be 50 little countries, kind of like the old Soviet Union. Things change all the time. I keep having to get a new globe. But that's the way existence is. Change is hard, but consider if it wasn't. I think that would be even worse. It's like cats: They don't live as long as we do, so you get to have a lot of them over the decades.