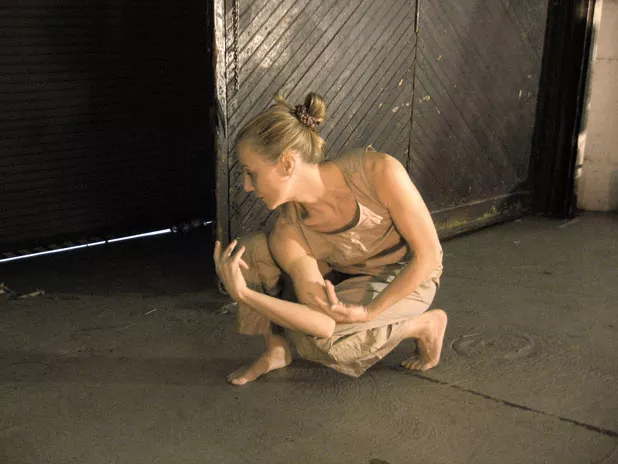 Of all the performing arts, modern dance is perhaps the most ephemeral.
Unlike symphonies, operas and musicals, which harden into the bedrock of cultural tradition, modern or experimental dance pieces tend to have an impermanent quality, associated as they often are with particular charismatic performers at a particular moment. Pieces choreographed and performed decades ago don't often resurface as part of the modern repertoire — and that's what makes an upcoming dance festival at the Flynn so unusual.
Thanks to funding from a National Endowment for the Arts endeavor called American Masterpieces: Three Centuries of Artistic Genius, the Flynn Center is hosting a four-day dance event that features the recreation of two major works of the modern dance oeuvre. The centerpiece of the "Physical Intelligences" festival is a reprise of two masterworks — "Necessary Weather" (1992-94) by Dana Reitz, Jennifer Tipton and Sara Rudner; and "White Dance" (1976) by Eiko & Koma. The festival also offers workshops by the artists, a discussion with noted dance critic Suzanne Carbonneau, and a showcase of noted New England choreographers.
Flynn Artistic Director Arnie Malina says he knows that bringing this kind of festival to Vermont is risky, but he thinks it will draw audiences from around the region. It's not often that Vermonters get to see back-to-back pieces created by internationally renowned choreographers.
"Necessary Weather" first saw the light of day in 1992 and was performed all over the world. Choreographer Reitz, who now teaches at Bennington College, is known for her graceful style, and her piece reflects this, Malina says. It's performed entirely without music, which allows audiences to focus on the movement and the lighting, a central component. Tipton, a 2008 MacArthur Fellow who is considered the best lighting designer in the U.S., created the illumination for "Weather," which is as much about how the artists experience the light as it is about their movement on stage.
"White Dance" was first performed in 1976 by Eiko & Koma, Japanese artists who had just immigrated to the U.S. Known for their site-specific work, the two have danced in Vermont before; during their most recent visit, they performed a piece in the Winooski River. MacArthur Fellows Eiko & Koma have won every major dance award in the U.S. and continue to perform, despite being older than most dancers.
Their age makes the piece even more special now, suggests Malina. "This is a beautiful experience of mature dancers practicing their craft," he says. "There are no leaps in the air. It's very elegant movement."
The regional showcase, a day after the masterworks, gives local dancers and choreographers a chance to perform for a broader audience. Selene Colburn, a Burlington choreographer who is arranging a piece called "Twin Study" for the event, says the weekend works equally well as an introduction to experimental dance and as an exploration of the history of modern movement.