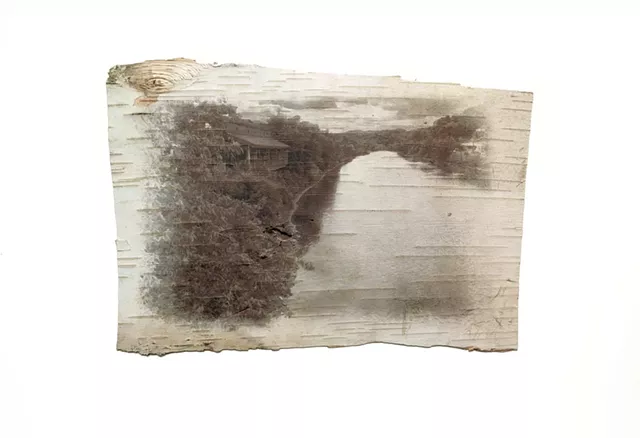 Courtesy
"Sarducci's, Montpelier"
Richard Moore's cityscape photographs could not be described as psychedelic but nonetheless call to mind the visual legerdemain that Aldous Huxley detailed in his seminal 1954 book, The Doors of Perception. In Moore's images, viewers are met with a murky sense of both reality and time: Are these pictures old or new? What exactly are we looking at here?
And yet one source of the mystery is in plain sight: birch bark. Moore, who shoots with a digital Fuji camera, prints the black-and-white photos directly onto this organic substrate, which does not aspire to the predictable behavior of paper.
The photographer, who moved to Vermont from New Hampshire in 2020, opened an exhibition of 25 works last Friday at the Front in Montpelier. Titled "Urban Revision," the collection depicts buildings and other infrastructure in Burlington and Montpelier. Some are readily identifiable, others less so. Though the photos themselves are straightforward, the bark's patterns and textures lend them an enigmatic beauty and roguish topography. Think ridges, feathery curls, random bumps and whorls. One work even supports a tiny oasis of moss. ("Water lightly," Moore jokes in a printed list of the photos.)
Moore said he became interested in bark while working on photographs of roots and began to collect samples from dead trees in New Hampshire and Vermont. His photographs are minimally framed in unpainted maple, and Moore left all but one of them sans glass. This was wise; it's easier to appreciate the dimensionality and, well, the barkiness without it.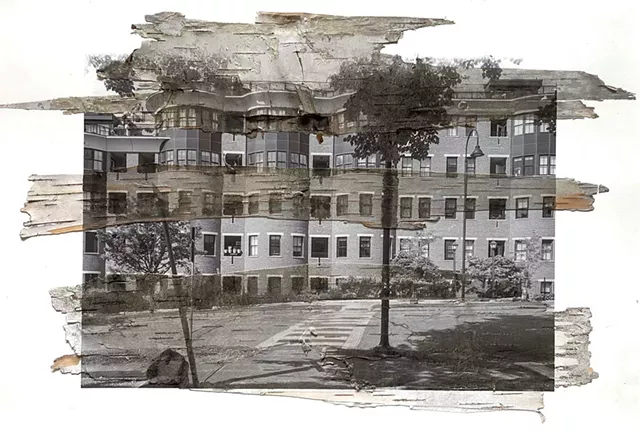 Courtesy
"College and Battery, Burlington"
Many images are printed on larger, roughly rectangular panels of bark, such as "Sarducci's, Montpelier." Shot from a location upstream, the serene, lovely image features a glowing North Branch of the Winooski River alongside the longtime Italian restaurant, which peeks out of tree cover on the left. The print's soft, irregular contours recall the impressionistic photos taken with vintage plastic-lens cameras such as the Diana.
Other compositions include jagged bark that looms like ruins or shadowy towers over the photo of an urban setting, as in "Back of State and Main, Montpelier." A few works, including "College and Battery, Burlington," employ several horizontal strips of bark crossing the image. The latter works in particular have an embattled appearance, like photographs squirreled away by previous generations and rescued by their grandchildren.
Moore's front-window dressing might lure passersby into the petite gallery: Bark pieces in a variety of shapes, sizes and stages of decay are deftly scattered about. Standing like sentinels over them are slim birch branches anchored in a plank of wood — de facto little trees. The scene is illuminated by LED lights set within columns of curled bark.
So enamored is Moore with the beauty of bark that he attached tiny, brooch-like pieces to squares of paper as mementos for visitors. One particularly large and handsome sheath of birch hangs on the wall alone, design courtesy of Mother Nature.
Courtesy
"The Savoy, Montpelier"
Moore said he retired in 2005 from a career in wildlife conservation and returned to his earlier pastime of photography. For the next 14 years, he experimented with another form of visual time travel: projects he called "twice-seen images." Working with vintage photographs in historic sites, he shot from the identical location and angle, and set an excerpt of the old photo within his new one. The boundaries between the images are virtually seamless, yet the compositions are startling testaments to the changes wrought over decades or centuries. Witnessing that implacable march of time in images on his website, it's hard not to feel a little melancholy.
Moore's "Urban Revision" photographs, created over the past two years, evoke a similarly pensive reaction. But by manipulating the conventions of his medium with birch bark, he gently encourages a more expansive way of seeing. A viewer might perceive an overlay of the natural world on the built one or an intrusion of humans on the landscape; either notion can ramble down a contemplative path.
Observing our environs through birch bark won't result in enlightenment, alas, but Moore's exhibition might just nudge the doors of perception ajar.