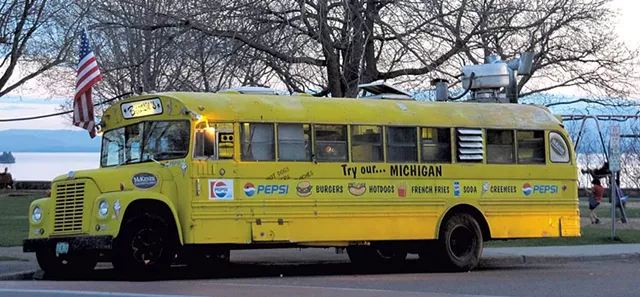 Courtesy Of Megan Humphrey
Photos from the "ONE Perspective" exhibit
The yellow Beansie's Bus half buried in snow outside the Burlington Police Department. Kitchen staff prepping meals at the Integrated Arts Academy. Stickers plastered across the front door of the Olde Northender Pub. Laughing African women in bright floral dresses. A hand-painted sign that reads, "Art saves lives."
What do these images have in common?
Longtime residents of Burlington's Old North End will recognize many of the people, places and events captured in "ONE Perspective," an exhibit of 1,200 photographs taken by Megan Humphrey. The name of the exhibit refers to the common acronym used for the Queen City's oldest and most ethnically diverse neighborhood, as well as the show's singular point of view: Humphrey's. She took all of the photos of the area over the past two decades.
"My camera is with me all the time. I'm always taking photos," explained Humphrey, a social worker by training who is founder and executive director of HANDS (Helping and Nurturing Diverse Seniors), a Burlington nonprofit that provides food to low-income seniors. "I love the sunset from Battery Park, but I also love the stuff on somebody's porch and icicles hanging off a roof," said Humphrey of her images. "So [the show] is a huge cross section of what I think is interesting to photograph."
Courtesy Of Megan Humphrey
Photos from the "ONE Perspective" exhibit
The exhibit's venue and presentation seems apropos given its subject matter. Humphrey, who's lived and worked in the Old North End for 40 years, hung the 4-by-6-inch prints throughout three floors of the Center of Recreation and Education at the ONE Community Center, home to a diverse assortment of community and arts organizations, including Robin's Nest Children's Center, Very Merry Theatre and the Association of Africans Living in Vermont.
Humphrey displayed her photos using clothespins on clotheslines, à la laundry hanging to dry. Many of the pictures share space with the colorful tapestries that were already hung on the walls of the multipurpose building. On a recent midday tour of the show, the enticing aromas of ethnic food being prepared in the kitchen further enhanced a reporter's viewing experience.
Humphrey, a 61-year-old New England native, has a side business selling handmade greeting cards through her company, Sweet Basil Cards. She has no formal training in photography — but her father was an accomplished amateur landscape photographer and bought her a small Kodak camera when she was a child. After Humphrey's mother died, when she was 18, photography became a way for her and her dad to cope with their grief and "lose ourselves in taking photos."
There's no rhyme or reason to how the photos are displayed in "ONE Perspective," either thematically or geographically. As Humphrey put it, "It's very random and all over the map." She applied the same physical boundaries to frame her choice of photo locales as that of the Old North End Arts & Business Network: Pearl Street on the south, Lake Champlain on the west, the Intervale on the north and the Winooski River on the east. Humphrey said she tried to capture as many streets of the Old North End as possible.
Courtesy Of Megan Humphrey
Photos from the "ONE Perspective" exhibit
Otherwise, the presentation is arbitrary: A photo of a rotting jack-o'-lantern on someone's porch is next to one of a row of campaign signs, which in turn hangs beside an image of a fire engine parked outside a burning church.
Some of the images are immediately identifiable, such as the brightly painted houses renovated by Burlington builder Stu McGowan. Others capture fleeting moments in time, such as the former Burlington College building on North Avenue being converted into the headquarters of the Committee on Temporary Shelter, or a Habitat for Humanity house being built. Still others recall neighborhood history, such as an interior shot of Bove's now-closed restaurant.
Humphrey lives with her partner, Terry Hotaling, in an 1890s house on St. Louis Street. She said they often unearth remnants of the past — old marbles, broken shards of pottery, toy cars — while gardening in the yard. "I'm really cognizant that I'm walking around on all this history," she said.
Indeed, though "ONE Perspective" began as a Kickstarter campaign to display two decades of photos, Humphrey has since decided to expand its scope. She recently partnered with Laura Hale, founder and president of the nonprofit ONE Good Deed Fund, to create a website aimed at preserving the history, photos and stories of the Old North End.
Courtesy Of Megan Humphrey
A mural by Maggie Standley of Wingspan Studio
That effort, called simply the ONE Neighborhood Project, asks residents to go to the website, fill out an online form, and upload photos and histories of their house, street or neighborhood.
Eventually, Humphrey would like the project to incorporate archived audio files as well, à la the StoryCorps series broadcast on public radio. "If you move into a house, you might know the story of it, but nobody else might know that," she explained.
Humphrey admitted that while she was hanging "ONE Perspective," she experienced a tinge of self-doubt about the artistic merit of her photography.
"Is this good enough? Are the photos interesting enough?" she recalled thinking. "When it becomes public, people will let me know."
As she explained her moment of self-doubt, she noted a gap in the photos — apparently, someone had walked off with one of her prints. And Humphrey had her answer.