Courtesy Of Bmac
"Mamie"
What do goats, Pride paraders and porn stars have in common? The answer is photographer Dona Ann McAdams, who always has her subjects' backs while capturing their fronts — and sometimes affronts.
McAdams' remarkable career of agitprop and empathy takes center stage in "Performative Acts," an exhibition curated by Vermont State Rep. John Killacky (D-South Burlington), the former executive director of the Flynn Center for the Performing Arts in Burlington. Currently on view at the Brattleboro Museum & Art Center, the retrospective features dozens of McAdams' black-and-white photos spanning four decades of her work.
Killacky first met McAdams in the late 1980s at P.S.122, the seminal venue for avant-garde performance in New York City. McAdams was working as the house photographer; Killacky, an artist and curator, writes in an introduction to the "Performative Acts" exhibit that he "found inspiration, talent and a community of intense purpose" at P.S.122.
When Killacky moved to Vermont decades later, he reconnected with McAdams. She was by then a living legend with work in the Museum of Modern Art in NYC, the Whitney Museum of American Art, and the Museum of Contemporary Art in Los Angeles, and she was raising goats on a farm in Sandgate, Vt. McAdams was still using her Leica to focus on invisible and marginalized communities.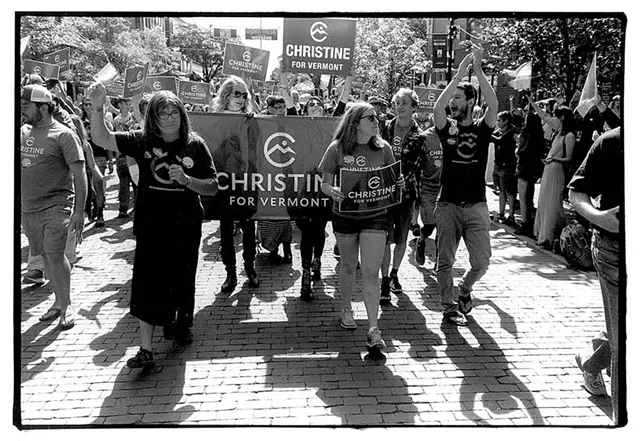 Courtesy Of Bmac
"Christine Hallquist Pride Parade, Burlington, Vermont"
In his tenure at the Flynn, from 2010 to 2018, Killacky hosted selections of McAdams' photography several times, but a full-scale retrospective of her work evolved from conversations last year with Danny Lichtenfeld, director of the Brattleboro Museum. Thanks to their shared desire to highlight McAdams in Vermont, "Performative Acts" opened at the museum on June 22.
McAdams' 40-plus years of working at the intersection of art and activism was perfect for "our museum, our audience and this moment in time," Lichtenfeld says. "The work is incisive, uncompromising and forthright, just like the artist herself."
As for Killacky, he was "thrilled to work with McAdams again, to visit her farm and studio and select a sampling of her resplendent black-and-white images." Collectively, they invite "the viewer into the particularity of place and the innate humanity of her subjects," he writes.
Seven Days caught up with McAdams by phone at her goat farm.
SEVEN DAYS: In 1975, you happened to walk into Harvey Milk's camera shop on Castro Street in San Francisco to get a roll of film. How did your work — and your world — change from that auspicious meeting?
DONA ANN MCADAMS: I was 21, and sitting in on classes in the evening at the San Francisco Art Institute because I couldn't afford to enroll. I was taking black-and-white pictures of landscapes and traditional San Francisco topography, as well as street scenes. I was a fledgling activist then. I was eager to get abortion legal. I protested America in Vietnam.
My teachers taught me how to make art, but Harvey Milk taught me how to use that art for social change. I took photographs before. Then, I started to make photographs. Since then, the artistic and the political have been inseparable for me.
Courtesy Of Bmac
"The Sisters of St. Mary's Convent Northern Spy Farm, Vermont"
SD: You're originally from Queens. When did you come back east?
DAM: When Harvey was assassinated in 1978, I had to leave San Francisco. I moved to Brooklyn. I started taking pictures of the gentrification on the Lower East Side, of Pride parades and of women. Always of women, lots and lots of women! Life was too fragile and unfair not to fight for what I believed in. I used the tools I had — a camera and the remaining Tri-X film from Harvey's shop.
SD: What do you want us to see in your photographs of racetrack workers, asylum seekers, the mentally ill, the homeless, AIDS activism, the queer liberation movement and even nuns with goats?
DAM: See them! Look at people who are often invisible. Get a sense of who they are and how righteous they are. Feel compassion, awareness and love. Maybe you want to do something as a result.
SD: You invite your subjects to take photographs for and of themselves. Why?
DAM: Unless you give them the camera to take their own pictures, you are objectifying them. In 2004, I became a licensed hot walker at the Saratoga race track in order to better understand the race horses and the people who care for them. I ended up running a photography workshop on the backstretch for grooms, exercise riders, maintenance people and kitchen staff. I wanted them to have representation of their work and lives.
In 2011, the National Museum of Racing and Hall of Fame celebrated the photographs the workers had created with an exhibition and catalog.
SD: Some of your black-and-white photos are also hand-colored. How did that come about?
DAM: I spent every Friday morning in Coney Island, for 14 years, running a workshop program that catered to people who were living with mental illness. I took pictures of everyone, and they liked looking at the pictures. One day, a person named Jane Smith picked up a crayon and went to town on one of the photos. Others joined in. Then, I started printing my photos on a matte-surface paper to hold their color better. The resulting work of colored photos went on the center's bulletin board and went home with the artists themselves.
Courtesy Of Bmac
"Turkey Point Nuclear Power Plant, Miami, Florida"
SD: Tell me about the photos of three women juggling in front of the Three Mile Island Nuclear Power Plant. You're the one in the middle?
DAM: Yes. A year after the accident happened, I took a cross-country road trip with friends, and I photographed several nuclear power plants. "They're Juggling Our Genes" is the text I put on a poster with the photograph and also used on the cover of my artist book, The Nuclear Survival Kit. It refers to human error, like dropping a ball. There is no survival from nuclear waste or weapons. It's meant to be funny, but it's not funny. It's dark humor.
SD: When did you move to Vermont and how did you get into the craft of making goat-milk cheese?
DAM: My husband, novelist Brad Kessler, and I were ready to get out of New York City after living there for a long time. We spent two years searching five states for the right place. In 1998, we moved to Vermont. I knew the lore of the goats, but I didn't know much about caring for them. Goats are anarchists. Goats are underdogs.
We started with a simple raw-milk cheese. Now, our Northern Spy Goat Song Tomme is sold at Clear Brook Farm in Shaftsbury and at the Brattleboro co-op. Brad's [book] Goat Song [A Seasonal Life, a Short History of Herding, and the Art of Making Cheese] was published in 2009.
This interview has been edited and condensed for length and clarity.