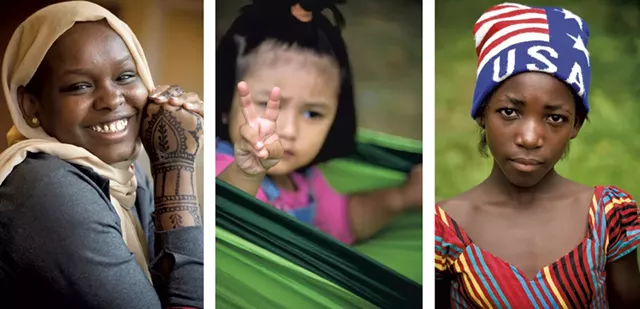 Courtesy Of Carley Stevens-mclaughlin
Photography by Carley Stevens-McLaughlin
In one photograph, three Somali boys sit waist-deep in coffee-bean sacks. In another image, a Yemeni woman wearing a head scarf offers a broad smile. In yet another, a preschool-aged Bhutanese girl flashes a peace sign.
"Sanctuary: Seen, Heard and Respected," an exhibit now on view in the O'Brien Community Center in Winooski, features 31 portraits of New Americans who attended World Refugee Day events in Chittenden County in June 2017. The color images were all shot by Carley Stevens-McLaughlin, a Colchester-based documentary photographer and educator with more than three decades of professional experience. The exhibit, she explained, is the first step in a larger project aimed at publishing a book, her second, about refugee youths whose families settled in the Green Mountain State.
Though Stevens-McLaughlin isn't a household name, her images and signature style — tightly cropped portraits of everyday Vermonters — will be recognizable to many. Her photos have been featured in several documentaries by award-winning Barnet filmmaker Bess O'Brien, including the 2011 film Ask Us Who We Are, about youth in Vermont's foster care system, and 2013's The Hungry Heart, about opioid-use disorder in rural communities.
In an interview, Stevens-McLaughlin said that she and O'Brien met about 15 years ago when the filmmaker saw her first book: Public Faces, Private Places, a self-published compilation of mostly black-and-white portraits of Vermont teens, released in 2002. The photographer met with each of the book's subjects twice: once to capture the "public face" that they show the world — a spiky Mohawk, multiple piercings, Goth makeup, wrists covered in bracelets — and a second meeting to capture their "private face," which society would find more youthful and vulnerable.
After seeing the book, O'Brien invited Stevens-McLaughlin to serve on the advisory board for The Voices Project, a 2005 original musical based on the lives of Vermont teens. Stevens-McLaughlin now serves in a similar role for O'Brien's follow-up musical, the Listen Up Project, which is scheduled to tour the state in the fall of 2020.
"Carley is a deeply sensitive photographer [who] captures the essence of the people she is shooting," O'Brien wrote via email. "Her ability to reveal what lies beneath comes through in all her work."
Stevens-McLaughlin, 62, describes herself not just as a professional photographer and photography educator but also as a youth advocate. The Newport native grew up in Montpelier and West Palm Beach, Fla., and was first introduced to shooting in a 10th-grade photography class. However, she nearly dropped the class because her teacher spent the first three weeks talking only about the chemistry of photography.
"I felt like I was stupid," she recalled. "I just wanted to play with a camera."
But Stevens-McLaughlin stuck with it and went on to pursue a bachelor's degree in photography from Goddard College. In 1987, she created the first student-photographer internship at the Barre-Montpelier Times Argus and, after graduating in 1988, worked as a photojournalist for the Stowe Reporter for two years.
Courtesy Photo
Carley Stevens-McLaughlin
Then, in 1992, Stevens-McLaughlin was awarded a $10,000 grant from the National Endowment for the Arts and the Vermont Arts Council to teach photography at Montpelier High School, where she worked part time until 2010. She also taught part time at Union 32 High School in East Montpelier and at what was then called Johnson State College.
Even in the era of pre-digital photography, Stevens-McLaughlin said, she was always more interested in helping students develop an eye for imagery and composition than having them fixate on the technical aspects of photography.
"Show us your world. Show us who you are. We will honor that," she'd tell her students. "I will never have a student leave my darkroom classroom and feel like they can't be a photographer" because they can't grasp the science behind it.
Stevens-McLaughlin's exhibit "Sanctuary: Seen, Heard and Respected" was actually born from a personal tragedy. On January 10, 2010, her son, Taylor, was killed in a car crash on the Burlington Beltline. Unbeknownst to his family, Taylor had befriended many of the teens from the local Sudanese community.
At his funeral, she recalled, many of those Sudanese youths stayed until the end, approached her afterward and told her, "Taylor was our brother. He was helping us." So she created a nonprofit in his memory called Taylor's Sudanese Mission for Peace and asked people to send donations to the Vermont Refugee Resettlement Program.
In the years following Taylor's death, she continued, Stevens-McLaughlin created a project called Parenting Across the Veil, about those who've lost children to tragedies. Initially she planned to produce a second book about that project as part of her master's degree program at Goddard, but, after five years, she found the work too emotionally draining to continue.
Stevens-McLaughlin said she'd long fantasized about being a war photographer and capturing images of the powerless civilian populations caught in the crossfire. But it wasn't until a friend of hers from Goddard, Brenda Bowyer, visited her in Winooski in 2017 that the idea for the "Sanctuary" project was born.
"She said, 'Carley, you don't have to travel to have seen war. Look around you. You have your next book right here,'" she recalled Bowyer saying, referring to local refugee population. "I was blown away."
Because of her relationship to the VRRP and the local African community, Stevens-McLaughlin began photographing New Americans during a trip to the United Nations in New York City in 2017.
Since the photos on display in the O'Brien Center include both children and adults, most won't be included in her upcoming book, which she hopes to publish next year. As Stevens-McLaughlin explained, she wants the book to focus exclusively on the experiences of refugee youths who've relocated to Vermont and feel torn between the traditional world of their parents and the Americanized world of their peers.
Though she doesn't have a title for her next book yet, Stevens-McLaughlin quotes a song lyric by recording artist Mandisa: "'We all bleed the same.' That is my premise for everything."