Brittany Powell
Self-portrait, "Debt Portrait #99, Middlesex, VT 2020"
Debt doesn't disappear during a pandemic, and it's a huge weight on the shoulders of those who carry it — especially if they've lost their jobs. Photographer Brittany Powell knows this firsthand from a previous global crisis: the economic collapse in 2008. Living in California at the time, she racked up serious debt as her gigs with clients dried up.
Powell decided to return to school for a master's degree in fine arts, but she knew it would be impossible unless she filed for bankruptcy. So she did.

"It was a really stressful time. I was putting groceries on my credit card so I could pay my rent with cash," Powell said. "I associated a lot of shame with [my debt]. I really equated it to this huge sense of failure."
Today, Powell lives in Middlesex with her husband and baby. She teaches photography at Norwich University and is associate director of the graphic design program at Vermont College of Fine Arts. It's been seven years since she filed for bankruptcy, so the derogatory mark finally came off her personal financial record this year. During this time, Powell produced the Debt Project, photographing 99 people who were also in debt and recording their stories. The results will be published in a book this fall.
"I had no idea what it would feel like to photograph 99 people," Powell said, reflecting on the project by phone with Seven Days. "Sometimes it was absolutely gut-wrenching ... There were numerous occasions where I sat in my car afterward and sobbed, because they were such frustrating situations."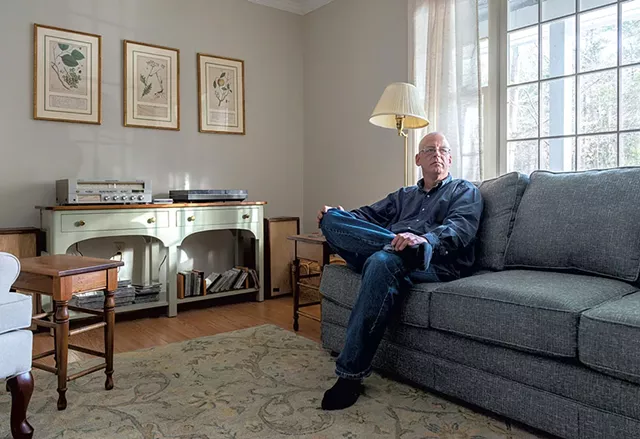 Brittany Powell
Robert Kuhl, "Debt Portrait #85, Bedford, NH 2020"
The project began with people Powell knew or met through friends. Then she began traveling, placing ads on Craigslist or reaching out to local community organizations. Complete strangers across 18 states invited her into their homes to talk about their personal finances and be photographed.
"It was something that people thought about a lot," Powell said, adding that most participants "had a pretty strong feeling about what their situation was and why they were in it." But, she said, "most of the people that volunteered, they were like, 'I can't believe I'm doing this.'"
Powell discovered a dichotomy in the way people spoke about their debt. Many of them recognized that the economic system was working against them, and in some cases they felt like victims. But they also often blamed themselves, at least somewhat.
"It's definitely a catch-22. In order to obtain a certain kind of financial wealth, you actually have to take on debt," Powell said. "There's no other way to move forward in a lot of milestones that we've created in this society."
Powell's project was written up in the Washington Post, USA Today and Slate in 2015, which led more people to reach out to her. She applied for grants to give each participant a small honorarium for their time — $25 to $50 at various stages of the project.
"[For] the majority of people, [debt is] a huge weight on their lives. It prevents them from feeling like they can move about the world in a financially free way," Powell said. "I met people who said that they had decided not to have kids, because they had too much debt."
The photos themselves show the subjects seated in their living rooms or at dining room tables. The wide-angle shots show part of the living area and some of the person's possessions: bookshelves, kids' toys, artwork. In most images, the subject looks directly into the camera.
Powell has done a lot of documentary photography in which she was a proverbial fly on the wall, observing people's lives and chronicling everyday candid moments. But for the Debt Project, she chose to give her subjects some control over the photo, to have some agency in how they were represented.
"I wanted people to look empowered and feel empowered," Powell said.
Brittany Powell
Sierra Hawksley, "Debt Portrait #74, Telluride, CO 2019
Handwritten notes on debt from the subjects accompany the photos. One woman in Colorado wrote that she had student loan debt for medical school but had to drop out after a head injury. Those medical bills brought her debt total to more than $100,000. A New Hampshire man had the misfortune of graduating law school only to be laid off in the 2000 dot-com bubble crash — and then, after he went back to school, graduating again during the 2009 recession.
"Will have this debt for the rest of my life," he wrote. "I'm 56 now."
Powell spoke to each participant about the potential backlash of putting private financial information into the public sphere. "You're going to have people say nasty things about you," Powell warned them. "People have a lot of opinions about it."
That proved true when the project was published on a news website. Powell said one commenter wrote, "I don't feel sorry for these people at all. That woman has a really nice couch."
Powell's ability to make people comfortable speaking about stigmatized topics stemmed from her own experience with debt — which isn't entirely in the past. Today, she has more debt than before she filed for bankruptcy, a result of graduate school student loans, car payments and her mortgage. Her 99th subject for the Debt Project? Herself.
"After interviewing close to 100 people about their debt, I have a totally different perspective about it," Powell wrote to accompany the photo. "It doesn't keep me up at night, though I realize it's a precarious relationship and things can change in an instant. I wish our economy functioned differently, but if you can't beat them, join them, I guess."