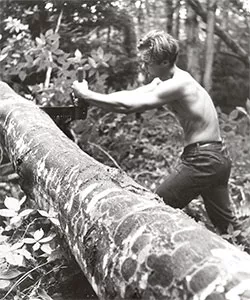 Wes Frost working one end of a cross-cut saw
They didn't look like hippies. But appearances can be deceiving.
The short-haired men and the primly skirted women who sought refuge in Vermont from mid-20th-century American society were, if anything, bolder in their bohemianism than the celebrated communards who arrived a generation later. The views and experiences of these unsung pioneers of the back-to-the-land movement are documented in a current photo/audio show at Middlebury's Vermont Folklife Center.
About 50 photos of this set of pilgrims who quested for utopia — or at least for "the good life" — are accompanied by a dozen oral reminiscences that visitors can listen to on headsets. The black-and-white pictures were taken by Rebecca Lepkoff, now 94. Known at the time for her photographic chronicles of working-class Jewish life on the Lower East Side, Lepkoff left New York in 1950 to settle among the dissenters who had begun congregating in the Pikes Falls section of Jamaica, Vt.
Her portraits and scenes of everyday life there compose a sort of alternative family album. Children with names such as Rosa Luxemburg pose with their smiling parents in rustic settings. Draft horses pull log-laden wagons; folk dancers frolic in a field; women cut beans against the backdrop of a barn and distant mountain. These straightforward shots hold a certain historical interest, but it's the text panels and, most of all, the brief oral testimonies that make them meaningful and moving.
A photo of community member Norm Williams playing the accordion is paired, for example, with his recollection of how it was to be a pacifist during World War II: "Our convictions and our goals in life were completely at odds with what was a huge war-making machine. [The United States] was not a congenial society at all for people of our point of view."
"Sustainability" may not have been a term they used, but in their rejection of consumer culture and their commitment to self-sufficiency, these neophyte farmers gave early expression to what's now a familiar aspiration.
Living a radical life 60 years ago in rural Vermont was no idyll, as resident Peter Wendland recounts in one of the audio segments. He notes that Scott Nearing, the central figure in the Pikes Falls community, had a family trust fund to draw from but nonetheless worked long hours in a sugarbush with 7300 taps.
Nearing and his wife, Helen, are featured in a couple of Lepkoff's shots, but they're not positioned as the stars of the show. It's the anti-authoritarian community itself that comes into focus through Lepkoff's lens.
Not enough is shown or said, however, about the back-to-the-landers' interactions with the locals who had never left the land. The show contains references to efforts at establishing friendly relations, but also hints that the radicals couldn't bridge the cultural chasm they encountered in deeply Republican Vermont.
Today's younger counterculturalists can learn through this show that the vision of a green and peaceful society didn't originate with 1960s dropouts; it extends way back into America's — and Vermont's — history. As Pikes Falls resident Elka Schumann points out, "There have been bohemians for generations. Scott and Helen didn't invent it. They kind of rode the next wave."