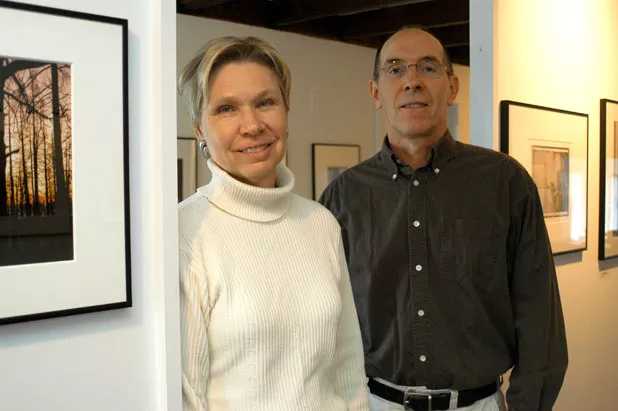 Kristen Hoving and Rick Clark
The oldest surviving house in Middlebury has been transformed into the newest addition to this suddenly artsy town's lengthening list of museums and galleries.
With PhotoPlace Gallery joining The Art House, Jackson Gallery at Town Hall Theater, the Middlebury College Museum of Art, Vermont Folklife Center and Henry Sheldon Museum, Addison County's shire town is becoming one of Vermont's premier cultural destinations. And the art attacks just keep on coming: Edgewater Gallery will soon open in the Frog Hollow building vacated early this year by the Vermont State Craft Center.
It was the loss of the 38-year-old craft center that inspired business and life partners Kristen Hoving and Rick Clark to open PhotoPlace on nearby Park Street in June. "The town seemed kind of bleak when Frog Hollow closed," Hoving explains. "We wanted to contribute to perking things up."
The couple was further motivated by the fun they had curating a photo show at Jackson Gallery in March. "That made us think, 'Let's just do it, despite the bad economy,'" Hoving says.
Their financial risk-taking has been rewarded. It helps that Hoving holds a tenured art-history professorship at the college, but the $25 fee PhotoPlace charges artists for five submissions to one of its monthly juried shows more than covers the gallery's rent. Hoving says close to 125 photographers paid the fee to enter the judging for "Reflections," the exhibit that opens October 8.
"Photographers are really hungry for a place to show their work," she observes. Submissions arrive electronically from all over the country — mostly from "skilled amateurs," but from a few established artists as well, Hoving says.
The breadth of styles and subjects allows PhotoPlace to "show this community what's happening around the country," she adds. And that wide lens distinguishes the Middlebury gallery from many Vermont venues. PhotoPlace is decidedly nonlocal in its focus, although its jurors — who consider submissions without seeing photographers' names or addresses — do choose the occasional Vermonter for inclusion in a show. Suki Fredericks of Leicester, for example, had a shot of her husband, dairy activist James Maroney, selected for the "Dreams and Fantasies" show that recently closed.
"It's easy to fall into the 'pretty colored leaves and snowbanks' genre," Hoving says. "That's not what we're interested in doing here. We're trying to push beyond that and to widen horizons."
Middlebury residents, tourists and visiting parents of college students are responding favorably to the gallery's approach. Hoving says she's sold a few photos from each of the half-dozen shows she's staged so far. PhotoPlace takes a percentage of the price set by the artist, she explains. The gallery further supports itself by representing about a dozen photographers, whose books or portfolios are displayed for browsing. Those artists — again, mostly based outside Vermont — pay PhotoPlace a yearly fee and keep the full amount of any sale made through the gallery.
The 40 or so photos to be displayed as part of "Reflections" will conform with the concept suggested by the show's title: They'll be mirrored images captured on wet pavements and car hoods, in bubbles and rain drops. Some may be surreal, a style Hoving personally enjoys both academically — as an art historian, she specializes in the surrealism movement of the 1920s and '30s — and in her own photography.
Almost anything hanging in PhotoPlace benefits from its quirky, handsome surroundings. Clark, a former carpenter, renovated the first floor of the 220-year-old building, accentuating the contrast between its thick wooden beams and white plaster walls. A bowed ceiling, sloping floor and slanted door frames reveal the interior's age and cause some of the photos to appear off-kilter even though Hoving hung them straight. "It's kind of crazy," she says. "It can make you dizzy.
"But it's still a great place for showing photography."