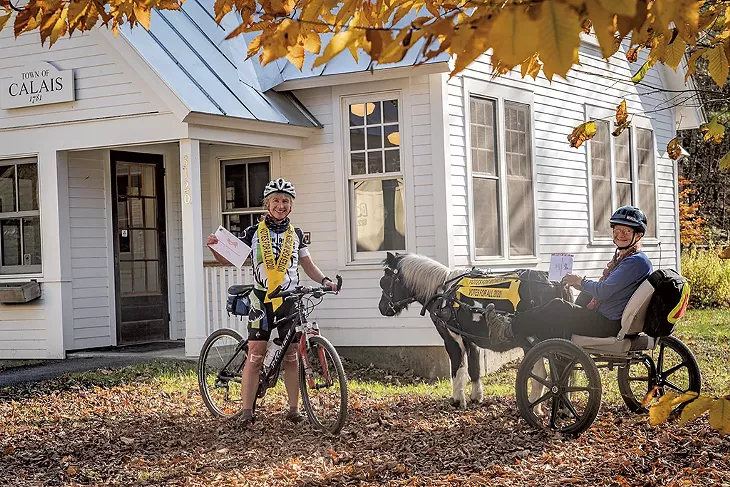 11 slides
The 2020 U.S. General Election is almost here. And, in Vermont and all over the country, voting is already in full swing. Record numbers of Americans from coast to coast are showing up to polling places early or casting mail-in ballots. According to the Vermont Secretary of State's Office, as of October 19, Vermonters had returned 159,064 early or absentee ballots, surpassing the previous record of 95,000 such ballots sent in the 2016 election. That number is nearly half of the 320,000 total votes Vermonters cast in the 2016 election. And there are almost two weeks to go until Election Day on Tuesday, November 3.
"It's a really important election," said Terry J. Allen, an East Montpelier photographer who has spent the past several weeks documenting Vermonters as they cast their ballots. "I wanted to show a cross-section of Vermonters mailing or bringing their ballots to the town clerk and voting this year," she said.
"Voting is an essential component of democracy," Allen continued. "But it is only one of many steps needed to ensure that we have a just and compassionate government that serves and protects people."
Allen, a 25-year veteran of print journalism who transitioned to photojournalism "in the past five or 10 years," has trained her lens on central Vermont voters from different socioeconomic backgrounds and across the political spectrum. Regardless of their political leanings, she said, the voters she's spoken with expressed a universal sense that this election matters.
"People care a lot," Allen said. "People are really invested in the results of the election because they know it will, in some ways, determine the future of democracy in this country."
At long last, that's something on which everyone may be able to agree.
Here is a selection of photos from Allen's "Vermont Votes 2020" series. Find more at flickr.com/photos/terryallen.