Perhaps you've heard about the multimillion-dollar highway-bypass project that's been in the works for decades? As far back as the mid-1960s, regional transportation officials were promising locals a new, four-lane divided highway that would speed motorists through their communities in record time, getting large trucks and buses off the smaller streets. Since then, budget delays, bureaucratic snafus, municipal opposition and political infighting have bogged down sections of the project. Though some stretches of highway were completed years ago, it's unclear when, or if, the entire circuit will open.
Vermont's Circumferential Highway? Nope, we're talking about Québec's Autoroute 35, a 25-mile stretch of proposed highway between the U.S./Canada border and Saint-Jean-sur-Richelieu. Canadian officials consider A-35 such a vital artery for improving travel and trade between Montréal and Boston that for many years they officially referred to it as Autoroute de la Nouvelle-Angleterre, or the New England Motorway.
Less discussed is the route that A-35 will leave in its dust.
Currently, when northbound travelers cross the international border at Highgate Springs — Québec's second-busiest land port of entry after Champlain-St. Bernard de Lacolle, at the northern terminus of New York's Interstate 87 — the transition feels almost cartoonishly abrupt. Road signs switch from English to French and miles to kilometers. The landscape changes in a flash from verdant, wooded hills to beige, tabletop-flat farmland. And road conditions degrade from the smooth, wide-open asphalt of I-89 to the bumpier and mostly two-lane Route 133.
As travelers to Montréal and points north have discovered over the years, this stretch of rural road has a uniquely quirky charm. But how much longer will it be indispensable? In recent months, transportation officials on both sides of the border have suggested that the final stretch of A-35 will be completed as "soon" as 2017. Travelers on Route 133 have surely noticed the finished but not-yet-open overpass and interchange, located between Saint-Sébastien and Pike River. For many of them, those innovations will make the two-lane road obsolete.
Recently, Seven Days staffers spent a day touring some of the Route 133 roadside attractions that we've long wondered about but usually sped by. Among them are a pet shop, a giant man outside an antique dealership, a deserted strip club, a manufactured dinosaur and a haunted house. All will be off the beaten path once the new highway opens several miles to the east.
Most of the Québécois we met, including several small-business owners, said they are eagerly awaiting A-35's completion. Though a few worry that they'll lose customers to Montréal and the States, many more said they're looking forward to the day when their otherwise tranquil communities are no longer disrupted by the rumble and roar of passing tractor-trailer trucks.
Yvon Labonté, general manager of the town of Bedford, several miles east of Route 133, summed up the sentiments of many locals we met. The 65-year-old, who grew up in Bedford, has watched as à vendre (for sale) signs cropped up outside house after house in his ever-dwindling town.
"I think it will help us," Labonté suggested. "We will be closer to Montréal."
— K.P.
---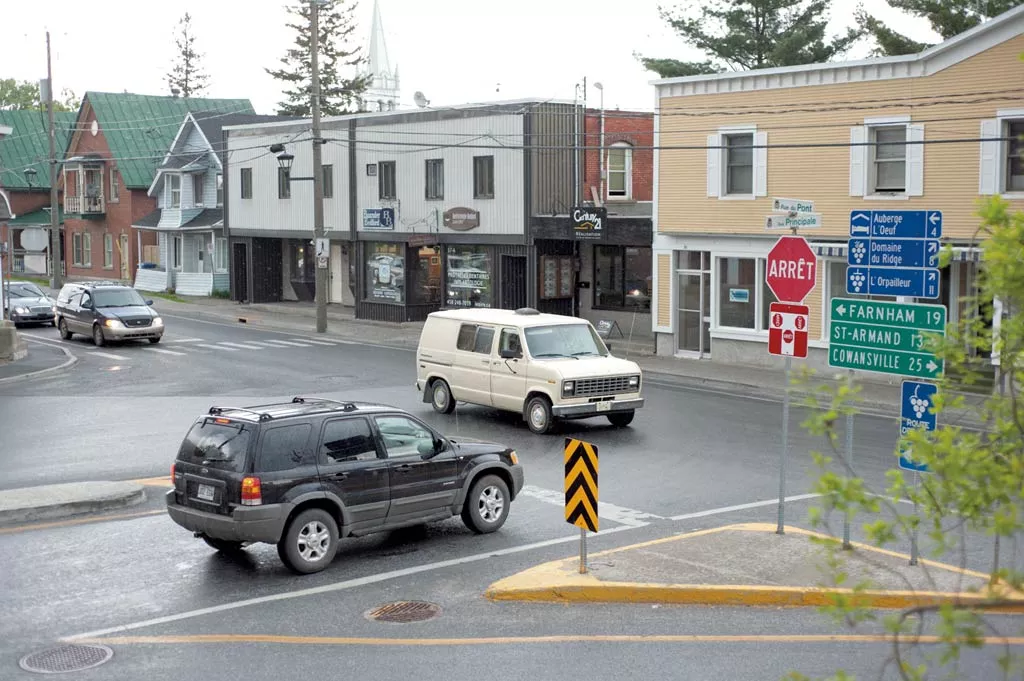 Natalie Williams
Bedford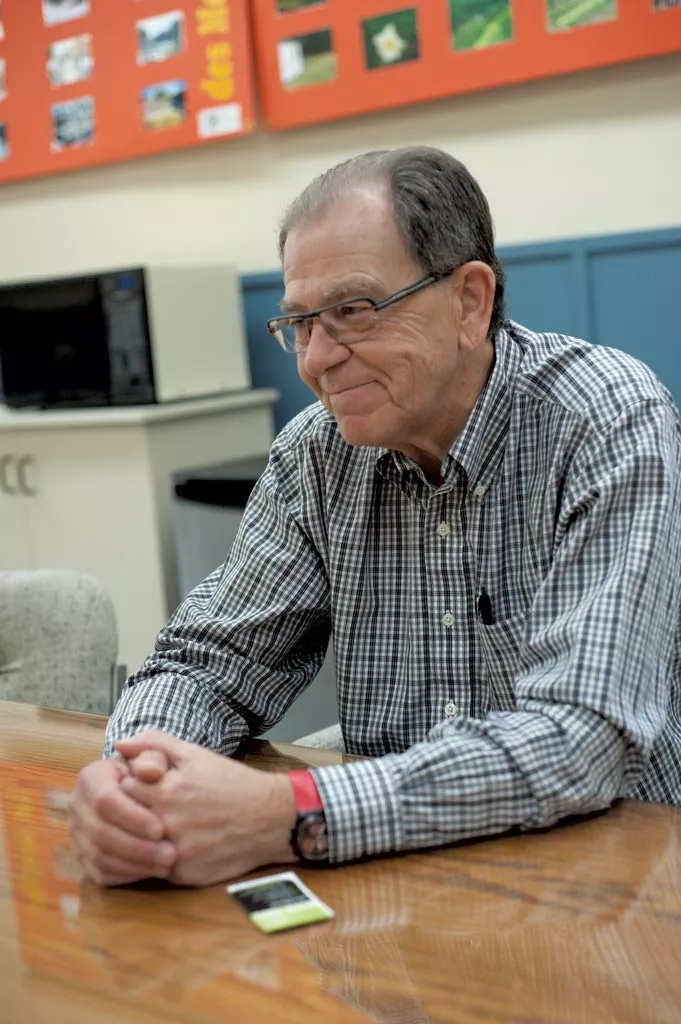 Natalie Williams
Yvon Labonté
Yvon Labonté, general manager of Bedford (population 2,600) has watched for years as his hometown has steadily aged and declined, losing younger residents and businesses to larger communities. In 2009, the town suffered a major economic hit when a longtime needle manufacturing plant closed, putting 200 employees out of work.
"All small towns have the same problems," Labonté said. "With the big markets, people go to Walmart, they go to Target, and the small stores here close because they cannot compete. It's bad because we lose everything, always a little more, a little more, to try to keep our business here."
But Labonté expressed hope that A-35 will revitalize Bedford as a bedroom community for Montréal, cutting as much as 20 minutes off the commute. He also suggested that A-35 will be good for Jay Peak and other Vermont resorts.
"When it takes only one hour to go skiing there, [Montréalers] will go," he said. "So I think it will be good for you, too."
— K.P.
---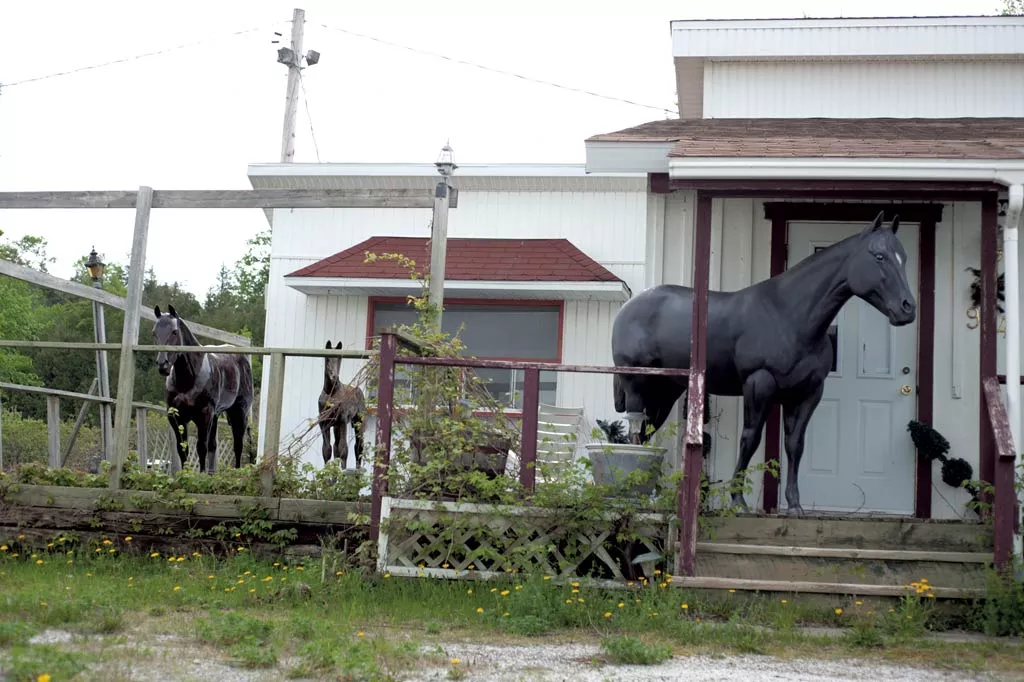 A drove of horses never fails to watch cars as they speed through Saint-Armand, just a few minutes north of the U.S. border. They stare fixedly, never stopping to toss their heads, whinny or blink. The herd of grown horses and a foal, most chestnut with black manes, are not alive. They never were. They're fiberglass, made by Bernadette Hébert-Guillotte. The artist airbrushes the deceptively realistic horses at an industrial park in nearby Delson. Several large signs mounted in front of her house — including a phone number — advertise her business to passersby. Whether anyone has ever called with a pressing need for a fiberglass horse, we can't say.
— A.L.
---
Bernard Benoit's charming Sabrevois antiques store has been around for 26 years. Located on another sharp bend of Route 133, Chez Mon Oncle advertises its wares with piles of gently worn wooden furniture stacked on the porch. Inside, a delightfully weird selection of knickknacks is for sale, from precious purses and collectible statuettes to a badly taxidermied deer head.
Natalie Williams
Chez Mon Oncle
Natalie Williams
Chez Mon Oncle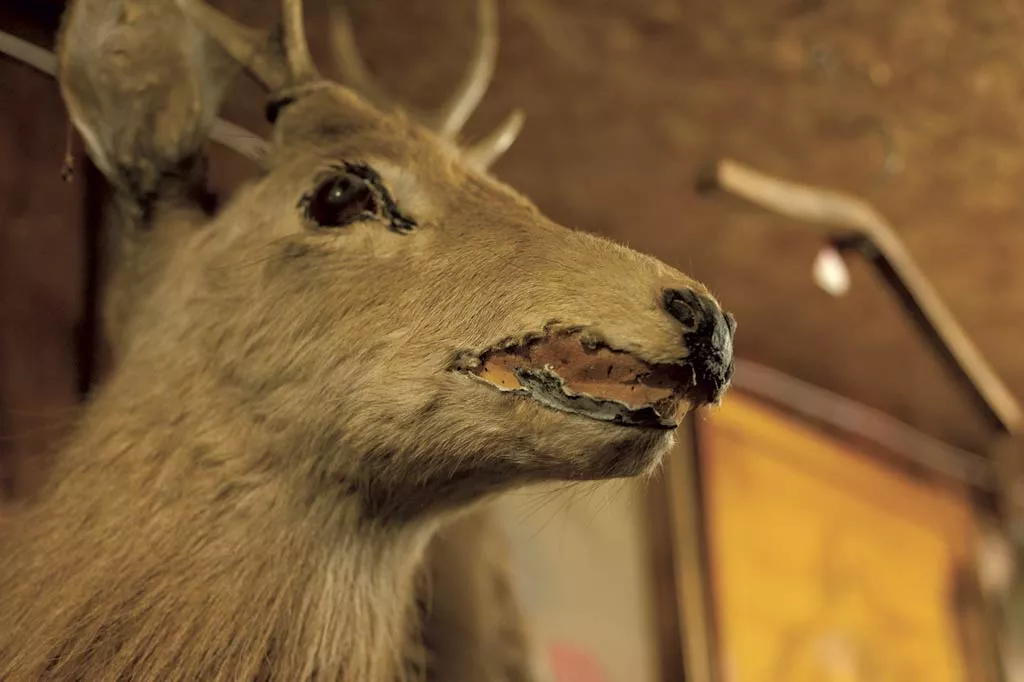 Natalie Williams
Chez Mon Oncle
Benoit, a native of Montréal whose mustache and pipe match his storefront's logo, set up shop here to tap into the tourist flow along Route 133. What does he think about A-35? "I feel bad," he said. "When [tourists] come to Montréal and back to USA [on A-35], they don't think to take a small road and shop and see an antique store."
Other changes have impacted Benoit's business over the years. When passports became required to cross the border, he saw a decrease in sales. The exchange rate, too, can help or hurt his customer flow.
Benoit, for one, is happy the highway isn't done yet. Several years ago, he recalled, a Vermont-based television crew drove up Route 133, interviewing shopkeepers along the way about the prospect of A-35. He went on air opposing the road — whose construction still hasn't reached Sabrevois. "For me, it's good," he said with a chuckle.
As for the location of his storefront, he's got no concerns: Chez Mon Oncle is on the safe side of a big curve that sees several accidents a year, primarily in the winter. A couple of years ago, a gas truck crashed and burst into flames. "All the accidents [happen] across the street," Benoit noted. "Not many on this side."
— X.C.W.
---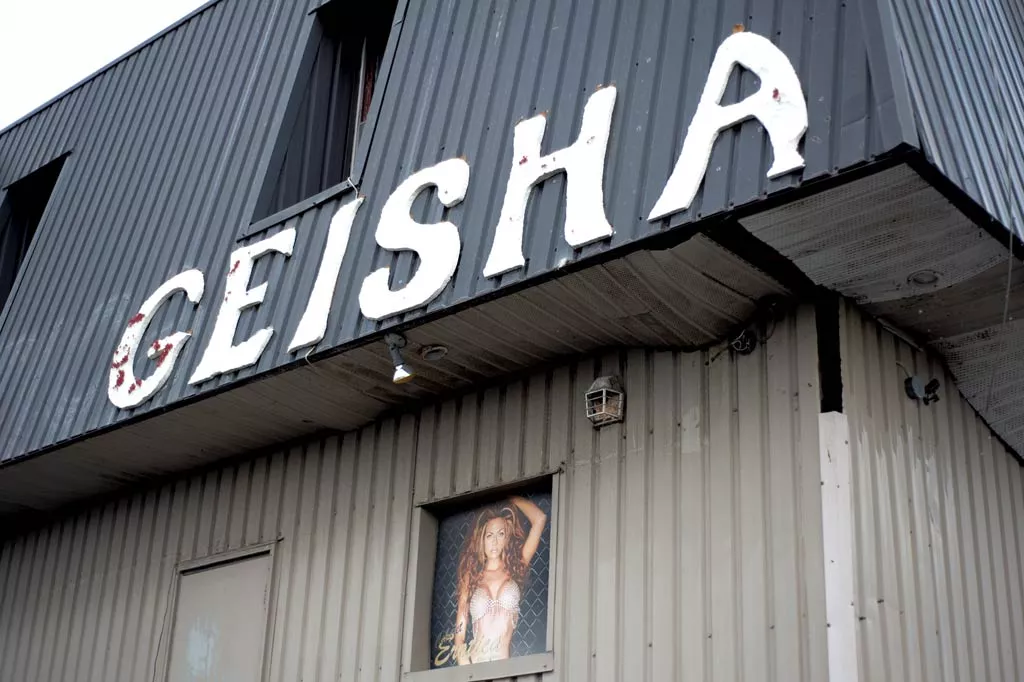 Maybe it was called Geisha. Maybe it was Adam & Eve. Maybe it was just the word "EROTICA" emblazoned on the side of a weathered gray building. Whatever it was called as it cycled through various ownerships, the strip club on Route 133 was where Vermont high school guys went to ogle, according to local legend. You know, when they just couldn't bear to wait until reaching Montréal.
These days, the strip club is closed, though signs from its various incarnations still adorn the exterior walls. A few faded posters tacked to the doors and windows offer a meager consolation prize for disappointed visitors.
— X.C.W.
---
Natalie Williams
Angele Breton
The Pike River General Store, located on a nearly 90-degree bend in the road, is open 365 days a year. That's good, because it's just about the only place on Route 133 to stop for car-trip sundries. It offers what you'd expect from a convenience store on a truck route: beverages, cigarettes, snacks, chocolate. (We stocked up on Nestle Aero bars, not widely available in the U.S.) There are even porn-y decks of cards.
What set the store apart, though, at least for American visitors, are the firecrackers for sale.
Owner Angele Breton, who bought the store four years ago, said that most people in the area — including the town's other small-business owners — are in favor of A-35. Though she admitted to "a little bit" of concern about the road's impact on her livelihood, she noted that most of her customers are locals. Breton sees tourist customers in the summer, and an annual ice-fishing festival brings winter visitors in for a few days, but she's always relied on regulars to stay afloat. Plus, A-35 will be just a few minutes' drive from her store. "So the people from Bedford, the trucks, they're going to pass here anyway," Breton said.
— X.C.W.
---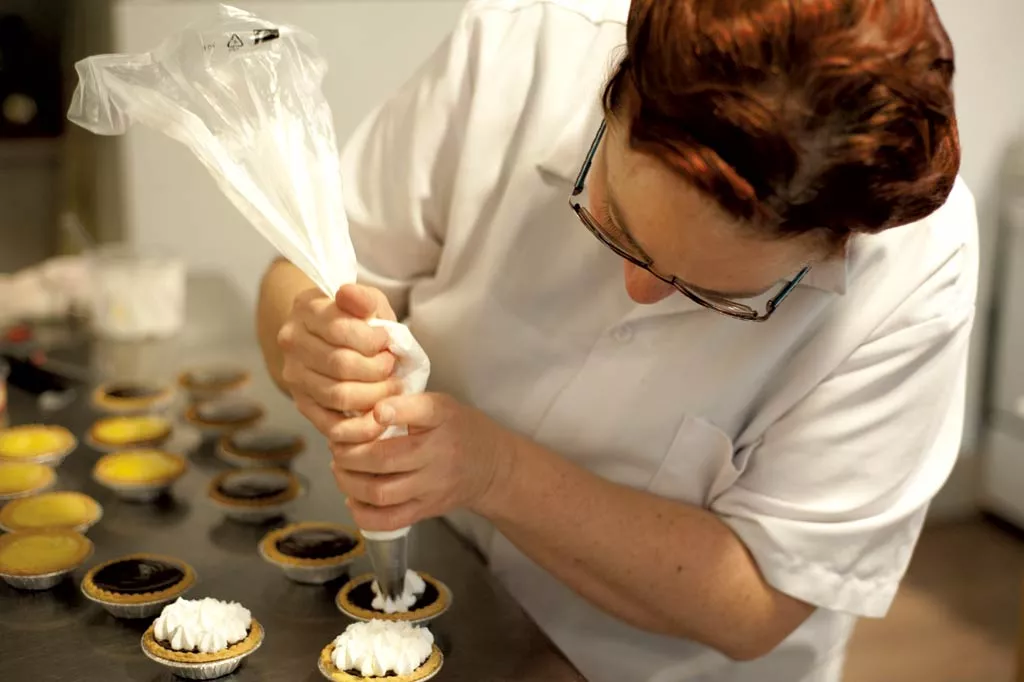 Natalie Williams
Diane Tremblay
While some Vermonters head to Québec for interesting foodstuffs, Diane Tremblay, owner of Chocolaterie Choco-Lem, favors an American Price Chopper when she buys supplies for her artisan chocolate business. She takes advantage of the cheaper gas in the States, too. In fact, the lifelong Henryville resident told Seven Days she's often dreamed of jumping the border for good.
Natalie Williams
Chocolaterie Choco-Lem
"If I could, I would move to the States ... I always say, maybe in another life I was an American," she said, her red hair bobbing in its net. Tremblay was animated, and her English was excellent.
In this life, the chocolatier has a boyfriend keeping her in her hometown, and since 2005, she's had something more: her Belgian-chocolate boutique. She began it as a home-based, phone-order-only business and moved it to a former butcher shop last year.
Though Tremblay has rarely advertised her wares, tourists are beginning to discover her delicacies, such as salted-caramel cupcakes and cardamom-Espelette-pepper truffles. Does she expect the new highway to affect her sales? "I don't know," she said. "I don't want to think about it."
— A.L.
---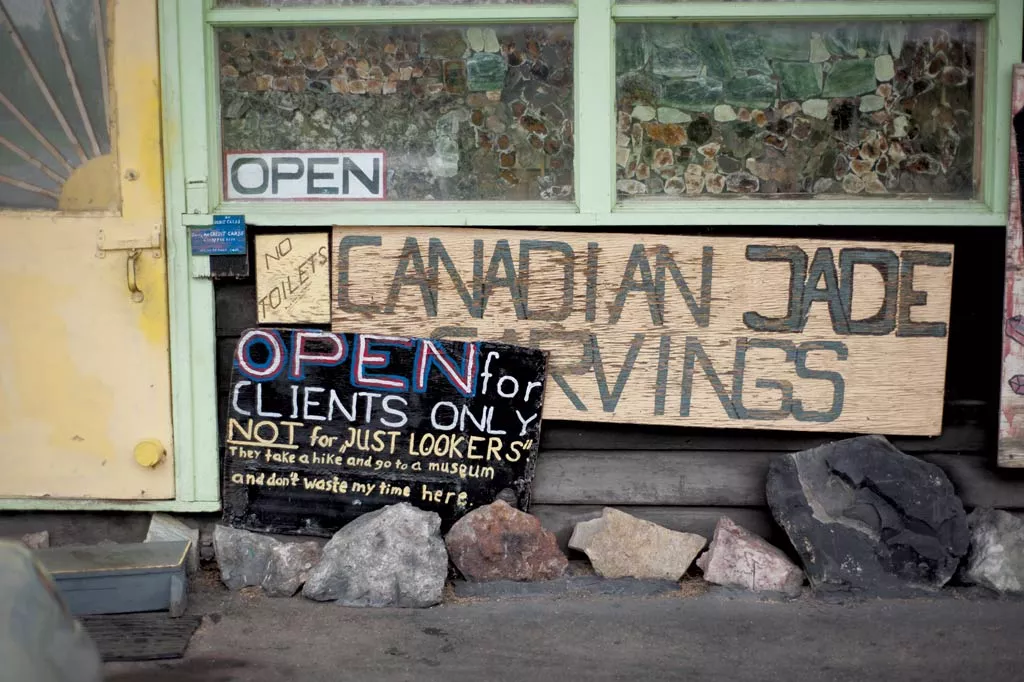 Less than a mile from the U.S. border, travelers can visit a Canadian crystal shop where, if it's open (often it's not), they'll encounter the surliest shopkeeper in Québec. The business owner, who refused to give Seven Days his name or answer any questions, evidently hates shoppers. Later, a longtime Philipsburg resident told us the crystal purveyor used to keep a pair of big cats, "maybe leopards," in his truck. We eavesdropped on his interaction with reporter Xian Chiang-Waren.
— K.P.
SURLY SHOPKEEPER: Do you want something or not?
XIAN CHIANG-WAREN: I'm not sure.
SS: [He bangs the side of his head.] Some people I understand. Others I don't. I don't know what it is.
XCW: I'm sorry, I'm sorry. I talk very quietly. Can you understand me now?
SS: Now I can.
XCW: So you traveled to Brazil to get these [stones]?
SS: Did I what?
XCW: Traveled.
SS: Traveled?
XCW: Yeah. To purchase the stones?
SS: Yeah, yeah, yeah! Don't ask me questions! Are you going to buy it?
XCW: Well, sometimes to buy, you want to know the story behind it. Because you want to know where it came from. Did you travel there?
SS: No, they fall from the sky! Don't ask me these shit questions! That's too many questions. I don't like that. The information office is closed! C'mon... (He pushes all the reporters out of his store.)
---
Natalie Williams
Sébastien Gagnon
Third-generation farmer Sébastien Gagnon raises cash crops — mostly soybeans, corn and green beans — on 1,700 acres in Saint-Armand, several miles from the U.S. border. Gagnon, 38, often drives farm equipment on Route 133, and he must cross the busy thoroughfare just to get his mail. When his kids are old enough, he said, they'll cross the highway, too, to board their school buses.
"If they build up the highway [A-35], it will reduce the traffic. That's the main thing," he said. But not all of Gagnon's neighbors welcome A-35. Some are miffed that the new highway cuts through rich farmland. "So that may be a bad point," he added.
— K.P.
---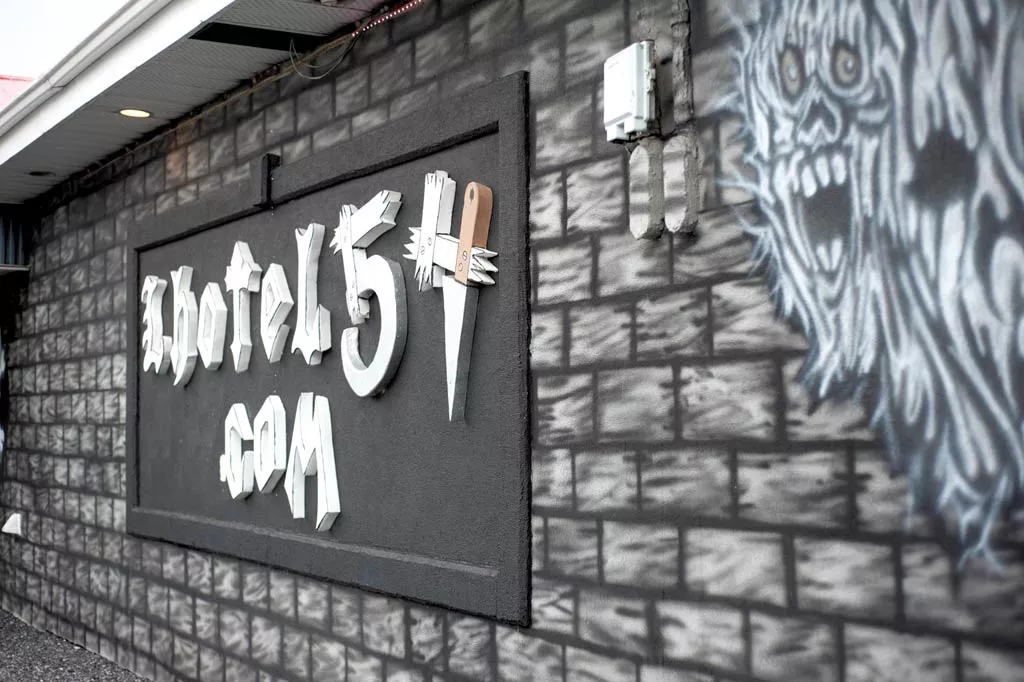 Natalie Williams
LHOTEL54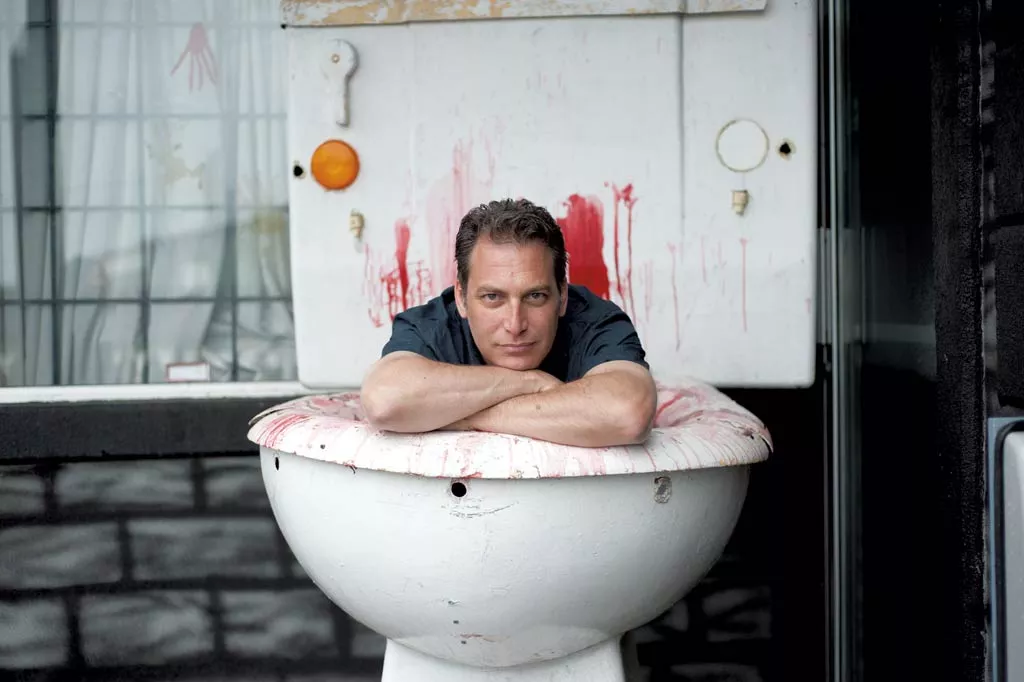 Natalie Williams
Ken Picard inside a bloody toilet statue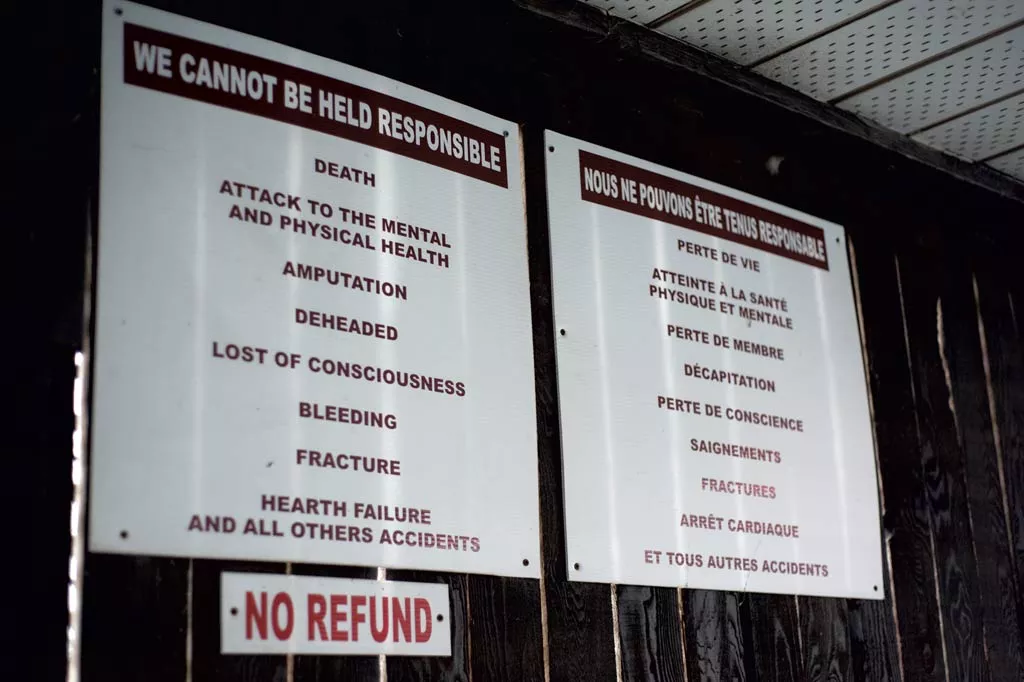 Natalie Williams
LHOTEL54
LHOTEL54 may be open only twice a month (this month, June 14 and June 29), but "la plus grande maison hantée au Québec," as the haunted house is billed, offers plenty of horrors even if you can't go inside. Which we couldn't.
Above the "No Refunds" sign near the front entrance, LHOTEL54 announces a list of things for which it can't be held responsible, including "deheaded," "hearth" failure, "lost of consciousness" and death. Maybe there's good reason for the creatively translated disclaimer. Brave souls who peer through the glass front doors may fall over in fright at the sight of a blow-up doll strapped to an electric chair, or the fake skeletons. Those with real stamina, such as reporter Ken Picard, can take a break inside the bowl of the outsize bloody toilet statue in the parking lot.
— X.C.W.
---
Alice Levitt
"Pizzaghetti" at Restaurant à la Bonne Fourchette
Ask most Americans about Québécois food and they'll be happy to discuss the relative merits of fries and poutine. They're less likely to have an opinion on pizzaghetti. Yet that dish is as Québécois as smoked meat.
Natalie Williams
Restaurant à la Bonne Fourchette
Like many highly regionalized specialties, pizzaghetti can vary from one location to another. Found most commonly at diners, the dish is sometimes simply a small pizza and spaghetti on the same plate. At other eateries, the meat-sauce-added 'ghetti is baked under the pizza's layer of mozzarella.
Restaurant à la Bonne Fourchette in Saint-Sébastien splits the difference. There, the crispy pizza is split in two and served with a tumble of spaghetti between the halves. The pasta sticks to the pizza's cheese, and the tomato sauce overflows onto the crust, which is lined with salami, mushrooms and peppers.
If it sounds like overkill, it is. In a good way.
— A.L.
---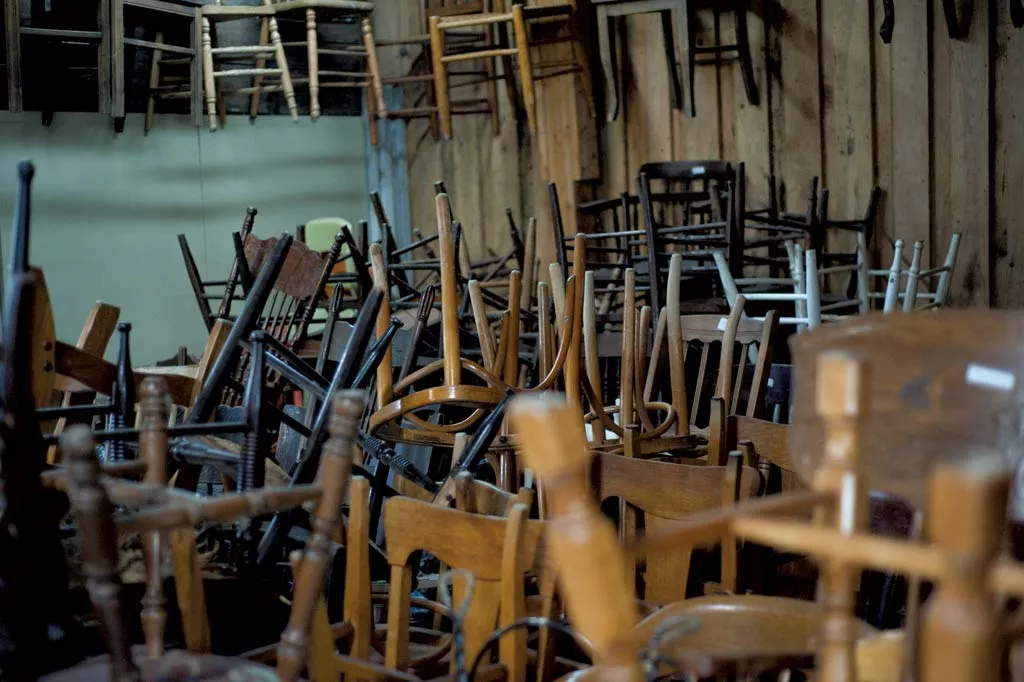 Natalie Williams
Le Géant Antique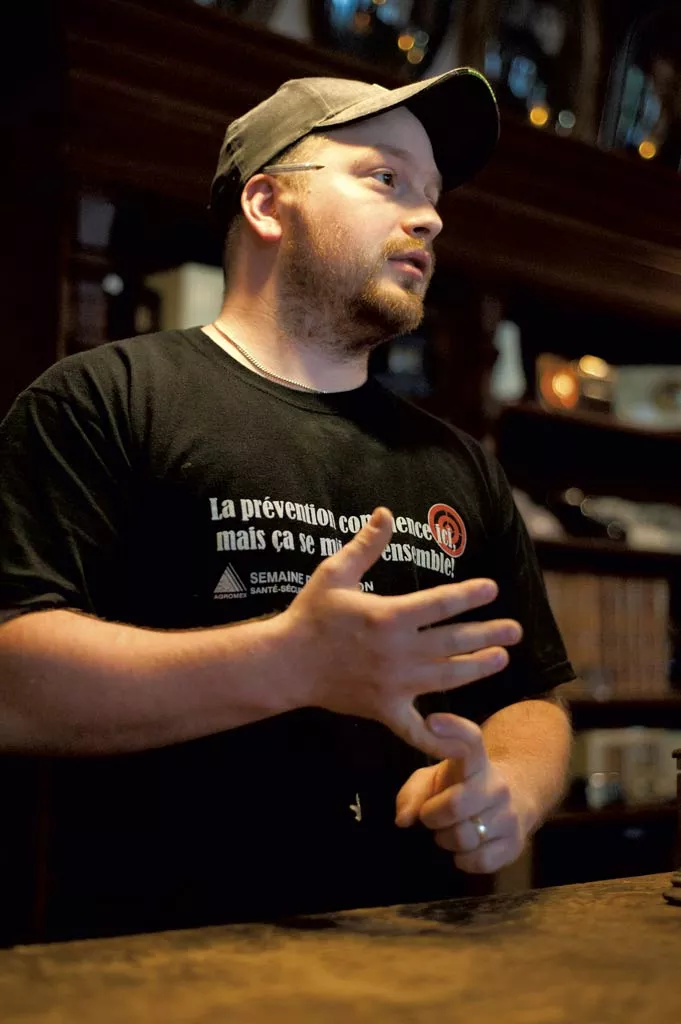 Natalie Williams
Marcel Bélair
If you've driven from Vermont to Montréal in the past 40 years, you've probably noticed the enormous statue of a man in Sabrevois. Once upon a time, the giant proffered a hot dog; other years, it was a Coke bottle. These days, he holds a sign reading "legeantantique.com," which refers to the massive store behind it.
Here are some things you could buy at the 30,000-square-foot Le Géant Antique: a floor-to-ceiling ornate mirror, books, shelves, doors, chairs, spinning wheels, file cabinets, boat paddles, roll-top desks, regular desks, wooden crates, tin lunchboxes, painted souvenir jawbones, vanities, rugs, Coke bottles, antique Coke cups, action figures, porcelain dolls, tin signs, old license plates, coins, postcards, trunks, wheelbarrows, coat racks, milking pails ... and more. The higher-end stuff is artfully displayed at the front of the store; the back of the massive, hangar-like structure looks more like a scrap yard.
There is so much stuff (and so many duplicates of the same items) that one Seven Days staffer speculated that the enterprise is the result of a serious hoarding habit. Not so. Turns out, owner Marcel Bélair has a steady eBay and online-sales base. Plus, Le Géant — which the Bélair family has operated since 1965 — makes most of its money by manufacturing new furniture. The antiques business is on the side — though it's a hefty side.
Bélair said he doesn't think the new highway will affect Le Géant's business, given its customer base. And those who detour off A-35 onto Route 133 in the future won't be disappointed — the Paul Bunyan-esque statue will still be waiting..
— X.C.W.
The original print version of this article was headlined "La Route Less Traveled"