26 slides
W
inter slows things down. It muffles sound with a quilt of snow and mutes the landscape into a soft palette of white, gray and brown. On farms and orchards, winter offers the chance to take a breath and take stock. There is a little more space to think, though daily tasks still call. The pace may be slower, but farmers continue to go about the work that produces food. Animals need to be fed, dairy herds and flocks milked, dormant trees and vines pruned, and winter greens carefully covered during frosty nights.
Here's a window into an average winter day on three different types of local agricultural enterprise.
Regenerative Reflection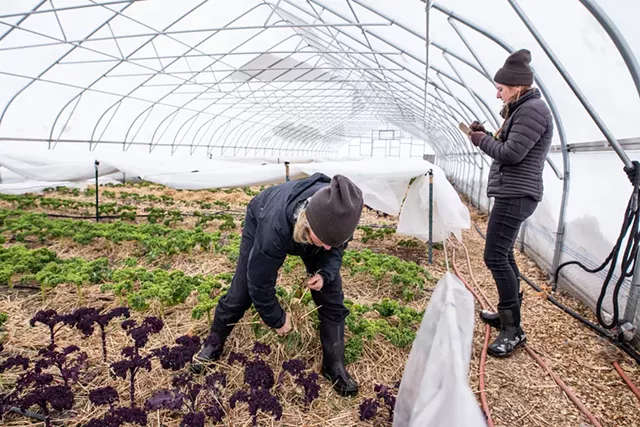 Luke Awtry
Corie Pierce and Cory Froning at Bread & Butter Farm
This winter, Bread & Butter Farm's herd of about 65 grass-fed beef cows has been chowing down on round hay bales evenly spaced across a field. It's called bale grazing, an example of regenerative agriculture, said farmer-owner Corie Pierce.
As the cows graze, they spread some of the hay like mulch and also distribute manure, a natural fertilizer, as they do when feeding on pasture during the growing season. "We want to farm in a way that works with natural ecosystems to benefit the land and build the soil," Pierce explained.
Luke Awtry
Bread & Butter Farm
The operation has gone through several iterations since it was founded in 2009. Today, Pierce works with a small team to run the diversified livestock and vegetable farm. The farm also hosts a café and farm store, year-round education offerings, and the Music for Sprouts program of Pierce's husband, Chris Dorman.
Vegetable production continues through the winter in three unheated, earth-floor hoop houses. Cold-tolerant greens such as kale and spinach grow from the soil protected only by light row covers and insulation provided by the air within the structure.
"Winter is our chance to reflect and plan. We feel more in control," Pierce said. "Well, the fact that we can think and plan gives us the feeling of being in control," she amended with a chuckle.
Rejuvenation Time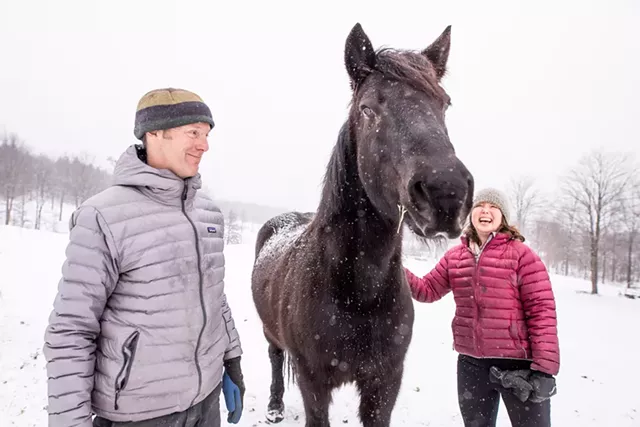 Luke Awtry
George van Vlaanderen, Indy and Kristan Doolan
In 1997, when George van Vlaanderen and Kristan Doolan were both pursuing sustainable agriculture graduate studies, they bought land near where Doolan grew up in Fletcher. "We were just young and up for anything," van Vlaanderen admitted. "Kristan said, 'How about goats?' And we figured cheese was the best way to make a go of it."
During summer, the two vend cheeses, kefir, pork and grilled sausages at the Burlington Farmers Market. With the help of one employee, they milk about 50 Alpine goats and move them to fresh pasture every 12 hours. They make cheese every other day, tend a couple dozen pigs, and hay and spread manure with draft horses.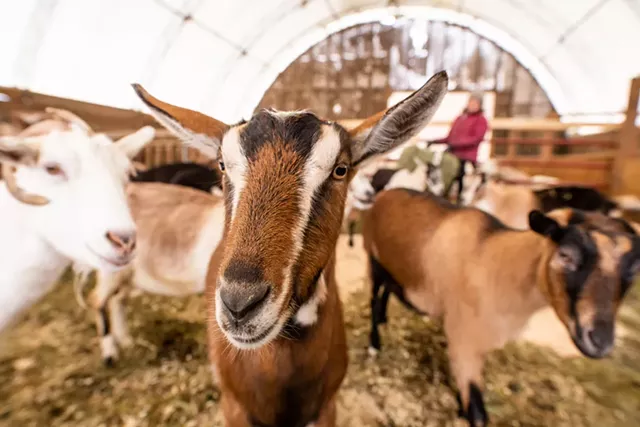 Luke Awtry
Does' Leap Farm
Winter is "just a much, much slower pace," van Vlaanderen said. The goats are cozy in a large hoop structure. On sunny days, "they love to go outside and soak up some rays," he said. About half are on milking break before kidding in March. The rest produce less milk than during grazing season, so cheesemaking is down to two to three times weekly.
Van Vlaanderen logs with the horses, harvesting all the wood needed to heat two houses and power much of the creamery. Doolan and van Vlaanderen ski, and he picks up his banjo. "It's a time to rejuvenate on a personal level but also plan for the upcoming year," he said.
Peace and Pruning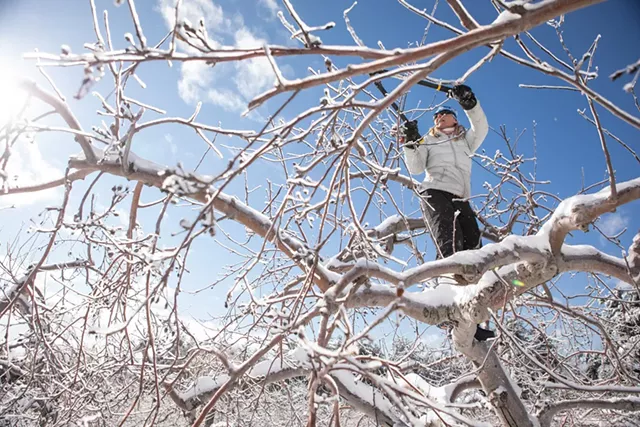 Luke Awtry
Jessika Yates at Yates Family Orchard
When Jessika and Steven Yates moved back to their native state of Vermont in 2008, they bought a house on Monkton Ridge with panoramic views. The property also had about 100 apples trees dating back to the 1930s. "We were like, 'Cool, there are apple trees,'" Jessika said.
Initially, they operated the orchard as a hobby — a pick-your-own on the honor system — and also sold local honey and Jessika's homemade jams. Although they had not necessarily planned to run an orchard, the couple felt the need to keep it open to the public. "A lot of people have picked here since they were kids," Jessika said. Gradually, she and Steven grew the orchard to 350 trees on six acres and expanded the store's offerings.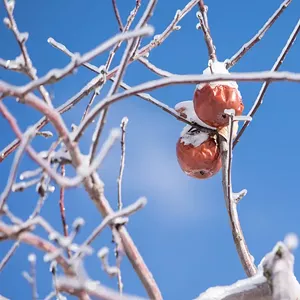 Luke Awtry
Yates Family Orchard
Winter is about pruning the dormant trees. "You're opening the trees up so that light, water and air can circulate, making sure there's room for fruit to grow," Jessika explained.
She climbs up into the trees to prune. "As much as I love the hustle and bustle of sharing the orchard, I love wintertime," Jessika said. "The trees are so old, and I get to know the character of each one. You can see the tracks of the critters in the orchard: the bunnies and the fox, the talon marks of birds of prey in the snow." She treasures finding bird nests tucked into tree crooks. "It's just very peaceful and very quiet," Jessika said.
Farm Share is an occasional series of photo essays exploring daily life on Vermont's food-producing farms.