Sam Simon
12-year-old Cal makes art
Sam and Erinn Simon, frequent Kids VT contributors, live in Burlington with their three children, ages 9, 12 and 16. Sam is a professional photographer and also works for UPS — and is now classified as an essential worker under Gov. Phil Scott's "Stay Home, Stay Safe" order. Erinn owns a cake-baking business, That Cake Stand, which is on hiatus right now. She is also the school chef at Burlington Children's Space, a childcare center and preschool that is currently closed.
For the past few weeks, Sam has been taking photographs to document his family's life and the ways it has changed in the time of COVID-19. From afternoon naps to evening walks, his photos provide a window into one local family's daily existence — and remind us that birthday cake still brings lots of joy.
Erinn interviewed her 9-year-old daughter, Sadie, about what it's like to stay at home.
Erinn: So, things have changed a lot in the last few weeks! We've all been trying our best to get used to social distancing. What's something good you can think of about being at home so much, and not having school?
Sadie: Well, I've been going out into the woods with Dad more, to boulder.
Erinn: That is definitely good! What would you say is the hardest thing about it?
Sadie: Not seeing my friends. Oh! And that you finally said I can get my hair dyed lavender, and now we can't go [to the salon] to do it!
Sam Simon
Erinn with a cake she made for daughter Sadie
Sam Simon
Birthday cake for Sadie
Sam Simon
Keeping busy at home
Sam Simon
A walk in Burlington's Old North End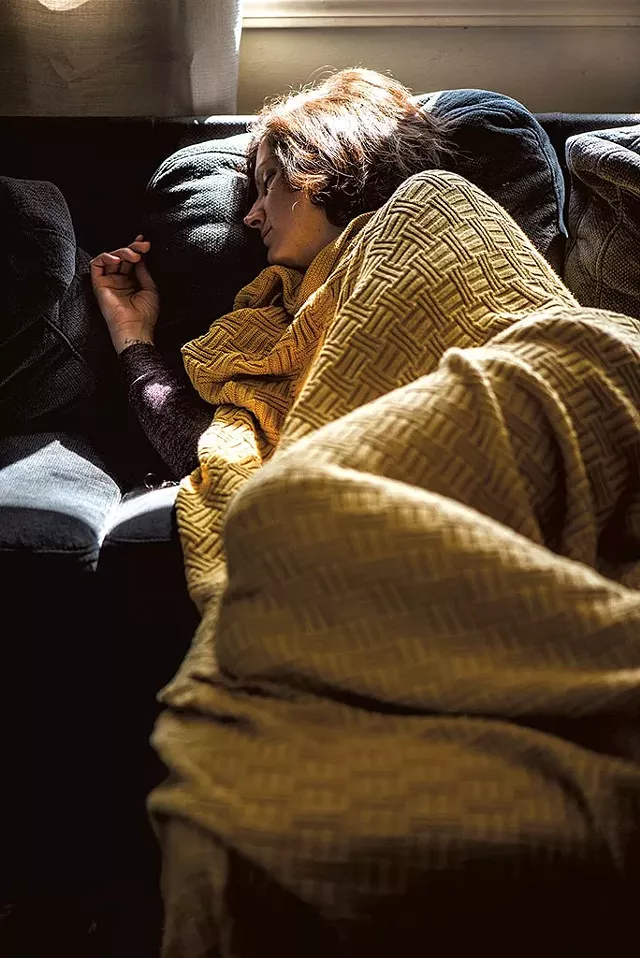 Sam Simon
Erinn naps