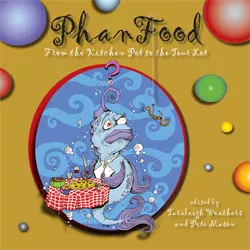 There's a reason Taraleigh Weathers thanks the city of Burlington in her new cookbook. The inspiration for the endeavor came to her while she was exploring the Burlington bike path last year.
"I was, like, 'I'd really like to do something for the community,'" says Weathers, who's also known as the Healthy Hippie for her bimonthly magazine of the same name. "It can be a book about food and benefit people who can't afford to feed themselves."
Food isn't Weathers' only passion: She's followed Phish on tour for years. Her twin obsessions come together this week with the release of her book PhanFood: From the Kitchen Pot to the Tour Lot. Weathers shares the title of editor with Pete Mason, author of PhanArt, a collection of Phish-inspired visuals.
Weathers collected recipes via pleas on Facebook and by asking fellow concertgoers at shows this summer. Also, she admits, "I had to harass some people."
Those people included a half-dozen Vermonters, from avowed "phans" such as "Eat More Kale" guy Bo Muller-Moore — who contributed a kale-pesto recipe — to Nitti Sachdeva, the Burlington Indian food doyenne, who admits she has never heard Phish.
On Saturday, December 11, from 7 to 9 p.m., Phish's launching ground, Nectar's, will host a party for the premiere of PhanFood. Drinks from the book will be served, and recipe contributors will bring their featured dishes. (Look for Weathers' "Touch My Meatless Balls.") Vermont sales of PhanFood benefit the Chittenden Emergency Food Shelf, and celebrants are encouraged to bring cans for a food drive.
The book will also be sold at Merrill's Roxy Cinemas the following night at a special screening of the new Phish concert film. After this weekend, PhanFood will be available online, at concerts and at a few local stores, including South Burlington's Candles & Creations.