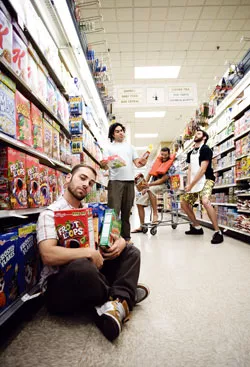 Unless you live under a rock or emerged from a coma over the weekend, you're likely aware that, last week, legendary Burlington jam kings Phish announced they are "getting the band back together" for three shows next March. The news quells reunion speculation that's been running rampant since . . . well, since they broke up in 2004. It's true, hippies. You're not high or dreaming — on second thought, you might be high. But it's still true: The Phab Phour are back.
I tried to reach a member of the band or a spokesperson for comment. Alas, my calls and emails went unreturned. Maybe "Music Editor" for the band's preeminent hometown arts rag just doesn't have the cachet it used to. Or maybe the first line of the second CD review I ever wrote for Seven Days — keyboardist Page McConnell's self-titled solo debut — is coming back to haunt me: "I don't like Phish." Hmmm . . .
In any event, I decided to do what any self-respecting music scribe would do and get the next best thing: a Phish tribute band. Scratch that. The Phish tribute band: The Strange Design of Gamehenge, South Carolina. Much like Dark Star Orchestra do with the Grateful Dead canon, TSD recreate Phish shows in their entirety, as requested by their fans online. The band is playing at the "House That Phish Built" — a.k.a. Nectar's — the night after Trey Anastasio's Higher Ground show later this month.
Tribute bands are a sticky proposition, and there are essentially two schools of thought on the increasingly popular phenomenon. They are: "Wow! It's so lame that you bloodsuckers are leeching from the success of superior artists to live out your failed dreams of rock stardom." And, "Wow! It's so cool that we get to see music recreated live that we otherwise wouldn't be able to."
There is very little gray area, a concept not lost on The Strange Design. Though they've only been together since spring of this year, the band has encountered both sides of the argument. "You're talking about Phish fans, who are the most critical of any fans of any music," says keyboardist Aaron Levy. "You're always going to have people that want to write you off. But we're a part of that Phish community as much as anyone."
Adds guitarist Matt Chase, "It's a fine line, even for original bands. But Phish fans will hate on Phish as much as they'll love on Phish."
Further muddying the waters are the legal issues inherent in reproducing someone else's intellectual property. ASCAP will always exact its pound of flesh.
"If you wanted to be extreme about it you could say, 'What about a symphony playing Beethoven or Mozart?'" says Levy. "Are they allowed to be playing that because they didn't actually compose the music?"
Actually, yes. Unlike Phish, both composers' works fall under public-domain copyright laws and are thus fair game. But regardless of legal trifles, the true test of any band, tribute or otherwise, is in the music. So, do these guys actually sound like the real deal? Well, saying a jam band "sounds like Phish" is the musical equivalent of "tastes like chicken." And in the case of Phish — and by extension The Strange Design — music is but one piece of a larger equation.
Even in their early days playing at Nectar's, a significant part of the Phish mythos was the spectacle. That facet of their performance would, of course, grow exponentially with the band's popularity, to the point where — especially during legendary festivals such as The Clifford Ball and their famous farewell at Coventry — the cultural experience was arguably a bigger draw than the band itself.
Obviously, The Strange Design can't reinvent the (lemon) wheel; their budget is presumably much smaller than the well-funded coattails on which they ride. But those early club shows had their own appeal, especially for hard-core fans. And it's that era of Phishtory the band is attempting to resurrect, show-by-show, employing now-famous vacuum solos, recreating narrations and, of course, dressing like the band — drummer Adam Chase often dons a housedress á la Jon Fishman. Even if Phish's Hampton shows are but a teaser, as is already being speculated, that's The Strange Design's trump card and the key to their Machine-like (Pink Floyd tribute) aspirations.
"We wouldn't be out of a job," says Levy, when asked about the rumored possibility of more Phish dates. "We're doing this out of love. The reality is that, even if they were doing reasonably heavier touring, there are always going to be people for whom it's out of reach. It's not like [Phish] will be playing Phish from '91 or '94. It's a different experience."
Got a favorite Phish show you want The Strange Design to play? Click here to suggest a show.