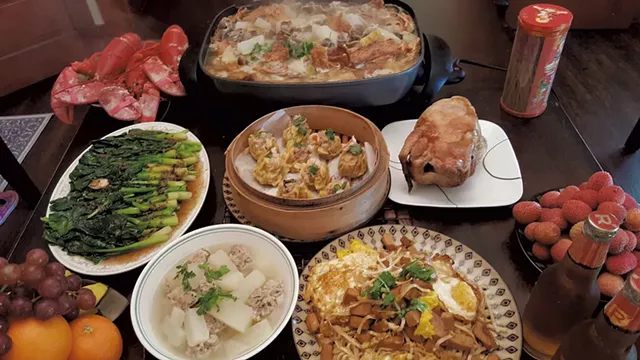 Courtesy Of Phnom Penh Sandwich Station
Dishes at Phnom Penh Sandwich Station
Life in White River Junction is about to get just a bit spicier. After months of preparation, Lay Yi and Sarin Tin plan to open Phnom Penh Sandwich Station in the former Polka Dot Restaurant space at 7 North Main Street in the next week or so.
The new restaurant is an outgrowth of the couple's Lebanon, N.H., sandwich and noodle shop of the same name that opened in 2017. Most of the Cambodian and pan-Asian menu will mirror what's available across the river.
Visitors can expect from-scratch spring and summer rolls and lemongrass-scented beef skewers, along with pad Thai, pho and spicy Cambodian curries. The shop's eponymous sandwiches will cradle proteins such as garlicky pork, teriyaki chicken and coconut shrimp. Draft beers will come from nearby breweries, including River Roost Brewery, and a handful of wines will be available.
"We're trying to keep the menu short and simple," Tin said, adding that, like many local restaurant owners, he's struggled to find reliable kitchen and front-of-house staff. "I don't have enough people," Tin told Seven Days on Monday. "So I might do a soft opening."
For now, the shop will continue to operate in both locations, but the Lebanon shop will shutter next year when the city tears down the building, Tin said. "I have a little backup plan to go somewhere else [in Lebanon]," he added, "but that's not set in stone yet."
For now, he's excited to do business on the Vermont side of the river. "White River Junction is great," Tin said. "The food industry is growing, and they don't have anything like us over there."
Once the doors are open, Phnom Penh Sandwich Station will serve lunch and dinner Monday through Saturday.