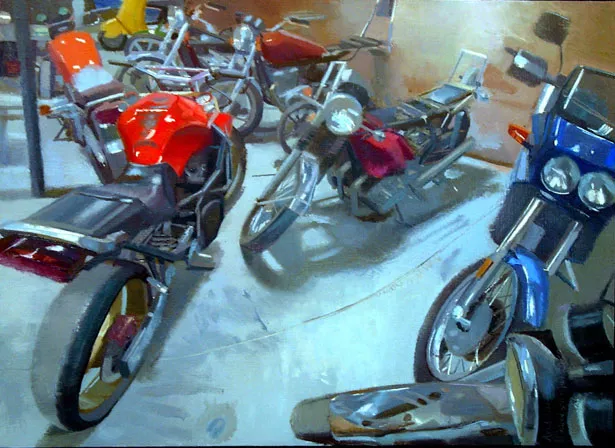 "Inside ICCE Motorcycle" by Andrew Patterson-Tutschka
One of the giants of American painting was Thomas Cowperthwait Eakins (1844-1916), a realist painter par excellence and a controversial director of the Pennsylvania Academy of the Fine Arts in Philadelphia. Among his innovations were the use of photography as a tool and the introduction of nude models to most of the figure-drawing classes - the students had previously relied on plaster casts. Under Eakins' leadership in the 1880s, the Academy became one of the world's great art schools. The current Johnson State College exhibition, "Young Philadelphia Realists," featuring 10 recent MFA grads from that venerable institution, reveals why the PAFA remains so highly respected.
Johnson State visiting art professor Andrew Patterson-Tutschka provided the impetus for the exhibit. When Julian Scott Memorial Gallery curator Leila Bandar offered him a solo exhibition, Patterson-Tutschka countered by suggesting a group show including his fellow PAFA alumni instead. The result is an accessible, diverse, high-caliber show.
Patterson-Tutschka's studio is in Burlington's South End next to a motorcycle shop, and his unusual 26-by-36-inch oil interior, "Inside ICCE Motorcycle," pays homage to that neighbor. Harsh showroom light bathes the gleaming bikes in shadows and reflections. A horizontally oriented 16-by-36-inch composition, "Grove Street in November," captures the narrow Burlington thoroughfare at night. Again, light and shadow were the artist's main concern as he rendered the scene with a restrained palette in a broad range of values.
Logan Blanco's 36-by-44-inch "Seated Woman" and his 30-by-23-inch portrait "Tony" display a command of gestural figuration. Details dissolve under Blanco's brush. Contrasting with the organic shapes of his figures are architectonic forms in the paintings' settings: a table top, a doorway, square pictures on the walls. These seem to encase, and ultimately encroach on, Blanco's subjects.
Tim Conte's drawing in two sections, entitled "Studio Interior, Two Views," is executed only in vine charcoal. In the 32-by-48-inch piece, two overlapping sheets of paper create a singular composition in two-point perspective. The same window appears twice; on the right side, steeply angled light from the window falls on an easel. Conte's 16-by-19-inch oil "Last Night" is a much simpler, understated nocturne describing a city skyline. The silhouettes and low horizon here might be the view from the window in "Studio Interior, Two Views."
Still lifes are well represented in the show, and one of the most mysterious is Elana Hagler's "Release." The sparse, 30-by-24-inch canvas includes an odd animal mask hung on a gray wall that recalls the bland background of a Giorgio Morandi still life. A naturalistic infant doll rests flopped on a wooden table at left, and a brown ball lies just beyond its grasp - as if the baby had dropped it while dying. Hagler brilliantly controls the disparate masses of those three principal forms.
Aaron Lubrick is another notable still-life painter. His 42-by-32-inch untitled piece presents a cheap Danish Modern table strewn with bottles of soft drinks and tonic water. It's like a snapshot of the aftermath of a frantic search for hangover remedies. Lubrick depicts the scene from slightly above, and, like that of Hagler's "Release," his interior is composed of oppressive gray and brown tonalities. The brightly colored bottles do little to cheer up the moody scene.
Eakins' tenure at the helm of the PAFA ended in scandal in 1886. In one incident, he removed the loincloth of a male model during a women's drawing class (male and female students were segregated at the time). On another occasion he answered a female student's question about male pelvic movements by bringing her to his studio, where he allegedly gave her an up-close-and-personal "explanation."
Though Eakins left the academy under a cloud, the works in this show suggest that his legacy of innovative realism is still its artistic guiding light.