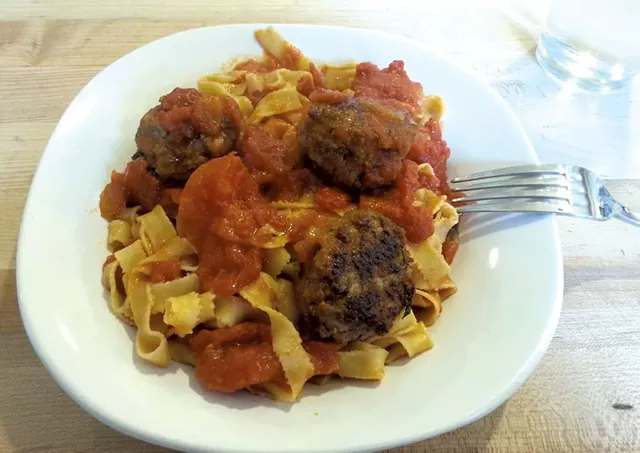 Courtesy Of Philamena's
Pasta with meatballs
Since January 2015, Philamena's, located on Elm Street in Montpelier, has been serving up classic American breakfasts, panini and housemade pasta and sauces to go. Last week, the restaurant added regular dinner service on Friday and Saturday evenings, from 5 to 9 p.m.
"We started doing dinner because we've created partnerships with organic farms around the Montpelier area, and we're trying to really do justice to what Vermont has to offer," says owner Todd Whitehead. "We call it 'modern Vermont cuisine through a northern Italian lens.' [Northern Italy] is an alpine region, and the things they grow there, we grow here as well."
Currently, that means dishes such as pumpkin and Parmesan soup, green-tomato Bolognese made with meat from Whitehead's own pigs, and beef-tongue pastrami with cabbage and plum jam. The fare will change with availability and be reinvigorated each season.
While all dishes are available à la carte, Whitehead encourages customers to try the four-course tasting menu for $35 (two paired wines cost an additional $15). Because the space is small, reservations are highly recommended.
Whitehead says he was initially concerned about serving off-cuts such as heart and tongue, but customers have been receptive. "The goal is to really respect local ingredients and present them simply," he says. "It's a true taste of central Vermont from a terroir perspective."