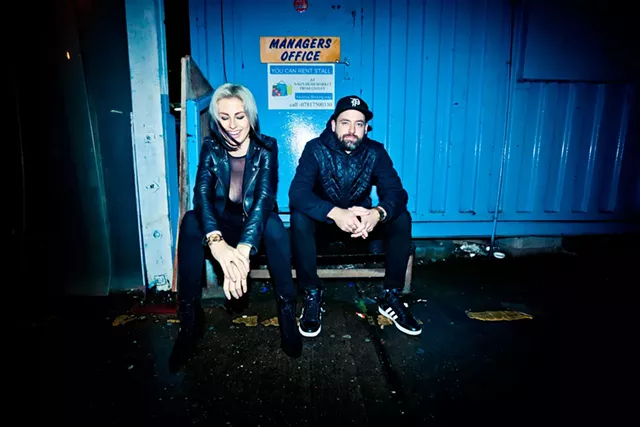 courtesy of Wolf James
Phantogram's Sarah Barthel and Josh Carter
Upstate New York electro-pop duo Phantogram generally stick to the shadows. Their compelling blend of nostalgic trip-hop beats, galvanic synths and abstruse lyrics crystallizes into icy, menacing songs that tread the line between dreamily poetic and nightmarishly ghastly. Their latest album, Three, contains lyrics such as "There's always something that's pulling me down" and "Stare with me into the abyss / Do you feel like letting go?" — hardly bright and cheery sentiments.
But perhaps it's the way Phantogram process darkness that makes their work so compelling. By spinning their darkest thoughts into mammoth grooves brimming with baffling depictions of their inner lives, Sarah Barthel and Josh Carter suggest that the only way to exorcise their demons is to dance them out.
Phantogram play a sold-out show on Monday, August 7, at the Higher Ground Ballroom in South Burlington. Local pop-experimentalists Bleach Day open.
Seven Days recently caught up with Barthel by phone. Fun fact: She used to live in Burlington and is a graduate of Champlain College.
SEVEN DAYS: The last time I saw you at Higher Ground, I believe you mentioned that the first show you ever played was at the Monkey House in Winooski. Is that true?
SARAH BARTHEL: Now that I think about it, we did play the Monkey House — but before [that], our name was Charlie Everywhere, and we opened for Brazilian Girls at Nectar's. They paid us $50. We drove up in my little hatchback, and we were just so excited to be in front of a bunch of people. But after that we went to the Monkey House. I can't remember when. Probably 2009.
SD: I feel like your song "You Don't Get Me High Anymore" implies that overexposure to something causes it to lose its thrill while simultaneously making you want it more. How do you gain a refreshed perspective on something that's worn out its welcome?
SB: Well, it kind of depends on the scenario and what it does to you and how it makes you feel. We reinvent Phantogram every single day. We literally have Groundhog Day on tour. Every single day is the same, except we're in a different city. And we play the same songs every single night.
But we are capable of making them feel like they're brand-new. The reason why we write songs that have more than one meaning is that exactly. "You Don't Get Me High Anymore" meant something different to me last night than it did to me last year. It's open-ended.
SD: Also, there's a line in that song — "Woke up from a dream ... where teeth fell out of my head." Was it you or Josh who wrote that line?
SB: I wrote that. That one line has been stuck in my head for the past two weeks because I've been having [those] dreams. Last night I had a dream that my bottom two front teeth fell out. Apparently, when you dream that, you have some sort of anxiety in your life. I'm trying to figure out [why] I keep dreaming that.
SD: Do you have any other recurring dreams? If so, have any of them surfaced in your songwriting?
SB: We tie our dreams into our songs all the time. "Howling at the Moon" [from our second album, Voices] is a song that was a dream — [it was] almost like a scene in a cowboy movie. I was running really fast in the desert during sunrise, and this pack of wolves [was] running with me — but I couldn't tell if they [were] running with me or chasing me. So I couldn't tell if I was one of them or not. [The line is] "At night I cry and howl at the moon" — like a wolf. But maybe they're just trying to eat me.
SD: "Calling All" seems to come up a lot in interviews I've read. It relates to this concept of owning darkness and light equally. Is there anyone in your life who's been an inspiration for that idea?
SB: There are a lot of musicians who I think have represented that — the stories you hear of when, for years, David Bowie's diet was cocaine and milk. He always spoke about it. I remember watching [him in] a documentary recently, speaking about how he's been so lucky to just be there and live and enjoy his whole life and existence — except for in the '70s, when literally his only diet was milk and cocaine.
He made some incredible music back then. He also made some incredible music before that and after. [He's] a good example of someone owning it and being OK with not being afraid of saying what you've done or what you would do — grabbing ahold of the light and the dark and not being afraid of who you are. You're a human. Life is hard, and nobody's perfect — and it's OK.
SD: You've also talked a lot about how making music is cathartic. What's something else that you do to achieve catharsis?
SB: I'm really into photography. I like to document a lot of things on tour. It was what I went to [Champlain College] for — visual arts. I really love doing that and also watching interesting films and going to see music. I love music so much — learning about new kinds that I haven't even discovered yet. There's just so much.
SD: Do you have time to see a lot of music?
SB: When we're not on tour, yeah ... It's my responsibility as an artist to always go check out new things and be inspired by everyone else around me. Music and shows have always been very inspiring for us because it lights a match in my head.
SD: Has anyone blown your mind recently?
SB: Yeah. I saw Angel Olsen in this really cool, old theater in downtown [Los Angeles]. She's got an incredible voice and style. It's very simple. It paints a picture. I love it.
SD: The album art for Eyelid Movies, Nightlife and Voices seems to share the same DNA, while Three's is totally different. How do you choose your album art? Do you wait until the music is totally finished before you choose?
SB: It's usually done after everything is complete. We're very visual writers. We have a lot of visuals going on in our heads when we write our songs.
SD: How did Three's album art come about?
SB: Josh found this really cool picture online of a house on fire during the daytime — really creepy, but also really beautiful. We weren't able to use it. We couldn't find the photographer or something. So we kept looking for kind of the same idea. I just loved how beautiful big flames can be. [It's] always light and dark for us. It described our record perfectly.