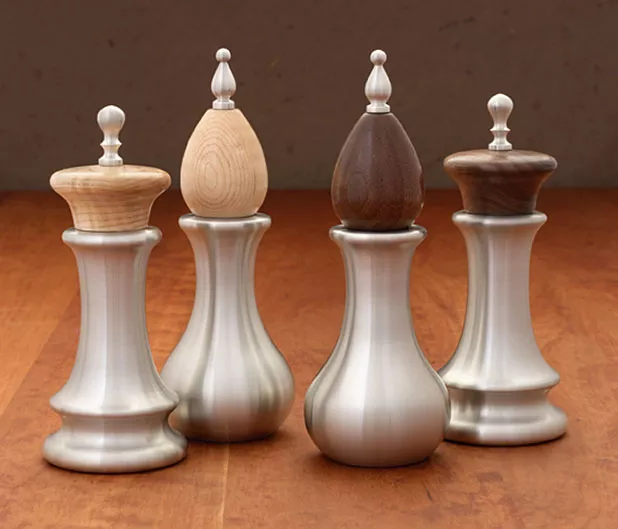 Middlebury-based Danforth Pewter is drawing a new bead on its colonial roots. The business cofounded by Judi and Fred Danforth in 1975 initially revived a family legacy begun by Thomas Danforth II in 1755. This week, Danforth purchased one of America's premier brands of the craft, Shirley Pewter of Williamsburg, Va., and will operate the Shirley Pewter Shop in that historic village, where some Danforth works are already sold.
Danforth has become the exclusive manufacturer and marketer for the Virginia company, founded by Shirley Robertson in 1952. Robertson's son ran the business for a couple of decades, but recently decided it was time to pass the reins to new owners with the same high standards. Both companies make each piece by hand using classic craftsmanship; Danforth, which turns out more contemporary wares, will add Shirley's colonial-inspired designs to its repertoire.
Pewter is one of only a few craft products not taken over by mass-production outlets; there are about 40 small pewterers around the country, explains Bram Kleppner, vice president of sales and marketing at Danforth. "They all started about the same time, in the '50s through the '70s, during the American craft movement," he says. Pewtering had nearly disappeared after the 1860s, "when ceramic and glass became affordable for normal people, not just aristocracy," Kleppner adds.
But, as anyone who's visited the Shelburne Museum knows, pewter was the tableware of choice in early American homes. In fact, the metal alloy, which is primarily tin mixed with other metals, has been around a long time: The first known piece was found in an Egyptian tomb and dates to 1450 B.C.
In the Danforth family, Thomas' sons all continued the pewtering tradition. But there it stopped — until Fred and his wife took it up nearly two centuries later. (The family history is presented in "tree" form on the company website.) Danforth opened a Burlington retail outlet on Church Street in 2004 and maintains gift shops in Waterbury and Quechee.