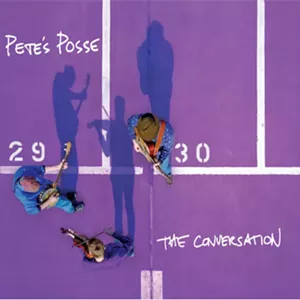 (Epact Music, CD, digital download)
Listening to the latest release from traditionalist trio Pete's Posse feels like eavesdropping on an intense dialogue. The hourlong collection of folk, bluegrass and country music seems to be a negotiation between old and new. To wit: They incorporate myriad old-time, traditional melodies with a contemporary production aesthetic and modern concepts such as climate change and iPhones.
Another thing that makes The Conversation so compelling is the sheer talent of its personnel. Tristan Henderson, Oliver Scanlon and Vermont's veritable ambassador of yesteryear Pete Sutherland are all multi-instrumentalists, singers and songwriters. They work so well in congress that their individual contributions fade into the project's entirety. The group is a well-oiled machine far greater than the sum of its parts.
Much of "the conversation" is how Posse weave compositions — both original and traditional — into various sets and suites. For instance, "The Brocca Set" is essentially a medley of traditional Irish reels that also incorporates a modern composition from renowned contemporary fiddler Liz Carroll. And within wholly original compositions, such as Sutherland's "Up and Blow Away," a musical theme that stands on its own — Scanlon's recurring fiddle melody "Silver Bay" — becomes the connective tissue.
"Be the Light" is a mild ditty with a dainty acoustic guitar/mandolin harmonic lead that recalls baroque classical compositions. But once the boys jump in with some seriously stellar three-part harmony, images of powdered wigs give way to coonskin caps.
"The Sap Ain't Runnin'" is a startling ballad of climate change that's desperately needed in 2017. The performers react to the reality of rising temperatures' effect on Vermont's chief export with a sobering mix of pragmatism and artistry.
Another thing: We need to talk about Henderson's jaw harp. It's a bit ironic that the most ancient of instruments — such as the didgeridoo — sounds far more alien than familiar. Though the trademark "boing-boing" of the oral lamellophone usually sounds goofy and cartoonish, it feels mysterious and gritty with reverb and echo effects on the aptly named "The Echo." It concludes with a series of staccato strikes over a wafting bed of synth strings.
The epic "Stick Season Suite" medley mashes up mostly original pieces with the classic old-time tune "Man of Constant Sorrow." The Posse become an airy choir on the section titled "Amidst the Clouds," and wrap up with a thigh-slapping jig.
Pete's Posse are only a three-man operation, but they make music fit for a 10-piece band. They represent what's best about Vermont: reverence for the old, respect for the new and the ability to find a balance.
The Conversation is available at petespossevt.com. Check the website for a list of upcoming shows.