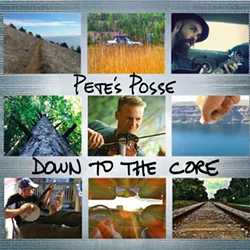 (Epact Music, CD, digital download)
Vermont music master Pete Sutherland has been a major player in the acoustic music scene in New England and beyond since the 1970s, when he fronted the Arm and Hammer String Band. That eclectic group was one of the first in Vermont to play "old-timey" music. On Sutherland's most recent musical project, he performs the roles of producer, director and senior songwriter for Pete's Posse. The posse also includes talented young Vermont musicians Oliver Scanlon, a specialist on violin- and mandolin-family instruments, and Tristan Henderson, who seems to shine on everything from guitar to guimbarde.
Down to the Core, the group's second recording, is a 14-track testament to the power of togetherness: Pete's Posse recorded this disc at the end of an 11,000-mile road trip and tour. The musical result: a hot dance band that can also accompany songs with a mastery that belies the group's relatively brief existence.
On "Cheat or Swing," a groovin' old-timey set, Scanlon's muscular playing and Sutherland's lilting fiddle work are striking and wonderful to hear. Henderson's rhythmic chops make the whole downright seductive. Put on your dancing shoes.
Another pleasure of this disc is its wide variety of tunes. "Ain't Nobody Like You," a reggae-infused love song by Henderson, features his sweet crooning. "June App" is a jam-band-y treatment of an Appalachian standard. Happily, Down to the Core also includes a couple of fine Sutherland originals.
Pete Sutherland has been writing marvelous songs about Vermont history for decades. (He won a Ralph Nading Hill Literary Prize for his song about potash smuggling on the Winooski River.) His compositions on this disc include "In the Country of the Iroquois," described as a "late report on Samuel de Champlain's ill-advised meddling in Native American affairs"; and "Nothing But Wisdom," a lovely paean to living in an age when fossil fuel is scarce.
By my calculation, the three members of Pete's Posse play 15 different instruments on this recording, so it's little wonder that they sometimes sound like a much bigger band. Sutherland's solid presence and good musical sense temper the raw power and energy of his two young bandmates, and, in return, his music is buoyed and burnished by the youngsters. Down to the Core is a fine collection of instrumentals and songs.
Pete's Posse have plenty of upcoming gigs in the area, including a "Sap Beer Concert" on Saturday, September 5, at the Shelburne Museum, and an appearance at the New World Festival in Randolph on Sunday, September 6. Down to the Core is available at petespossevt.com.