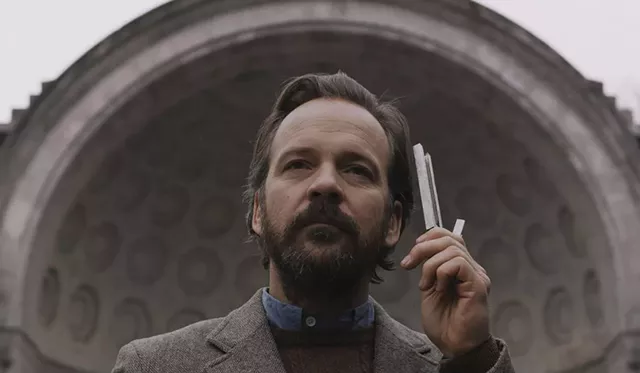 SOUND MIND Sarsgaard turns in a quietly powerful performance as an eccentric who hears things for a living.
There's an amazing moment in The Sound of Silence as surprising, revelatory and simply inspired as anything I've seen this year. In fact, I can't recall seeing anything last year that approaches its canny psychological clout.
Peter Sarsgaard plays a sort of sonic scientist, a tweedy, bearded type who's made what he believes to be a monumental discovery. After years of researching the relationship between environmental sound and human behavior, he's arrived at the conclusion that different parts of New York City produce ambient tones in different keys, and that these geographic registers influence people's interior lives. In other words, you are what you hear.
Based on everything that's happened up to this point in the movie, audiences have every reason to believe Peter Lucian is on to something colossal. He pays the bills by offering his services as a "house tuner." Customer after mystified customer calls to thank him for curing their depression or anxiety by identifying the one discordant buzz or hum in their home's subtle symphony of sounds produced by appliances, faucets, clocks, light fixtures, electrical current and street noise.
In addition to a satchel of tuning forks, Lucian appears to have a sixth sense. Or pitch beyond perfect. Possibly both. The dude definitely looks like he knows what he's doing, and it's fascinating to watch him do it.
What really drives Lucian, though, is a yearning for academic validation. He has recently submitted a paper on his findings to the New American Journal of Sound (available at an imaginary newsstand near you). When he doesn't hear back, he decides to attend a lecture given by the publication's editor, an authority on audio science (Tina Benko) and approach her afterward. Which occasions the moment I find so amazing.
Actually, it's more like a few seconds. Lucian intercepts the woman, who clearly has somewhere else to be, and introduces himself. When he mentions the title of his article, she registers who he is and stammers, "I honestly didn't think we'd have a chance to talk." He practically blushes before replying, "Thank you," assuming that her words signal admiration.
Then, in an instant, his universe is upended. "No," the editor clarifies, "I didn't think you were serious." She proceeds to extricate herself from the encounter, trailing bits of Lucian's crumbled world in her wake. It's impossible to overstate the range of emotions Sarsgaard communicates here with a few understated shifts in expression.
Rashida Jones gives a remarkable performance as a deceptively fragile client whose domestic demons elude Lucian's insight. The two grow close. Initially, she's impressed by his confidence and intrigued by his mind. But by the final act, she's repaired herself sufficiently to call BS, turning the tables on the house tuner in a scene of quiet power. He lays out his theory about how sounds influence behavior, and she pushes back. And more, she offers insight to free Lucian from demons of his own.
Movie-critic law prohibits going into more detail. So I'll say only that this debut feature from Vermont-born director Michael Tyburski, cowritten with Ben Nabors, is that rarest of contemporary film creations: a modestly scaled work of refreshingly original ideas and observations, by turns satirical, humorous and poignant. From the audio design by Grant Elder and Ian Gaffney-Rosenfeld to the score by Will Bates, the production exudes finesse. This is a treat for the eyes and, needless to say, something extraordinarily special for the ears, a mind-expanding marriage of sound and vision.