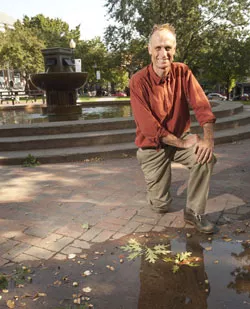 Matthew Thorsen
Peter Owens
Even "socially responsible" builders are wary of doing business in Burlington.
"I won't say it's impossible, but I will say it's incredibly challenging," remarks Erik Hoekstra, a founder of the Vermont Green Building Network and development manager for Redstone. "There are a lot of developers in Chittenden County who won't even consider building in Burlington."
Peter Owens, the new head of Burlington's Community and Economic Development Office, aims to change those negative perceptions of the Queen City. Housing advocates are hopeful that Mayor Miro Weinberger and his fiftysomething development lieutenant can crack a culture of "no!" that has stymied many commercial and residential projects in Burlington.
In contrast to their predecessors, Bob Kiss and Larry Kupferman, Weinberger and Owens both have extensive experience with the politics of development. The mayor, a nonactive partner in a firm focused on building mixed-income housing, won election as a proponent of downtown development. He has support on that issue from key Progressives, such as CEDO housing chief Brian Pine and former CEDO boss Michael Monte, who say Weinberger made a smart call by assigning Owens to head an office emblematic of Burlington's emergence as a dynamic place to live and work.
A 1980 Middlebury College grad, Owens holds a PhD in environmental planning and urban design from the University of California at Berkeley. He has worked as a development specialist for private firms and nonprofits in California and, more recently, in the Upper Valley.
He was senior planner for the Presidio Trust, which oversaw the conversion of a military base near the Golden Gate Bridge into a multipurpose neighborhood integrated into the texture of San Francisco. Owens is an entrepreneur, as well. He helped his brother outfit a 40-year-old fire truck as an organic pizza prep and delivery unit.
"My experience working in both the public and private sectors will be really helpful in this job," Owens says in an interview at Burlington City Hall.
He's also got a history here. Owens was involved in waterfront, transportation and housing initiatives in the 1980s, during the tenure of then-mayor Bernie Sanders. He carried out some of the early planning for Waterfront Park, along with the design for a small green space on North Street.
"Burlington was such an exciting place to be working on those sorts of issues," Owens says 25 years later. "It's great to be back in this city. It's a real privilege to have been asked by Mayor Weinberger to head up CEDO."
The two didn't know one another until mutual colleagues referred the planner to the mayor-elect earlier this year.
Now the pair plan to work closely to achieve their shared vision of a more urbanized Queen City. Weinberger and Owens are going to have to bulldoze bureaucratic and NIMBY-ish obstacles that have earned Burlington a reputation as a hell for developers.
Bob Miller, a local philanthropist and head of a firm that has built major projects in Burlington, says the city's review process seems intended to thwart, rather than regulate, development. Monte, now the chief financial officer for the Champlain Housing Trust, is more diplomatic. "The permitting process in Burlington could be a lot better," comments the man who ran CEDO for 12 years — longer than any of the three other directors of the office Sanders established in 1983.
CEDO has no direct ability to slice through bureaucratic blockages. It neither issues nor implements regulations. Instead, the office serves as a multifaceted community-building and economic-promotion entity with the primary mission today of "leading the mayor's agenda for downtown and waterfront development," as Owens puts it. CEDO also hatches initiatives in response to the housing needs of low- and moderate-income Burlingtonians, Owens adds.
Balancing the sometimes-conflicting demands of the mayor, the city council, the various citizen commissions and private business interests — along with political activists — is the most difficult aspect of the CEDO director's job, Monte says, and could prove challenging for Owens, who'll draw a $90,000 salary.
The city's planning and zoning office, along with the Department of Public Works, are viewed by some housing sponsors as finicky and inflexible. But they're not considered the only potential impediments to development. In fact, planning and zoning director David White gets props from many development advocates for his work on Plan BTV, a yearlong public process — and now a draft document — charting the future of downtown and waterfront development.
Pine, the point man in CEDO's housing division, highlights another obstacle: In Burlington, a single resident can use the city's appeals process to delay or kill a project that enjoys broad support.
Pine, who has worked at CEDO for nearly 16 years, has a positive view of Owens' ability to shift the balance of power on development issues — even though Pine was passed over by Weinberger when the mayor chose a new CEDO director.
"I definitely think we'll see housing built downtown in the next couple of years," Pine declares.
Hoekstra adds, "I'm optimistic we can shift the culture at least a bit."
Although he can't quantify it, Hoekstra predicts that Weinberger and Owens "will get a helluva lot more done than Bob Kiss did."
Owens, a fluid conversationalist, says he understands what he's up against and doesn't imagine that radical change is imminent. "I believe in small ball — in getting scratch hits, reaching base and then moving the runners around," he analogizes. "With each increment, you get better."
Drawing on his memory of the energy that animated Sandersera Burlington, Owens remarks that "CEDO at its best was very entrepreneurial." He points to the development of City Market and the construction of downtown parking garages as examples of moneymaking moves closely in sync with CEDO's social and economic mission.
"Some things worked, and some things didn't," Owens cautions. The inability to redevelop the Moran Plant — first as a city recreation center and then as an ice-climbing facility — qualifies as "a symbol of failure," he says. "The single most frustrating thing about the Moran Plant is that nothing at all has happened with it in 30 years."
The even-longer-stalled Champlain Parkway — which Owens worked on, too, when it was still the Southern Connector — also stands as a testament to governmental dysfunction, the new CEDO director adds. But he expects progress to be made on both projects by year's end.
The rest of Owens' development checklist is drawn from Plan BTV. He wants to turn the Burlington Town Center shopping mall "inside-out" so that Cherry Street becomes a storefront-lined passageway to the waterfront rather than an off-putting row of brutalist institutional buildings and a parking garage that's "in tough shape." He envisions a staircase or funicular connecting Cherry Street to a redeveloped Moran Plant.
The Weinberger administration has already produced a plan to rebuild the most heavily used section of the waterfront bike path, Owens notes. And attention is now turning to the refurbishment of City Hall Park, which, he suggests, can be financed through a combination of public and private funding. On that front, Owens hopes to draw on the experience of fellow Middlebury alum Adrian Benepe, who won valedictory salutes for his success in greening up New York City as parks director in the Bloomberg administration.
If Owens' achievements do fall short of his ambitions, it won't be because he slacked. "The guy works incredibly hard," Pine observes. "He sends emails at, like, 2 a.m."
For at least part of the night, Owens sleeps on a futon in a friend's house on Brookes Avenue, where he has established official city residence. His wife, urban planner Carolyn Radisch, and the couple's two high-school-age children live in Hanover, N.H., and spend time together on weekends — either here or there. It's a viable, if not ideal, arrangement, Owens says.
Living apart from his family and facilitating urban development aren't his only challenges. The CEDO chief is striving to resolve a budget crisis that could result in the loss of some of the office's 30 staffers. Federal funding for local housing and community projects is being shredded. Washington funds one-fifth of CEDO's nearly $6 million budget, and the federal contribution has fallen about 40 percent in the past few years, Pine calculates.
It's a national chop that many other municipalities have been able to withstand by substituting local funds for federal dollars. Burlington will seek to do the same — probably by imposing new and higher development fees, Owens suggests. A tax increase targeted to facilitate economic development is another, slimmer possibility, Pine adds.
Job anxieties could cause a relapse of the morale deflation that Owens has also been trying to remedy in his two months in office. It was a sad-sack scene he inherited.
"The staff here has been beat up on for years — mostly for problems they didn't cause," Owens says in regard to the malaise that enveloped city hall as the Burlington Telecom debacle drained away enthusiasm. Today, however, CEDO-ites are "happy there's energy and ambition here again."
Game playing has helped, as well. Once a week for half an hour, workers break into teams for sign-language spelling bees, relay races involving office equipment and other such "silo-busting" exercises. These "CEDO Olympics" are being organized in part by Marcy Krumbine, the recently appointed assistant director for community development. She is among the "new people with new ideas" who, Pine points out, will be replacing two recently departed staffers.
Krumbine, who responded to an advertisement for the CEDO post she now holds, offers assurance that Burlington's development challenges are not unique. She arrived here from the planning office in southwest Florida that includes the affluent city of Naples. It's almost impossible to build badly needed affordable housing there, Krumbine says.
Vermont, she says, is "on the totally opposite end of the political spectrum" from Florida. In the Burlington area, for example, "it's clear that there's a lot of concern for people's well-being. That's why I came here. That's why this is a good place to be."