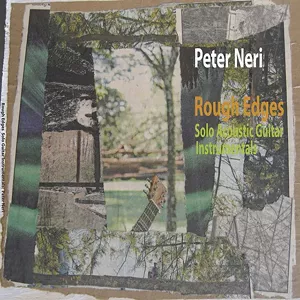 (Self-released, CD, digital)
Peter Neri is an artist, writer and guitarist from Sharon, Vt. His new album, Rough Edges, marks his third solo release. It is a knockout, a top-shelf selection of fingerstyle Americana songs.
Such fare rests on technical skills, and Neri's got them. What shines through on his latest effort, though, is the range of his vision and the depth of his execution. The man is a meticulous composer, fleshing out every idea into compelling movements. That he orchestrates all this on just one fretboard only makes it more impressive.
Consider "Celtic Vision," some classical Irish jiggery, full of lilting runs that pop like Eddie Van Halen doing "MTV Unplugged." It's also a lovely melody full of catchy and clear moving chords that could easily pass for a true traditional song. When those same slippery cadences are reprised later, on "Sneaky Pete," they sound more like a Bach recital in some dingy blues bar.
Clearly, Neri is a master at work. As a veteran songwriter and player, he sets up challenges for himself that make for interesting listening. He takes on conceptual tracks such as "Journey Up the Amazon," which sounds exactly like said trip, and "The Sad, Sad Demise of the Underwood 5," a stuttering, skipping tribute to a dead typewriter. There's also an extended riff on leaky faucets that evolves into some flashy licks ("Faucet Still Leaking").
Closing cut "Moonshine in the Gas Tank" is an album highlight, straddling the ragtime/gospel thumb style of Mississippi John Hurt and the feel of good ol' Bob Wills Western swing. And, of course, a little Leo Kottke. Speaking of inevitable comparisons, Neri leans squarely into his inner Michael Hedges on the two-track suite "The Question?" and "The Answer!" It's a beautiful, spacious interlude, and every note is exactly where it needs to be.
All of these textures somehow make it into the title track. The huge open chords; the propulsive, funky bass lines; and a distinctly classical sense of harmony collide to great effect. As opening tracks go, it's a perfect introduction to Neri's style — and a kaleidoscopic table of contents for the sounds to come.
It's hard to say whether this latest work marks an improvement on Neri's previous project, Night Visions. But that's only because they're both excellent, finely engineered albums. Neri's performances are nuanced and intimate, and his textural additions enhance the experience.
There's not a lot of demand for fingerstyle guitar virtuosos, but perhaps that's only because someone of Neri's caliber hasn't stumbled onto the sanitized soundstage of "America's Got Talent." We may be a single viral video away from a genre renaissance. If so, Neri should get his due as one of the best.
Rough Edges is available at CD Baby.