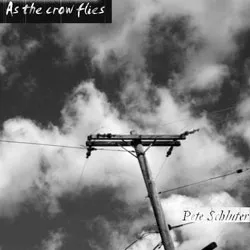 The bustling local singer-songwriter scene gets a little more crowded as former Carlson front man Pete Schluter releases his debut album, As the Crow Flies. From the sound of things, he'll be a welcome addition.
Things get under way with "Thunder Mountain." Over a strummed 12-string acoustic progression, Schluter's light, reedy voice nimbly skips around a pleasing, if somewhat predictable, melody. Lyrically the singer aims high, delivering a wistfully metaphoric tale of aging and loneliness. Youthful ambition gets the better of him at times, though, as he serves up a few poetic clunkers. But all in all, it's a solid tune evoking a (very) young Neil Young.
"Sky in a Jar" is next, and Schluter continues to wear his influences on his sleeves. The tune has a dusty, ethereal Americana bent, not unlike Uncle Tupelo-era Jay Farrar.
"Take a Look Behind the Sun" owes heavy debts to Big Star, complete with swooning backing vocals and a clever bridge reminiscent of a number of cuts from #1 Record / Radio City.
On the next track, "Strange Dream," Schluter again shoots for the sun, but this time with Icarus-like results. At its core, it is probably not a bad song, per se. One imagines Schluter was going for a, well, dreamy affair. But it's hard to get past the cheesy synth strings and keyboards, which lend the effort an overbearingly Disney-ish, earnest feel.
Carlson — featuring guitarist John Flanagan, now of In Memory of Pluto — join him on a couple of numbers, the first being "Lunar Tidings." It's a rollicking indie-rock jaunt. Like his quieter tunes, the song showcases Schluter's knack for imaginative composition.
"Innisfree" is a fairly cliché Americana waltz, focusing on the timeworn desire to leave "the city" for "the country." It even comes with obligatory lines about the banks of some unnamed river.
Fortunately, with his Carlson mates in tow, "Peggy Lee" erases any memory of the previous song with an alt-country scorcher. At times throughout the album, Schluter sounds a little too fragile. Here he really opens up and delivers his most engaging vocal performance.
The album closes with the title track. Sweetly melancholic and featuring a nifty piano line toward the finish, it brings a strong effort to a fitting end.
As the Crow Flies is not without its flaws — most notably, hero worship and occasional heavy-handed lyrics. However, it's an intriguing debut from a talented young tunesmith. As Schluter sheds his influences and comes into his own, he'll certainly be one to watch.