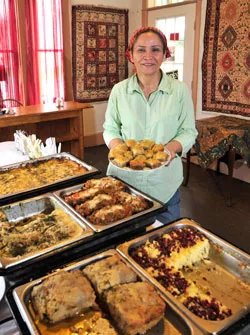 Jeb Wallace-Brodeur
Farah Oberlender
Farah Oberlender is a city girl. She talks quickly and excitedly about how in her native Tehran, Iran, "we didn't take taxi or anything; we'd just go out and there's bank, grocery, pharmacy — everything was around."
Life in Cambridge, Vt., has been a bit of an adjustment. "When I came here — oh, my god … 25 minutes drive to grocery? What is that?" she says, laughing.
Luckily, Oberlender doesn't have to go far for her native cuisine. In May, she opened Farah's Middle Eastern Foods on Main Street in Johnson. There she shares the indigenous comfort food she learned to make under the tutelage of her mother and five older sisters. It's not quite what you'd expect to find in a New England village too small for a traffic light, but Lamoille County seems happy to soak in the saffron scent emanating from the take-out spot.
For many Americans, Persian cuisine has romantic associations — and, as it happens, a love story first brought Oberlender to the U.S. In 2003, her cousin Farah Steiner, who was working at IBM in Essex at the time, contacted her in Iran to ask if she would be interested in meeting an American. The man, who Steiner thought might be a perfect match for her Iranian cousin, was a technician at the Essex offices named Jeff Oberlender. After a whirlwind courtship consisting of exchanged photos and emails, Jeff and Farah, née Akhoundi, agreed to meet.
Since Jeff feared that, just two years after 9/11, he'd be "a sitting duck" for anti-American violence in Iran, the couple scheduled what Jeff calls a "blind date" in Istanbul. They hit it off and quickly married so they could share a hotel room without breaking religious law. The Muslim clerics conducting the marriage held a phone up to the proceedings so the bride's family in Iran could hear the ceremony. The couple later renewed their vows at home in Vermont, then in a Canadian mosque. "I have lots of documents for weddings!" Farah Oberlender says.
Before Oberlender left Tehran for good, her sisters filled a suitcase with a carefully bubble-wrapped wedding present: a gold-plated samovar. Today it sits in a place of honor at Farah's, where she dispenses dark Sri Lankan tea to guests. Above the samovar hangs one of several heirloom rugs sent by Oberlender's family as birthday and Christmas gifts for her 3-and-a-half-year-old son, Kevin.
The Persian tea ceremony, says Oberlender, dates back thousands of years. Growing up, her family sipped from elegant cups paired with spreads of cookies and fruit every day at 5 p.m. Farah's offers a similarly civilized experience at any time of day. It's best matched with a dessert such as ranginak, a high-calorie indulgence of pitted dates stuffed with walnuts and topped with cinnamon and saffron-infused halwa.
In Iran, Oberlender worked as an insurance clerk but was always a passionate cook, accustomed to preparing in bulk for her family of 10. In Vermont, she devoted her time to raising Kevin, but in 2008 she decided to try her hand at sharing her native foods with her new neighbors. The result was a catering company called JFK Creations, under whose umbrella Oberlender soon started selling Farah's Middle Eastern Foods to farmers market customers. Beginning with the Milton market, within two years she expanded to offer her delicacies to eaters in Johnson, Morrisville, Jericho, Hardwick and Highgate. This year, Waterbury will also get a taste, though Milton will not.
Oberlender never worried about not having formal training in the kitchen; "In Iran, everyone can cook," she says. But she admits that in her first year of business, she had a lot to learn. "Between me and my five sisters, I was the worst cook. The food wasn't 100 percent perfect," she says. "With work, I got better and better."
Each market where she plies her trade has its own favorites, Oberlender says. Jericho customers love luleh kebabs, lightly seasoned lamb sausages with Technicolor-green lettuce and a lightly citrusy cucumber-and-tomato salsa. They're stuffed into pitas baked fresh each day at Hardwick's Magic Spoon Bakery. In Hardwick itself, Oberlender says, all of her crisp falafel sandwiches sell out in 40 minutes, no matter how many trays she brings.
Not that Oberlender herself is usually the one lugging those trays these days. She's hired a prep cook, and at the Johnson take-out business, which she opened to satisfy rabid fans in need of a Farah's fix year round, she gets help doling out everything from rice dishes to sandwiches. Her landlord, Jack Slagle, is one of her biggest aides. He and his wife, Roo, used to own now-defunct Roo's Natural Foods, which occupied Farah's current space.
The former grocery is now dominated by a china cabinet and a long table stocked with Iranian delights. At 3 p.m. on a Friday, several groups of customers line up at the buffet table. Though Farah's does a bang-up business in quick takeout for college kids, this line consists mainly of middle-aged locals. Oberlender says that a surprising number of her clients, many of whom are artists associated with the Vermont Studio Center just down the road, have traveled to Iran and compare her offerings favorably with those they've tried abroad. For many others, it's the novelty of the flavors that draws them.
The first thing customers see from the doorway is a plate of baklava. Unlike the Greek iteration of the dish with which most Americans are familiar, the Persian version gets most of its flavor from saffron, pistachios and rosewater, though it is lightly sweetened with honey. "Two dollars might seem like a lot for a piece of baklava, but I use very expensive ingredients," Oberlender says.
Forget the ethnic eateries that settle for cheap produce. Oberlender gets everything she can from local farms, a fringe benefit of spending so much time with producers at farmers markets. Her lamb dishes are made from animals raised at Morrisville's Winding Brook Farm, which is known for its openness to halal slaughtering practices. Beef, which she mixes with lamb in many recipes, originates at Bill Hill Farm in East Hardwick.
How does Vermont meat measure up to Iran's? Our lamb isn't as good, Oberlender says, but beef here is better than what she ate growing up. Overall, she's enthusiastic about Vermont produce and loves that so much of what she purchases is not only local but organic. It makes it easier to "make everything perfect like I cook for my family. Everything is healthy and nothing is frozen," says Oberlender.
With the exception of the baklava, her highly refined dishes are far from pricey. A more-than-fist-sized beef-and-lamb meatball called koofteh retails for $2.50. The tender meat, mixed with split peas and rice, melts in the mouth. The mildly spicy tomato-based sauce in which it lolls gets its dominant flavors from tarragon and mint rather than the red fruit.
A plate-filling portion of tah chin is $4.50. The dish is a rice casserole rich with saffron and topped with barberries — an exotic fruit to Americans. Fresh, it looks like something your mother would tell you was poisonous. Dry, the ruby-red morsels resemble smaller, sourer cranberries. They rest like jewels atop the aromatic yellow rice, which is crisp on the outside, soft on the inside, and filled with chicken, eggs and yogurt.
The dolmas ($1) at Farah's contain split peas, a Persian staple, rather than the ground meat you'd find in the Mediterranean version. The mellow filling is beautifully complemented by a brash lemon sauce, which soaks into the grape-leaf wrappings.
The contents of veggie "samosehs" would look familiar to any fan of Indian food, with potatoes and peas dominating the veggie mix. However, Oberlender's Iranian take on the dish is more heartily spiced than the lightly curried samosas of Indian cuisine. Her version is speckled with chile flakes for a bite that remains on the lips after a taste. Oberlender offers the samosehs with a spoonful of minty, tzatziki-like yogurt-and-cucumber sauce she calls "mast-o khiar" in Farsi.
When conversing in her native tongue, Oberlender peppers her sentences with French, also commonly spoken by the Iranian upper classes. The cultural interchange between the Mediterranean and the Middle East displays itself in her food as well.
Her specialties include four different types of lasagna she offers on her ever-growing and -changing menu. Hearty moussaka and tall pans of buttery spanakopita fill chafing dishes at the long table from which dishes at Farah's are doled out and packed up.
Oberlender doesn't want to stop with takeout. She says she hopes that by fall her various businesses will have earned her enough to furnish and staff a full-service, sit-down eatery. One day, she says, she'd like to have at least 20 different meals available at once. For now, about a dozen seems like plenty.
She'd also like to make more of her products in-house. In Iran, her eldest sister, whom Oberlender calls the family's best cook, taught her to make pickles, jams, and even tomato paste and vinegar from scratch.
Another ambition: to find a way to import Persian rice to Vermont. Oberlender currently uses Indian basmati, but there's lust in her voice as she describes the room-filling aromas of the Iranian grain: "Our rice is perfect, number one in the world."
It's fair to say Oberlender's Persian cooking is number one in its class in Vermont. But the new American has loftier goals for her elegant eats. "My big wish is to one day have an order from Mr. President," she says with a hearty laugh. "I love Obama."