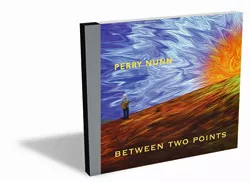 (Two Points Music, CD, digital download)
On his new solo album, Between Two Points, local songwriter and teacher Perry Nunn offers a heartfelt collection of material rooted in his midlife experiences and given color by the various crises — and salvations — encountered along the way. While not exactly overflowing with earth-shattering revelations, it is a likable suite shaded in bluesy folk rock and occasional jam and pop indulgences, and the collection endears itself on repeated listens.
As a lyricist, Nunn generally writes in a direct fashion, exploring the ins and outs of love, life and liberty — the last of both personal and social varieties — with a straightforward attack grounded less in layered metaphor than blunt, confessional exposition. On opener "Life in Production," Nunn sings, "Somebody tell me / A story of how it feels / To find inspiration of a lifetime." He proceeds to paint — if somewhat by numbers — a portrait of a character trying to discover his role in life's divine comedy. "Now the new direction is clear / in this live production / Be myself or nothing / Make the roles disappear." It's not an especially profound revelation. But Nunn's forthright prose effectively imparts a universal sense of disillusionment and, ultimately, redemption.
What he lacks in nuance, Nunn makes up for in sheer energy. His round baritone — picture some combo of Michael McDonald and Darius Rucker — is pure and powerful. He sings with unassailable swagger. And his backing band, which includes Peter Engisch on piano, Russ Lawton on drums and Aram Bedrosian on bass, is equally compelling. This formidable group of music vets infuses Nunn's tunes with palpable electricity and emotional urgency.
All of which combines to form a pleasant outing. Nunn clearly has a gift for melody and knows his way around a solid hook — check the groovy "I Don't See Why" and slyly funky "This Moment." He's earnest on occasion, but not gratingly so. And there's a charm to his upbeat optimism that's difficult, even for a whippersnapper critic, not to admire.
Between Two Points by Perry Nunn is available at perrynunn.com.