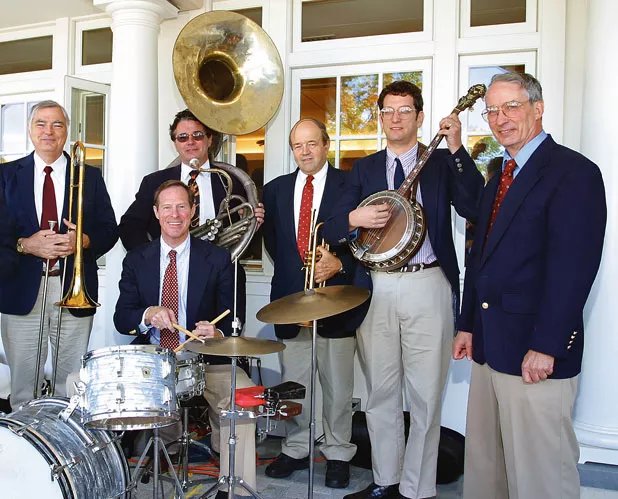 On Friday, June 8, a septet of sharp-dressed jazzbos will climb aboard the Lake Champlain ferry with their clarinets, sousaphones and other traditional jazz instruments to play a show more often associated with French Quarter balconies and gumbo than Vermont and maple syrup. Collectively known as the Onion River Jazz Band, the players have hosted the annual — and always sold-out — Dixieland jazz cruise as part of the Burlington Discover Jazz Festival since 1984.
"It's the closest you can get to New Orleans in terms of being out on the water with a great band and a good crowd of people," says Vermont Public Radio jazz host George Thomas.
The ORJB cast appearing at this year's festivities will differ from that of previous years. Enormously talented clarinetist Tommy Stanziola died last year at age 89. And the sousaphone and bass player, Glendon Ingalls, will be absent because of a teaching commitment. But the band will surely still deliver traditional, or "trad," jazz in all its glory.
Drummer Tony Hall explains that New Orleans trad jazz harkens back to the years between 1899 and 1945 and comprises jazz, ragtime, Dixieland, stride piano, boogie-woogie and swing. Luminaries such as Bix Biederbecke, Louis Armstrong and Jelly Roll Morton help define the genre's sound.
Hall and his band began after the Rev. Martin Copenhaver at the First Congregational Church in Burlington asked him to assemble some musicians for a jazz worship service.
"After my jaw dropped, I called up the guys," remembers Hall. "We've been doing it now for 28 years."
Hall, who playfully considers himself "from the South," hails from Bennington. His drumming career began with pots and pans and a pair of chopsticks his parents had brought home from an excursion to Yonkers, N.Y. He eventually graduated to playing gigs in high school with Rex Stewart, a trumpeter from Duke Ellington's band.
Other ORJB members were equally well versed in music before the band's formation. Pianist and cofounder Andy Ellenberger began playing at age 8 and went on to join the Lehigh University marching band in Bethlehem, Pa. Trumpeter Dick Toof cut his musical teeth with Vermonter Sterling Weed's famed Imperial Orchestra. Banjo player Paul Gittelsohn was a street musician in San Francisco who developed a vocal style akin to jazz legend Fats Waller. And Stanziola, whom Hall says traded his violin for a clarinet in order to "get the gals goin'," played for vaudeville orchestras in the 1940s, as well as in military bands.
"Collectively, we've been playing music for 180 years," he notes.
Former members of the band include Jazz Mandolin Project's Jamie Masefield and original trumpet player Craig Johnson.
The ORJB has performed all over New England, from Higher Ground for the hometown crowd to the Worcester Centrum, where they played for 12,500 people. The band even provided a soundtrack for the Shining-esque ballroom scene of a Middlebury film student's senior project.
Hall says the band never had much desire to travel beyond the Northeast.
"We live in an area that people are clamoring to play in," he says. "And who knew the hotbed of jazz is in Burlington, Vt.?"
The band members speculate that they stand out for their attention to compositional detail and ability to appeal to both casual fans and aficionados.
"We like 'The Saints' and we like 'Saint Louis Blues' and 'Tiger Rag' as well as anybody else," says Hall. "But the esoteric songs are ones that most bands really don't want to touch because they take a lot of time to develop."
To play trad jazz tunes convincingly, he says, requires a serious study of the polyphony and soloing heard in the likes of Kid Ory's Sunshine Orchestra or King Oliver's Creole Jazz Band.
As these musicians get older — and as newer, more experimental genres appear each year at the Burlington Discover Jazz Festival — Hall welcomes the changes and remains confident that the steady beat of trad jazz will go on.
"We're astonished when we see youngsters being exposed to this music and loving it," he says. "And the reason they love it is the two-beat style, which is also the rock style."
"As a drummer, Tony would know that." Thomas observes. The radio host likewise doesn't see the genre slipping out of favor. He cites current New Orleans bands Aurora Nealand & the Royal Roses and Tuba Skinny, who have busked on Church Street and performed at the Radio Bean in Burlington, as examples of the genre's continuation.
"What I saw with Tuba Skinny was a young crowd just loving it," Thomas says. "Their music was really up, it was really passionate, and it was really personal. It's hard to get that sometimes, but Dixieland lends itself to that kind of energy."
David Beckett, another renowned local jazz DJ (at WWPV), has been involved with the jazz fest since its inception and serves, with Thomas, on its advisory board. Beckett says the ORJB defines the festival's spirit.
"The whole thing was dreamt up by local jazz musicians and local jazz nuts," he says. "By 'discover jazz,' the founders of the festival meant for people to discover the fabulous musicians already playing in and around Burlington. They also meant for people who don't think of themselves as jazz fans to discover how wonderful the music is by hearing it live."
Thomas also admires the 10-day event's diversity of "really accessible stuff that ends up on Church Street" and "very current stuff in the FlynnSpace," though he admits he's partial to the New Orleans-style sound supplied by the ORJB.
"If people want to feel good about life and themselves," Thomas says, "they're one of the bands to dance to and hang out with."
Hall says he owes the continuing interest in trad jazz and the longevity of his band to its players' unity around a common love.
"We're seven people, seven voices," he says, "but we're only one song."
The Dixieland Cruise with the Onion River Jazz Band departs from the King Street Ferry Dock in Burlington on Friday, June 8, at 7 p.m. $24. discoverjazz.com, flynntix.org