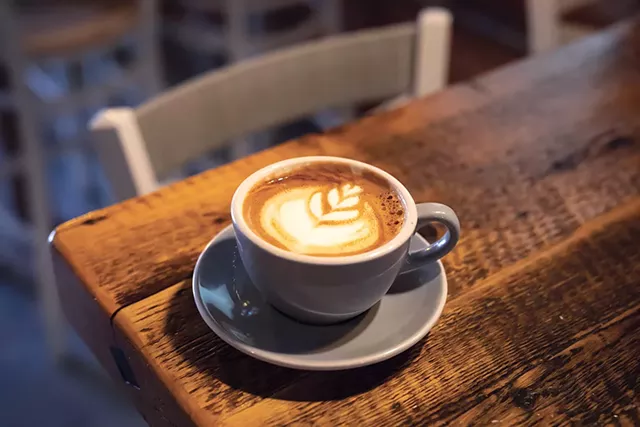 Oliver Parini
Nomad Coffee South End Station
Nomad Coffee South End Station
208 Flynn Ave., Suite 3, Burlington, nomadcoffeevt.com
Andrew Sepic and Nicole Grinstead began their Vermont coffee enterprise as a drive-by coffee truck in Essex Junction in 2016. Two years later, they put down roots with a brick-and-mortar location in Burlington's hopping South End. On weekdays, find the couple's exquisitely curated global brews alongside locally sourced plates such as pasta with meatballs and dilly chicken salad sandwiches. On the weekend? There's brunch, in all its egg-beating, flapjack-flipping, French-toasting glory.
The Great Northern
Chef Frank Pace's farm-to-table restaurant is best known for well-crafted cocktails and dinner plates. But it's a fast stop for morning coffee, too. Baristas prepare caffeinated pick-me-ups to go with the pastries twinkling on glass cake stands. And there's never a line.
Leunig's Petit Bijou
Corner of Church and College, Burlington, leunigsbistro.com
The charming kiosk at the corner of Church and College streets supplies passersby with homemade apple tarts, French macarons and pâte de fruits. And, of course, fresh-brewed coffees and espressos.
Onyx Tonics Specialty Coffee
126 College St., Burlington, onyxtonics.com
These single-origin coffees hail from small farms and roasters around the world. Sample them as espresso, cappuccino, drip or pour-over — best paired with a Miss Weinerz sourdough doughnut.
Maglianero Café
Counter Culture Coffee, teas from Vermont's Stone Leaf Teahouse, kombucha on draft and handcrafted pastries draw bean brainiacs and the coffee-curious. Got work to do? Laptops are welcome here.
Scout & Co.
237 North Ave., Burlington; Innovation Center, 128 Lakeside Ave., Burlington; 1 E. Allen St., Winooski, scoutandcompanyvt.com
What began as a one-stop coffee and ice cream shop has grown to three unique locations in the Queen and Onion cities. In Winooski, the beans are roasted on-site by Vivid Coffee Roasters, while cups of joe accompany inexpensive breakfasts and lunches in Burlington's South End.
Tight Squeeze Coffee Shop
This tiny spot is a downtown go-to for fast, quality caffeine, including espresso roasted locally at Earthback Coffee Roasters. Sweet and savory treats come from the Old North End's Barrio Bakery.