Courtesy Of Jeff Turner
Gahlord Dewald's "Bespoke: Futures"
I've been trying to come up with a snappy nickname for the region's second weekend in September. Why does it need a nickname, you ask? Because it's one of the busiest three days for the area's various arts communities. The confluence of artsy-fartsy happenings from Friday, September 7, through Sunday, September 9, is a perfect storm. Thus, the weekend needs a pithy nickname. End-of-Summer Showdown? Pick Three Weekend? Can-everyone-just-chill-out-and-agree-to-spread-the-amazingness-across-more-dates Weekend? I'm taking suggestions...
And the main events are all friggin' huge, too. Notably, there's the South End Art Hop and its rabbit hole of exhibitions. Vermont Pride Parade and Festival weekend keeps things in groovy rainbow hues. New kid on the block, the Stowe Jazz Festival, comes back for a second year. And, while technically beyond Seven Days' typical beat, geographically speaking, the Otis Mountain Get Down in Elizabethtown, N.Y., is certainly worth some attention. Former Burlingtonians founded the mountaintop fest, and Queen City bands always have a significant showing on the bill.
Again, these events are massive and important. Not to downplay their vastness, but I only have enough space on these here pages to highlight a few noteworthy haps.
Experimentation Station
Coinciding with Art Hop, experimental music incubator Community of Sound hosts three days of avant-garde performances in its studio at 4 Howard Street. Friday features an Adrienne Cooper Smith-curated lineup of performers, including Brad Schneider, ouzkxqlzn, the Brattleboy Choir, Cooper Smith herself and the weekend's master architect and almighty overlord Gahlord Dewald. Performers will accompany the curator's debut video project, which she describes as an experimental collage of sorts.
Additionally, Dewald presents his audience-interactive/collaborative modular electronics performance piece "Bespoke: Futures." That description made my head hurt a little bit, so I asked Dewald to explain it to me as if I were an 8-year-old.
"First, I talk to people about the future ... and how they think of themselves in the future," Dewald explained in an email. "I capture ... the sounds of people saying their things about the future. Then I combine all of those imagined futures together ... along with some other futures I've collected in my travels."
Participants then listen to the beautiful mess in headphones.
"Thinking about the future and sharing it this way is often transformative for everyone," he continued.
Saturday features another lineup of players layering their works atop an experimental backdrop. Sound artist Benjamin Mayock's eight-hour drone piece underscores performances from Adam Ploof, Clyde Powers, Dripline, Jo Bled, Jane Boxall, Toussaint St. Negritude as well as Cooper Smith, ouzkxqlzn, Dewald and Mayock.
On Sunday, a series of avant-garde works wraps things up. Of note, Dewald debuts "with their I you your fuse," a work he commissioned from artist and collaborator Anne Leilehua Lanzilotti.
Additional performers follow. Check out Dewald's Facebook page for a full list.
This is, of course, but a tiny fraction of what you can experience, music-wise, at Art Hop. Magic Hat Brewing pulls a nightclub out of thin air behind the Maltex Building on Pine Street. On Friday, reggae band 10 Ft. Ganja Plant headline the ephemeral venue. DJ Big Dog adds support.
And down the way at Speaking Volumes, Rough Francis and Clever Girls offer up their gritty and grungy jams free of charge.
Life on Mars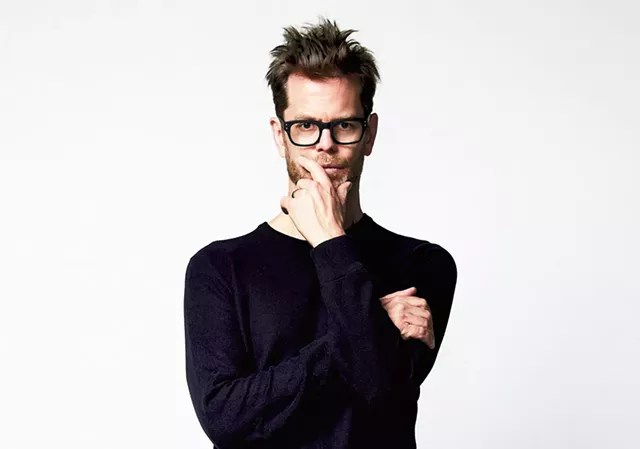 Courtesy Photo
Donny McCaslin
Now in its sophomore year, the Stowe Jazz Festival distinguishes itself from the Burlington Discover Jazz Festival — which has become more and more eclectic over time — with a pledge to present nothing but jazz. The fest runs Friday through Sunday with free performances all over the Stowe area.
Hometown heroes are in full effect across the three days, including ex-Gang of Thieves trombonist Nate Reit and his ensemble, Collage, and saxophonist Brian McCarthy with his quartet.
A striking inclusion in this year's lineup is the Donny McCaslin Quartet. The sax man and his group were among the final musicians to collaborate with the late David Bowie and can be heard on the Starman's final album, Blackstar. McCaslin and co. headline Saturday evening at the Alchemist Brewery's Mainstage.
Rainbow Bright
Aside from Saturday's annual parade down Burlington's Church Street and festival in Battery Park — which is rich with comedy, burlesque and drag performances — Pride weekend offers a few dance parties for all you rump-shakers out there. Namely, the Pride Ball later that evening at the Higher Ground Showcase Lounge in South Burlington. Local drag queen celebrities Nikki Champagne and Emoji Nightmare host the fab fête.
There's also the Women's Tea Dance at Red Square and Taste the Rainbow, a handkerchief code party at Social Club & Lounge. If you don't know what I mean by handkerchief code, electro-trash diva Peaches has you covered with her song "Hanky Code." Here's a key lyric: "Orange on the right means not tonight / But uh-oh / On the left means anything goes."
Visit pridevt.org for more information about Vermont's Pride celebration.
Fire on the Mountain
The Otis Mountain Get Down is like a two-day musical summer camp. You can play lawn games, eat cookout food and even circle up for your own sing-along at your campsite. Now, the festival has been sold out for quite some time, so I don't want you to think that you can just, like, show up. But I've seen a few available tickets circulating through some online forums. I bet if you try really hard — and are willing to shell out some dough — you might find a way to get in on the action.
If you planned in advance and bought tickets when they went on sale months ago, you'll be psyched to cheer on this year's VT artists. On Friday, indie rockers Julia Caesar and Swale are back-to-back (on separate stages). Producer extraordinaire Loupo throws down neat beats with coconspirators Good Company, and DJs SVPPLY and Four-D close out the secluded Range stage.
Saturday is a bit lighter on Green Mountain representation. Neo-soul quintet JUPTR keep things rolling at dinnertime, and Crusty Cuts teams up with hip-hop collective 99 Neighbors later on.
Five Alive
One final note: Happy birthday, ArtsRiot! The food/art/music/community hub turns 5 years old this weekend, with a massive celebration on Sunday. In its brief lifetime, the venue has become essential to Burlington's arts community. With world-class touring bands, local spotlights, dance parties, trivia nights, talks, banquets, and serving up the best burger and fries in Burlington (In My Humble Opinion), ArtsRiot is indispensible. Keep up the good work!
Listening In
If I were a superhero, my superpower would be the ability to get songs stuck in other people's heads. Here are five songs that have been stuck in my head this week. May they also get stuck in yours. Follow sevendaysvt on Spotify for weekly playlists with tunes by artists featured in the music section.
Lucius, "Woman"
Max Sedgley, "Slowly (Misterlong Remix)"
Still Corners, "Strange Pleasures"
Dwight & Nicole, "Electric Lights"
Tamaryn, "Hands All Over Me"