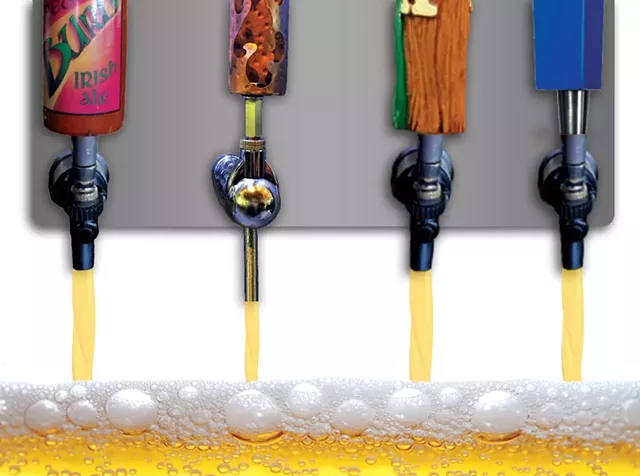 Come autumn, there are countless options for feasting the eyes on Vermont's famous foliage. Visitors can spin their wheels down the Burlington Bike Path, hop aboard a Lake Champlain cruise ship or motor rural roads that wind through the Green Mountains.
So why would one get on a tour bus, seemingly the geekiest way to gawk at a city? Well, when it comes to Burlington Brew Tours, the tour bus is anything but typical. On a 16-seat chariot dubbed Barley, the company has been ferrying local and long-distance beer lovers to frothy destinations for seven years.
Founder Chad Brodsky is a certified cicerone who enlisted the help of late brewing guru Greg Noonan to get his tours off the ground in 2009. Since then he's been introducing customers to Burlington's thriving craft beer scene, one that has earned acclaim everywhere from the New York Times to Draft magazine.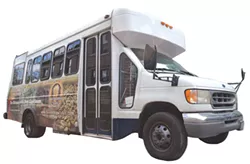 Matthew Thorsen
Burlington Brew Tours bus
Burlington Brew Tours has been letting the good times roll — literally. Beer aficionados see the city and sample its loveliest liquids without worrying about parking, driving, paying or calculating tips while getting (slightly) tipsy. The $80 to $130 price per person covers it all — including food — with stops, sustenance and suds varying by tour.
On the Classic Brew Tour, Barley hauls riders to four beer-centric stops around Burlington, concluding with a pizza-and-beer-pairing lunch. The Pub Crawl Brew Tour, meanwhile, visits two or three breweries along with some of the city's notable nightlife spots, including Nectar's, where there's a beer-and-food-pairing dinner. Finally, the Stowe Beer Tour hits up four breweries in the legendary ski town, with a gourmet pairing lunch at Idletyme Brewing.
Whichever route you choose, Burlington Brew Tours retrieves passengers from and returns them to any Burlington or South Burlington location. Instead of a tour guide with a microphone, a savvy beer sommelier guides every step of the adventure.
"We don't just blindly drop people off," says Matt Taylor, a Vermont native who often oversees tours. "We're giving people an option for seeing all the great breweries in the area, while not having to drink and drive."
Matthew Thorsen
Vermont Pub & Brewery
A recent Classic tour began, as always, by the basement brew kettles at St. Paul Street's Vermont Pub & Brewery, opened by Noonan as the state's first brewpub in 1988. That may not mean much until you learn he had to lobby the legislature for three years to obtain a brewing license — the first one granted since Prohibition. Standing between silver tanks filled with lagers and ales, Taylor entertained his audience with other fun facts.
Hops were once considered a devil plant, he said: In medieval times, had a person consumed one and lived, they would have been burned at the stake for being a witch. Thankfully, that's no longer a concern, so when we ventured upstairs, the tour group happily sipped six different brews, from the Grand Slam Baseball (always brewed when the Boston Red Sox are playing) to the bourbon oak-aged stout — going from least to most bitter.
Courtesy of Foam Brewers
Foam Brewers
The next stop was Foam Brewers, Burlington's newest craft brewery, and arguably the one with the best view. Opened in April on Lake Street, it offers a pretty panorama of Lake Champlain along with pours ranging from the pine-and-citrus Lupi Fresh IPA to the fruity Built to Spill. One could easily linger here — Foam serves up gourmet charcuterie plates, weekly live music and other fun events.
Courtesy of Switchback
Switchback Brewing
But our tour continued, just 2.2 miles south to Switchback Brewing. On the bus, participants passed the time with lively banter and taking in more beer trivia from Taylor. At the Flynn Avenue brewery, a barkeep poured flights of four, which began with the signature Switchback Ale and ended with an Export Stout. A shiny, rainbow-colored tray made from an old Burton snowboard adds to the funky vibe here, as does the fact that dogs are allowed. (There are Switchback-steamed hot dogs, too, for $2.50 each.)
Corin Hirsch
A Folino's pizza
Finally it was time to roll down to Shelburne's Fiddlehead Brewing, passing the world-renowned Shelburne Museum and more views of Lake Champlain along the way. Fiddlehead is known for its hoppy growlers poured by brewmaster and owner Matty Cohen. The 64-ounce containers are perfect for bringing to a BYOB lunch at adjacent Folino's, a barnlike space that serves wood-fired pizzas and fresh salads. Frosted glasses are always on hand for Burlington Brew Tours travelers. That's a thoughtful gesture you'll remember — even if, after 15 or so samples, you forget a few minor details.
Tapping In
Vermont brewers make more beers than you could possibly taste on one tour. But if you're looking to expand your sampling another day, here are some other worthwhile breweries (and a cidery!) within an hour's drive of Burlington. Just be sure you have a designated driver — safety first!
Burlington Area
Beyond
Note: Beer aficionados also make pilgrimages to the revered Hill Farmstead Brewery, located in Greensboro, but it is at least an hour and a half from Burlington. If you make the trek, check hillfarmstead.com first for its hours and special events.
---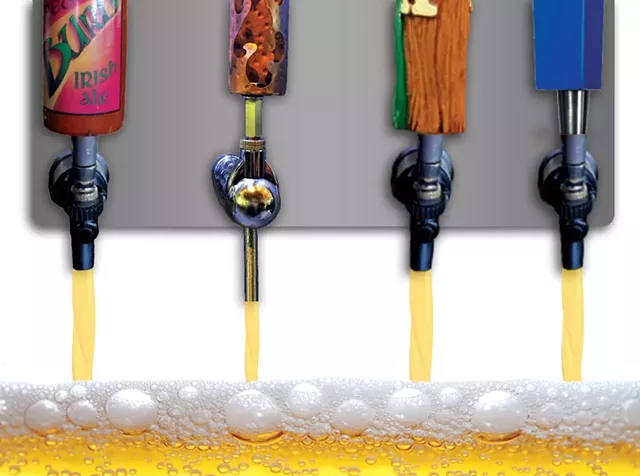 De nombreuses options s'offrent aux touristes qui souhaitent admirer les célèbres couleurs de l'automne au Vermont. Ils peuvent rouler sur la piste cyclable de Burlington, faire une croisière sur le lac Champlain ou découvrir les chemins ruraux des Montagnes vertes.
Pourquoi donc monter à bord d'un autobus de touristes, sans doute la façon la plus ringarde d'explorer une ville? Les visites en circuit de Burlington Brew Tours n'ont pourtant rien d'ordinaire! Dans un véhicule de 16 places nommé Barley, l'entreprise fait découvrir une gamme variée de produits aux amateurs de bière d'ici et d'ailleurs depuis sept ans.
Chad Brodsky, fondateur de l'entreprise et guide touristique certifié, a demandé l'aide du défunt gourou du brassage Greg Noonan au moment de lancer ses visites en 2009. Depuis, il a présenté à de nombreux clients le secteur en plein essor des bières artisanales de Burlington, reconnu notamment par le New York Times et le magazine Draft.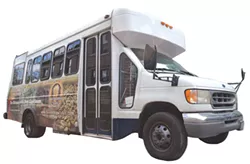 Matthew Thorsen
Burlington Brew Tours bus
Burlington Brew Tours permet aux passionnés du bock de s'offrir un bon moment : ils visitent la ville, goûtent ses meilleures bières et s'abandonnent à une douce ivresse sans se soucier de stationner, de conduire, de payer ou de calculer le pourboire. Les coûts par personne vont de 80 $ à 130 $ et comprennent tout, même les repas; les arrêts, les repas et les bières varient d'une visite à l'autre.
Lors du Classic Brew Tour, Barley effectue un circuit de quatre arrêts à des pubs de Burlington se terminant par un lunch accord pizza et bière. Ceux et celles qui choisissent le Pub Crawl Brew Tour visitent deux ou trois brasseries et certains des bars les plus connus de la ville, dont Nectar's, où ils dégustent un délicieux souper au menu conçu en fonction des bières servies. Finalement, le Stowe Beer Tour s'arrête à quatre brasseries du célèbre village de ski et comprend un repas gastronomique à Idletyme Brewing.
Peu importe l'itinéraire choisi, Burlington Brew Tours va chercher et ramène les passagers n'importe où à Burlington ou à South Burlington. Plutôt qu'un guide touristique au micro, c'est un sommelier en bière qui vous fait profiter de son savoir à chaque étape de l'aventure.
Nous ne nous contentons pas de déposer les gens à chacun des arrêts, explique Matt Taylor, natif du Vermont qui guide souvent les visites. Nous leur permettons d'aller à d'excellentes brasseries du coin, sans avoir à conduire pour s'y rendre.
Matthew Thorsen
Vermont Pub & Brewery
J'ai récemment pris part au Classic Brew Tour, qui a commencé, comme toujours, sur St. Paul Street, par les chaudières à bière du sous-sol de la Vermont Pub & Brewery, première brasserie-pub du Vermont, fondée par Greg Noonan en 1988. Il faut savoir que M. Noonan a dû faire pression sur les législateurs durant trois ans avant d'obtenir un permis de brasseur – le premier accordé depuis la Prohibition. Au milieu des réservoirs argentés remplis de lagers et d'ales, Matt relate aux participants d'autres faits amusants et intéressants.
Le houblon a déjà été considéré comme une plante maléfique, nous apprend-il : au Moyen-Âge, on condamnait au bûcher pour sorcellerie ceux qui en mangeaient et survivaient. Heureusement, ce n'est plus le cas aujourd'hui et, lorsque le groupe remonte au rez-de-chaussée, tout le monde peut siroter nonchalamment six différentes bières, servies en ordre croissant d'amertume, soit de la Grand Slam Baseball (brassée à chaque match des Red Sox de Boston) à la stout au bourbon vieillie en fûts de chêne.
Courtesy of Foam Brewers
Foam Brewers
Prochain arrêt : Foam Brewers, la plus récente brasserie artisanale de Burlington et sans doute celle où l'on peut admirer le plus beau panorama. Ouverte en avril sur Lake Street, elle offre une jolie vue sur le lac Champlain et une gamme de bières allant de l'IPA Lupi Fresh, aux arômes de pin et d'agrumes, à la Built to Spill, bien fruitée. On s'attarderait volontiers à Foam, où l'on peut savourer des charcuteries fines, écouter jouer les musiciens et assister à d'autres événements festifs.
Courtesy of Switchback
Switchback Brewing
Mais la visite se poursuit 3,5 km au sud, à Switchback Brewing. Dans l'autobus, les participants plaisantent et écoutent Matt leur raconter d'autres faits cocasses sur la bière. La brasserie de la Flynn Avenue nous propose un quatuor de bières, dont la Switchback Ale, la spécialité de la maison, et une stout d'exportation. Un plateau aux couleurs de l'arc-en-ciel taillé à même une vieille planche à neige Burton contribue à l'ambiance funky des lieux, où les chiens sont les bienvenus. (On vous offre aussi des hot-dogs vapeur à la Switchback à 2,50 $.)
Corin Hirsch
A Folino's pizza
En route vers le dernier arrêt, la Fiddlehead Brewing de Shelburne, on passe devant le Shelburne Museum, de renommée mondiale, et on admire une fois de plus le lac Champlain dans toute sa splendeur. Fiddlehead est réputée pour ses growlers remplis par Matty Cohen, maître-brasseur et propriétaire des lieux. Apportez ensuite votre cruche de près de deux litres à Folino's, à la porte d'à côté, un endroit aux allures de grange où l'on vous sert des pizzas cuites au four à bois et des salades fraîches. Des verres givrés attendent toujours les clients de Burlington Brew Tours. C'est une délicate attention dont vous vous souviendrez. Enfin, peut-être... Environ 15 verres de dégustation plus tard, on oublie parfois quelques détails!
Tapping In
Les brasseurs du Vermont fabriquent plus de bières qu'il est possible d'en goûter en une seule visite. Si vous souhaitez poursuivre l'exploration un autre jour, voici d'autres brasseries (et une cidrerie) qui valent le détour, situées à moins d'une heure de route de Burlington. N'oubliez pas de nommer un conducteur désigné!
Burlington Area
Beyond
Nota: Les passionnés de bière se rendent aussi souvent à la très populaire Hill Farmstead Brewery de Greensboro, à plus d'une heure et demie de Burlington. Avant d'y aller, consultez le site hillfarmstead.com pour connaître les heures d'ouverture et les événements spéciaux.