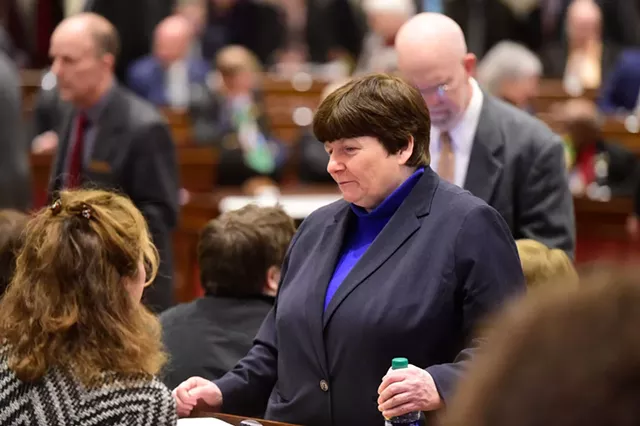 Jeb Wallace-Brodeur
State Treasurer Beth Pearce
If you're looking for a sleeper issue for 2019, here's a nominee: public-sector pensions. It may not be sexy, but it's a big deal. Vermont faces a mountain of pension obligations, thanks to chronic underfunding of the state employees' and teachers' funds from the early 1990s to the mid-2000s. For those keeping score, it started when Democrat Howard Dean was governor and continued through the first half of Republican Jim Douglas' administration.
In 2006, Douglas and the Democratic legislature agreed to start fully funding the pensions again. Ever since, officials have been trying to close the gap created by the years of investing too little.
The issue became contentious in the closing days of the 2018 legislative session during the fight over what to do with $34 million in unanticipated revenue. Gov. Phil Scott wanted to hold property taxes at last year's levels. Democrats wanted to invest in the state pension funds. A last-minute compromise split the pot between tax relief and pension paydown.
There may be a similar dispute this year. Since July 1, according to Administration Secretary Susanne Young, state revenues have exceeded projections by $30 million. If that trend continues, there will be a nice pot of money to fight over.
The Scott administration is also making noises about some kind of public-sector pension reform — with no specifics whatsoever. Each of Scott's first two years in office featured an "April surprise," a major reform proposal unveiled late in the legislative session. Could another one, this time on public-sector pensions, be in the offing?
"That is the conclusion that others jump to," said Young. Well, yeah. History is on their side.
The fiscal consequences of the state's past failures are mind-blowing. According to figures from Treasurer Beth Pearce, the state's contribution to the Vermont State Employees' Retirement Fund in the most recent fiscal year was $63 million. Of that, $47 million was devoted to paying down those past obligations.
It's even worse for the Vermont State Teachers' Retirement Fund. The payment for that kitty was $106 million in fiscal year 2018. Ninety-eight million dollars helped to make up for past budgetary sins. Only $8 million was required to meet current obligations.
Let that sink in for a moment. If the state had fully funded its pensions in the '90s and '00s, its most recent pension payments would have been only $24 million — instead of the $169 million actually required.
The financial drag will get even worse in the next two decades if the state keeps to a schedule established by law to make the funds whole by the year 2039. It's the right thing to do, but it limits the state's ability to meet other priorities.
"It's probably the single biggest cost pressure this year," said Finance Commissioner Adam Greshin. The co-owner of Sugarbush Resort produced a chart showing what he called a "black diamond slope" of rising pension costs between now and 2038.
This talk raises red flags among union leaders. "All indications are that the administration is gearing up for battle on public-sector pensions," said Steve Howard, president of the Vermont State Employees' Association. He's concerned that the administration will propose shifting pensions from "defined benefit" to "defined contribution."
The former establishes set retirement benefits and makes the state responsible for providing enough money to pay them. The latter is akin to a 401k, with the state contributing to workers' retirement funds but offering no guarantees on what they will receive.
Howard has evidence to support his fears. Scott is on the record advocating for a shift to defined contribution plans for newly hired employees. He hasn't talked about it lately, but he promoted the idea after winning the governorship in 2016. "The most immediate and meaningful step to curb the state's growing liability is to offer new State employees and teachers a defined contribution plan (similar to a 401k)," wrote the Scott transition team shortly after his election.
Pearce was, and is, a staunch opponent of defined-contribution plans. She argued that the plans don't actually save any money — and do nothing to address unfunded pension liabilities. Which, as we have seen, account for the bulk of Vermont's pension difficulties.
"Defined benefit plans are a better deal for the employee and the taxpayer," said Pearce. "They are professionally managed and achieve economies of scale, thanks to their large asset pools." They also provide much better financial security for retirees, she added.
"We are not planning to propose defined contribution," asserted Young. "We want to work with the legislature and the treasurer to keep this from getting worse."
That word "planning" provides plenty of wiggle room. But if defined contribution is, indeed, off the table, it may be due to sheer political reality. House Speaker Mitzi Johnson (D-South Hero) expressed confidence that her caucus would stand behind the unions.
Johnson pointed to last session's standoff over whether to invest $26 million of the unanticipated revenue into the pension system. "We had a vote," said Johnson. "Every single Democrat, every single Progressive and six out of seven independents voted in favor of supporting our pension obligations."
There's been an election since then, and the Republicans lost significant ground.
The administration is offering no hint of specific reform proposals. Its first priority is to conduct what Young calls a "stress test" to see how the funds would fare under a variety of worst-case scenarios. Pearce prefers the term "risk assessment," which she sees as a broader evaluation of the funds' robustness.
The difference goes beyond semantics. The Pew Charitable Trusts has offered to perform stress tests for many states, including Vermont. The multi-billion-dollar foundation has a sterling image, thanks to its generous support for public television — but it's not necessarily seen as an honest broker on public-sector pensions.
Johnson recalled attending a Pew seminar on the issue several years ago. "I was really surprised at how heavy-handed they were and how imbalanced their panels were," she said, meaning they were slanted toward support of defined contribution plans.
Pearce opposed giving the job to Pew. "My view is that the pension plans' trustees should have responsibility to review the plans, look at factors, and take appropriate steps with the administration, treasurer, legislature and employees," she said.
Yes, employees. Pearce insisted that public-sector workers "have stepped up to the plate" in response to underfunded pensions. "Teachers have agreed to increase their retirement age and increase their contributions to the system," taking an effective 1.5 percent pay cut in the process.
Greshin expressed hope that the risk assessment would produce "meaningful information for the new legislative session." That's only three weeks from now, which seems impossibly optimistic. Pearce won't even offer a guess as to how long the assessment will take.
So we will head into the 2019 session with a major study in process and with the administration sounding the alarm and not offering any specific plans. Sound familiar?
"We don't intend to introduce any structural changes," said Young. "We are trying to understand the variables."
That word "intend" kinda sticks out, doesn't it?
Pearce, for one, would resist any fast-track consideration of major reforms. "I'm pleased to hear that the administration is not considering changes to pension plans at this time," she said. "Any proposals should be strongly vetted."
Even in the absence of April surprises, the question of how to use unanticipated revenues could loom large. Johnson made it clear that Democrats would seek a further paydown of pension obligations.
Young's No. 2, Deputy Secretary of Administration Brad Ferland, argued against such a move. "The payment [in 2018] didn't help us achieve savings for taxpayers," he said. There will be savings, he added, but not until the end of the 20-year paydown — in 2038. "There is nothing guaranteed about long-term savings," he said.
That's true, in a way. But if Vermont doesn't make good on its pension obligations, 2038 will be a complete horror show. And while nothing is guaranteed, making additional payments whenever possible would seem to be a wise investment.
Media Notes
The front office of WVMT AM620 and the adjoining studio were packed last Thursday morning as the "Charlie + Ernie in the Morning!" show held its annual "Politically Incorrect Christmas Party." Politicians, dignitaries and show regulars jostled amiably for position at the microphones when they weren't crashing the buffet table.
Among those on hand were Burlington City Council President and outgoing Rep. Kurt Wright (R-Burlington); the show's "official nun," Sister Pat; retired veterinarian Peg Larson; and former Charlie + Ernie cohost Lisa Nagle. There were the Starline Rhythm Boys, who wrote the show's theme song. The walls of the studio were festooned with gewgaws and memorabilia from the show's 20-year run, including quite a few Seven Days covers autographed by their subjects.
At one point I found myself with former governor Douglas, Sen. Dick Mazza (D-Grand Isle) and Burlington Mayor Miro Weinberger. After cohost Charlie Papillo tossed Weinberger a softball question about the city's holiday decorations, I asked if there'd be an ice rink on the long-empty site of CityPlace Burlington. Douglas piled on by asking if Weinberger is "looking for some of that EB-5 money." The studio erupted.
Just keepin' it politically incorrect, Mr. Mayor.
It was a great morning. And, unfortunately, the last-ever Charlie + Ernie holiday bash. The two hosts, Papillo and Ernie Farrar, are stepping aside at the end of this week.
Standing unobtrusively in a corner of the studio were their successors, Pete Belair and Sarah Mitiguy, taking mental notes as quickly as they could. Starting January 2, WVMT's weekday morning show will be known as "Pete and Sarah."
Belair is a veteran of 23 years on the Burlington airwaves. Mitiguy has been in radio for only two years, after serving in state government (mostly in human services) for seven years. They currently cohost the morning show on WVMT's top-40 sister station WXXX — or 95 Triple X, as they say on the air.
"We're both excited to be in talk radio," said Mitiguy. "We'll be able to get to know the community."
They don't plan on making any changes to the Charlie + Ernie formula. "We're keeping the format and all the regular guests," said Belair.
Ernie will leave at least one reminder of his epic career at WVMT. The long, unpaved entrance to the station headquarters is named Ernie Farrar Drive in honor of his 52 continuous years on the air.