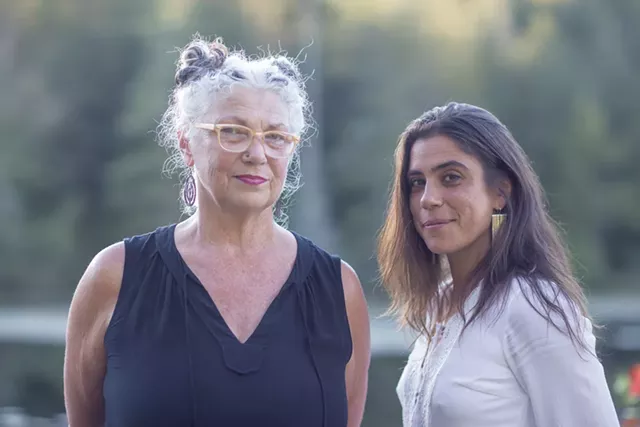 Luke Awtry
Peg Tassey (left) and Miriam Bernardo
In the opening moments of her new album, Songs From the Well, Miriam Bernardo sings, "I've got a well that won't run dry." Airy, yet throaty and rooted, the Montpelier singer's voice spills over misty layers of piano, cello and a patter of drums, as well as choral background voices and electronically manipulated resonator guitar.
"I'm gonna sing / Sing my song into the wind," she continues, before reaching a rapturous climax.
Bernardo is singing about herself, but not in a vain or navel-gazing way. For one thing, she didn't write the tune. "I Got a Well" was a gift from singer-songwriter Anaïs Mitchell.
The two women have been friends for more than a decade. In 2007, Bernardo debuted the role of Persephone in the original, Vermont-based production of Mitchell's folk-rock opera Hadestown. (The Broadway production of that show scored eight 2019 Tony Awards, including for Best Musical and specific accolades for Mitchell and composer Michael Chorney.)
A tribute to Bernardo's spirit, "I Got a Well" puts the singer in the shoes of a quasi-mythic Judaic figure.
"Miriam [was] this very powerful female prophet who, it is said, had a well that was able to provide water to her people during the exodus from Egypt," Mitchell writes in an email to Seven Days. Along with manna and the pillar of clouds, Miriam's Well, a magic stone or perhaps some kind of spile that could locate or produce water, was said to be one of the three gifts God gave the Israelites as they wandered the desert for 40 years.
"I liked thinking about the Biblical character and our Miriam, who is so resilient and giving," Mitchell continues.
She wasn't the only songwriter tasked with contributing to Songs From the Well. Peg Tassey, Bernardo's close friend and the album's producer and overall mastermind, arranged for a selection of Bernardo's favorite Vermont songwriters to either pen originals or pull songs from their catalogs with Bernardo in mind. These artists include Chorney, folk singer Patti Casey, indie rocker Brian Clark, jazz composer James Harvey, honky-tonk hero Mark LeGrand, mountain bluesman Seth Eames and Americana stalwart Colin McCaffrey. And each was happy to do it.
"I was very excited at the prospect of [Bernardo] covering ["Just One Taste"]," says LeGrand of the song from his 2016 album Tigers Above and Tigers Below. "I hope I can work with her sometime."
All of the contributing authors and musicians, most of whom are associated with the Montpelier music scene, have worked with Bernardo, Tassey or both at some point over the years.
"Vermont has this connective tissue that happens," Bernardo says. "It's just a matter of time before you meet the people you connect with. It's such a small state, it really becomes clear who's in your pocket."
Originally conceived in 2014, the album has come to fruition five years, dozens of recording sessions and hundreds of hours later. Songs From the Well is set for an official release on Friday, October 11, the same day as the album-release concert at the Double E Performance Center's T-Rex Theater in Essex Junction. (The album is currently available to stream and download on Bandcamp.)
Why such an elephantine gestation period? Tassey's relentless pursuit of perfection.
"I don't know how other producers work, but I couldn't let anything go until I loved it," she says.
Tassey and Bernardo are both household names within central Vermont's music community but may not spark as much recognition elsewhere in the state. That's about to change. With a remarkably hefty budget compared to many Vermont productions, a crack team of recording professionals, and instrumental contributions from exceptional players, Songs From the Well is the biggest production to hit the Green Mountains this year. Beyond that, its significance is twofold: It reflects the love Bernardo's associates have for her, and it stands as a major milestone for Tassey, who only recently got back in the game.
'I knew that she needed to be heard'
Tassey, 61, is all energy. Typically dressed in black, a contrast to her shock of silver hair, she excitedly hops from story to story, all the while gushing about her talented friend. She gets goose bumps frequently, especially when talking about the album she produced for Bernardo. She may even shed a few tears, depending on how worked up she gets.
By comparison, Bernardo, 40, exudes cool confidence and contentment, both in her general demeanor and in conversation. Of the two, Bernardo is more likely to crack an incisive joke. Tassey says that if she weren't a singer, Bernardo would be a standup comedian.
If Tassey is a helium-filled Mylar balloon, Bernardo is the little weight tied to the string that prevents it from flying away. The two have a distinct yin and yang dynamic, a chemistry that propels their shared work.
Bernardo, originally from Athens in Windham County, has provided vocals to scads of local projects, including all-women ska and rocksteady ensemble Steady Betty, salsa combo Afinque, groove-alicious outfit High Summer and Chorney's Sun Ra tribute Magic City. She's appeared on plenty of other people's records, too, from Chorney's 2003 album Songs and Music of Paul Bowles to folk singer-songwriter Christine Malcolm's 2019 release I Like You.
And yet Songs From the Well is, for all intents and purposes, Bernardo's solo debut. While she's often thought it would be nice to have a recording to call her own, Bernardo says the work she's done with others has satisfied her. Tassey was the fuel that revved up the machine.
"I knew that she needed to be heard, and I knew we could make it happen," Tassey says.
Bernardo's friends and associates all agree that her mesmerizing stage presence, inherent magnetism and overall panache more than merit a project with her name on it. Former Steady Betty cohort Caroline O'Connor describes Bernardo's energy as "infectious" and says that she can "hold a crowd quite well." Linda Bassick, another Steady Betty associate, suggests Bernardo is "the sexiest person alive."
"She just has to step onstage," Bassick cracks.
"Her voice has a richness," Mitchell writes. "She seems to sing from a deep place in her body, [like] there's a pure, direct line between her voice and spirit."
In early 2014, as Bernardo performed a duo gig with Eames at the Whammy Bar in Calais, Tassey was struck by those qualities about the singer. Moved to tears by the performance, she approached Bernardo after the set.
"I just went up to her and said, 'I want to produce an album for you,'" Tassey recalls.
Bernardo was touched.
"No one had ever really said that to me," she says.
'I wanted this big sound'
Peg Tassey and Proud of It in 1991
As it turns out, producing an album is easier said than done, especially if you've never done it before. Tassey is a seasoned performer with many records under her belt as a songwriter and musician. But she had never taken on the role of producer.
The New Jersey native moved to Vermont in 1978. She became a fixture of Burlington's rock scene in the '80s through the early 2000s with projects such as Peg Tassey and Proud of It, the Velvet Ovum Band and the Kissing Circle.
Due to a vocal-cord injury, Tassey took a break from performing until 2017. But back in her heyday, she says, she was known as something of a hell-raiser.
As an example, Tassey recalls auditioning for a band at one point. The group's members requested that she scale back the overdriven guitar spewing out of her amp. She refused. Another time, a different band member told her she couldn't put a particular chord in a song because it was in the wrong key.
"I was just like, 'Watch me. This is my song, and I want it there,'" she says. "'I think it sounds pretty.'"
Tassey was a maverick who gave not the slightest of fucks if her outsize personality rubbed anyone the wrong way as she pursued her artistic goals. Though perhaps somewhat mellowed by years, that trait is still evident at times, and it proved useful throughout the production of Songs From the Well.
Knowing the album would need considerable capital, Tassey staged a successful Kickstarter campaign in 2016, garnering more than $27,000. Additionally bolstered by a grant from the Vermont Community Foundation, the project launched with more financial backing than do most local projects. (Tassey also founded a record label, Flower Fields, specifically for this album.)
With the coffers full, she collected demos from the songwriters and set about the task of figuring out exactly where the magic would happen. Vermont has no shortage of recording studios, and Tassey worked with several.
Many of the initial instrumental tracks, performed by a variety of local players, were recorded with McCaffrey at Lane Gibson Recording and Mastering in Charlotte, a popular choice for folk records. Ryan Cohen of Williston's Robot Dog Studio — which cranks out more local rock albums per year than any other — and Jer Coons of Burlington's eclectic Future Fields took on much of the mixing process, as well as more instrumentals, as did former Burlingtonian Jeff Moxley of the Treehouse.
Songs From the Well has been tweaked, filtered, mixed and remixed extensively. For instance, the resonator guitar heard within the tapestry of sound on "I Got a Well" came from the original acoustic demo that Mitchell recorded. Tassey and Bernardo adored Mitchell's take so much that the demo's instrumentals appear in the final version, albeit chopped up and glued back together à la the stuttering guitar in Madonna's "Don't Tell Me."
"She was incredibly committed and passionate and focused on making this a reality," says McCaffrey of Tassey's imprint on the album.
More than anything, Tassey imagined the record as sounding thick, sharp, deep and shiny.
"I wanted this big sound," she says. "I was listening to Elton John and stuff that has lots of orchestra. How do you make it sound like you have the singer with a big orchestra?"
As she learned along the way, it's all in the mix. Sonic wizardry from Moxley, Cohen and Coons elevated the tunes to the final crisp, engaging versions — but not without significant input from Tassey.
"Peg is a perfectionist, and I've worked with a lot of perfectionists," says Coons, the final audio technician to work on the album. His past work with country singer-songwriter Kelly Ravin and formerly local rock upstart Caroline Rose attracted Tassey to the Burlington shop.
"I take for granted certain aspects of musical language in terms of working in the studio," Coons adds.
Tassey points out something the two have in common: Neither she nor Coons reads music. Because of that, she feels they share a similar organic, instinctual approach to music, which made their communication highly effective.
"Music is really a language," Tassey says of her choice to involve so many engineers. "Just like when you're in a band, different languages work and spark between different members. They are all equally important, but it's sort of an alchemy that happens."
'My voice is like liquor'
Sara Grace and Miriam Bernardo in the 2007 production of Hadestown
Though the folk-rock label is easily ascribed to Songs From the Well, that descriptor is not wholly accurate. Instrumentally adventurous and incorporating gobs of sound from track to track, the album resists classification. That quality is at least partly the result of contributions from so many writers with disparate stylistic backgrounds.
Both Tassey and Bernardo had to interpret the material they were given, but in different ways. Tassey's job, devising sonic approaches, was largely utilitarian. Bernardo's task was philosophical.
"I asked a couple of [the songwriters], 'What does this [song] specifically mean to you [and] why did you write this?'" Bernardo recalls. She says that her associates gave her permission to decide that for herself. "It was a lot of trust and blessings."
Bernardo's impeccable voice is pushed to the forefront throughout the album. Listening from start to finish, it's easy to understand why so many artists would jump at the chance to produce work for the singer. She's technically flawless, but precision is only part of her mastery.
Bernardo also sings in a way that suggests a great deal of thought and deliberation. Clear choices are heard throughout, such as pointed intonations in how she lets notes break in the verses of "I Got a Well," or pivoting from breathy to forceful singing on the following track, "Angle of the Sun."
With each song coming from a different songwriter (though Clark contributes two), the album might have felt disjointed, like a multiple-artist compilation. But Tassey's persistence in finding the absolute right tones, textures and temperatures yielded a cohesive result.
"To me, every song sort of led me through where it would go," Tassey says. "[We had] permission to say, 'We can go here with these songs.'"
"In a way, a lot of these songs don't have much to do with each other," says bassist Rob Morse, Bernardo's longtime boyfriend who contributes throughout the album. "Now they do."
An album's track order is often intended to tell a story, or at least attempt to show dynamic and stylistic range across multiple pieces of music. The latter is true in the case of Songs From the Well. Following the dramatic Mitchell-penned intro, an older tune of Tassey's, "Angle of the Sun," brightens the album's tone.
A bit on the psychedelic side, phased guitars with softly murmured la-las in the background lighten the song's heavy subject matter: divorce and trying to be hopeful in the face of despair. But the song is so layered with details — alternate guitar parts, twinkles of piano, surges of bass — that the breadth of the production distracts from its weary origin.
Later on, "Just One Taste," LeGrand's contribution, initially leaves a vacuum between Bernardo's vocals and huge, booming drums. Soon, the empty spaces fill in with Vermont expat David Symons' accordion, evoking scenes of a smoky Parisian café. Here Bernardo burns with desperate physical desire: "I fell so hard for you / Right down on the floor / Just one taste / And I wanted one more."
Chorney's tune, "Contraption," is literally about Bernardo's voice.
"My voice is like liquor / My voice is like ink / Thicker and thicker / What do you think?" read the song's opening lyrics, a thorough examination and contemplation of Bernardo's instrument. In an unsettling minor key, the song rolls out slowly with tendrils of electric guitar swirling below Bernardo's voice. A barrage of shocking, punctuated beats and baggy hi-hats gives the tune form.
"I was trying to consider Miriam as a performer and how people project so many things onto her," Chorney says. "People bring their own perceptions, and they color the performer's motives with that sometimes. And I've seen that certainly projected on Miriam."
Harvey's tune, a touching, nearly new-age-sounding composition called "Like After a Dream," rides on waves of cello and piano. It's less a drop in energy and more a circling of the album's more energetic wagons. Immediately following, the melancholy turn transitions into Casey's "Good to You," a sweet country swinger in the tradition of Patsy Cline.
Appropriately, the album closes with "Free Spirit," cowritten by Eames and Bernardo — the very combination that inspired Tassey to begin with. Eames' rubbery slide guitar bends as a chorus of voices builds around Bernardo. The last sound heard is a field recording of spring peepers captured by Tassey at the pond behind her rural Calais home. The album's vinyl version, a locked groove that forces the disc into a loop, lets the little amphibians chirp forever.
'I've never felt not heard'
"I'll support anybody that I think is awesome," says Tassey. "But I really love to support other women."
In terms of size and scope, Songs From the Well is effectively the biggest Vermont album of the year. It would be disingenuous not to recognize that it's also led by two women. For a state that pumps out practically as much recorded music as it does maple syrup, recordings from male artists still greatly outnumber those by female artists. Local productions of this scale are rare to begin with, and particularly with women at the helm.
"It's so good to see women up there," says O'Connor. "Every time people do, a lot of women can get inspired and think, Oh, this is a possibility."
"The groups that I've played in that are all male, I'm thankful that I've been on equal terms," says Bernardo. "I've never felt not heard."
But she isn't blind to the fact that her record isn't the norm in Vermont.
"In general, women are stuck into these roles," says Bernardo. "Maybe our music isn't as important, or we're creating the home space to support [our] male counterparts. Women aren't taken as seriously."
Beyond illuminating possibilities, albums like Songs From the Well exemplify the importance of listening to one another. Tassey's engineers listened to her vision; she listened back when they told her what could and couldn't be done. She also listened to Bernardo: Nothing was final without her stamp of approval.
With Songs From the Well, Bernardo and Tassey are demanding and earning attention for themselves. Bernardo plans to continue to voice the work of others in various projects. As for Tassey, with one album as producer on her résumé, she thinks she may be up for more.
"I'd love to produce an album for Seth Eames," she hints.
Beyond that, a long-awaited album of her own original material could be on the horizon. With a new skill set in hand, the future seems wide open.