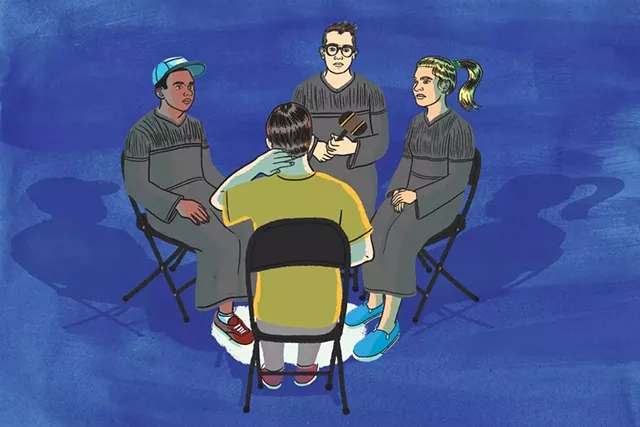 Jessica and Ted considered themselves to be more cyber-savvy than many parents. They limited their son's online activities by not giving him his own smartphone, and they supervised his time on the family's computer by letting him use it only in the kitchen. They even took a class on internet safety.
But the Chittenden County couple's best efforts to raise a "good digital citizen" weren't enough to prevent their then-16-year-old son, Luke, from borrowing his older brother's iPad and using it to break the law.
So they turned him in to police.
His crime — exchanging nude photos with a classmate and requesting sexually inappropriate images from others — could have given him a criminal record and landed him on Vermont's sex-offender registry for disseminating child pornography. (Kids VT agreed to use pseudonyms to protect the family's privacy.)
Instead, Luke was offered an opportunity to admit to his offense, learn from his mistakes and make amends to everyone who was injured by his crime, including his parents, the victim and the police. Luke's case was heard by a new restorative justice panel, the only one of its kind in Vermont to include high school and college students. Founded and run by the Williston Community Justice Center (WCJC), the youth panel gives criminal justice professionals a powerful new tool for dissuading school-age offenders from reoffending — through positive peer pressure.
"The way we explain it to youth is, this is your golden ticket," said Cristalee McSweeney, director of the WCJC, who created the youth panel about a year ago. "This is your chance to deal with [the crime] outside of the court system. But you're still being held accountable and responsible."
Though Luke declined a reporter's request to tell his own story, his parents agreed to do so without his involvement. Luke's troubles began in the summer of 2017, just before he began his junior year in high school. After friends began teasing him for still being a virgin, Ted explained, Luke felt pressured into sexting, or exchanging nude photos online with a female classmate. According to McSweeney, the practice has become increasingly common among students, some of whom even compete to see who can accumulate the most photos.
Only after Luke was caught and questioned by police did his parents discover that he'd set up multiple email and social media accounts — on Twitter, Facebook, Gmail and Instagram. In addition to using his brother's iPad without his permission, Luke also used the school library computer to check his messages, and borrowed friends' smartphones to send and retrieve images.
Ironically, Jessica and Ted had attended a cyber-safety awareness class put on by the WCJC 18 months earlier. Afterward, they explained to Luke how sharing sexually explicit images of minors violates state and federal child pornography laws and could land offenders in serious legal jeopardy. But as Jessica recalled Luke saying to her after he was caught, "I know you told me this stuff, Mom, but I didn't believe you."
Rather than sending Luke's case to the state's attorney for prosecution, the police referred it to the Williston youth panel. It's comprised of about 10 adult and youth volunteers. Appointed by the Williston selectboard, the members have all undergone at least eight hours of classes and training from the justice center staff before they're allowed to hear actual cases.
The youth panel, which only deals with offenders up to age 21, cannot hear felony offenses, such as armed robbery, rape or kidnapping, McSweeney explained. In addition to cybercrimes such as sexting, online bullying, harassment and revenge porn, the panel hears cases involving property damage, retail theft, simple assault and distracted driving, as well as misdemeanor hate crimes that were motivated by race, gender, religion or sexual orientation.
The youth panel differs from court diversion in that the offenders have not been formally charged with crimes. Cases can be referred to the panel by the Williston Police Department, the Chittenden County State's Attorney's Office or school administrators whose students come from Williston, Richmond, Hinesburg, Huntington, St. George, Bolton and parts of Shelburne and Charlotte.
The youth panel isn't juvenile court; there are no prosecutors, defense attorneys, judges, juries or sworn testimony. Instead, the panel adheres to the principles of restorative justice, a mediation-like process that focuses on repairing the harm caused by crimes and rebuilding community relationships. Participation is voluntary but predicated on the condition that the offender, who's referred to as the "responsible party," must own up to his or her offense and then agree to make restitution to all affected parties.
If the youth fails to satisfy all the requirements, as spelled out in a legally binding contract, the case can be referred to the state's attorney's office for prosecution.
"Our process is not about blame or shame," McSweeney said. "It's about accepting responsibility and obligation."
Here's how it works. The panel will convene at least two meetings with the responsible party, typically over a 30- to 60-day period, though more complex cases may last as long as nine months. Often the group sits in a circle, which may also include a police officer, a school counselor or principal, the offenders' parents and, most importantly, the victim, if he or she chooses to participate. Everyone, including the victim, gets an opportunity to speak.
"In the court system, the responsible party is the center of the court and oftentimes victims are left voiceless," McSweeney explained. "Their needs are not met or heard ... and they don't get the opportunity to ask questions like, 'Why did you do this? What were you thinking? And why me?'"
The process is confidential and panel members are expected to recuse themselves from the case if they know the responsible party or victim personally. The first meeting is devoted to getting to know the responsible party, the details of the offense and the individual's explanation for why he or she did it.
"People commit crimes for various reasons, and I think the criminal justice system just looks at it as, 'You are your crime now,'" said Amanda Payne, a school counselor at Montpelier High School who serves as an adult volunteer on the youth panel. "[Youth panel volunteers] spend a lot of time just trying to get to know somebody first and hear who they are ... beyond just their crime."
"You can't really judge a person without knowing them," said Beckett Pintair, a 16-year-old junior at Champlain Valley Union High School who volunteers on the youth panel. "And you can't really say, 'This is bad, this is good,' unless you know who they are and where they're coming from."
Brianna Kolibas, an 18-year-old senior at CVU and one of the panel's first youth members, said she's heard a variety of cases, including those involving revenge porn, drug possession and retail theft. Sometimes, she said, the offenders didn't even realize that what they were doing was illegal. Other times, they committed the crime out of desperation.
"A lot of the retail theft is really sad," she said, "because we see a lot of people who don't have a lot of resources. That's why they steal."
As Pintair explained, getting to know the responsible parties is critical to formulating the final contract. Each one is different, he noted, and must be agreed upon by all affected parties.
"Our main goal is to help them get to that finished contract. We don't want to give them something that they're never actually going to do," he said. Ultimately, the goal is to "help them learn and give back to their community."
For example, if the offender enjoys cooking, perhaps the contract will require them to cook a meal for the victim and victim's family. It may also include writing a formal apology letter explaining why the offense was wrong, then reading it aloud to their parents, the victim, the victim's parents, the police and school administrators.
To some people, the youth panel concept may sound like it coddles offenders and gives them an easy get-out-of-jail-free card. But McSweeney and her volunteers contend that the process is neither quick nor easy.
"The space we're creating is a really caring and healing space," Payne said. "It's not woo-woo or touchy-feely. It's humanizing."
"And it's not an easy pass," Kolibas added. "You have to give 100 percent."
Indeed, successfully completing the contract requires hard work. As McSweeney pointed out, certain offenses, such as online bullying, sexting and revenge porn, require offenders to attend a 12-week course. The curriculum — created by the WCJC in conjunction with the Chittenden County State's Attorney's Office, the Williston Police Department, the Chittenden Unit for Special Investigations and local defense attorneys — covers such issues as internet safety, online reputations, cyber footprints and the legal repercussions that can befall parents if they are the official owners of the devices used in such crimes.
In Luke's case, he was also required to read several books about technology and the law, including lol... OMG!: What Every Student Needs to Know About Online Reputation Management, Digital Citizenship and Cyberbulling and iRules: What Every Tech-Healthy Family Needs to Know about Selfies, Sexting, Gaming, and Growing Up. He then had to discuss the books with the panel and his parents, and write a term paper reflecting on his choices and what he would do differently the next time.
"And it wasn't just a paragraph or two," his father said. "It was four or five pages long."
"You could see that he'd given some real thought to it, which was kind of neat," his mom, Jessica, added. She described Luke's paper as "one of his best works."
"What I personally look for in cases is an understanding that the responsible party takes ownership for what they have done in how they talk about it," Pintair said. At times, that process becomes very emotional for everyone in the room.
"It's really powerful when a victim comes," he added. "When you're able to ... watch the responsible party hear the victim's side, a lot of growth and learning has come from it." In Luke's case, the victim did not participate.
The youth panel isn't a good fit for every offender.
"It's tricky... Some people come in with an attitude," Kolibas said. "We're just trying to help, and some people don't care. It's really hard to get those people to be open and truthful."
Kolibas recalled a few cases in which responsible parties showed up to meetings under the influence of alcohol or drugs. "Cristalee sniffed them right out," she said.
Though the youth panel has been operating for only a year, McSweeney said, she's already received about a dozen inquiries from other community justice centers around Vermont — there are 20 community justice centers across the state, from Bennington to Orleans — asking how they can implement similar programs. Thus far, of the 42 youth referrals received last year, only two of the responsible parties failed to fulfill the terms of their contracts and just one case resulted in a criminal record for the offender.
Anecdotally, the youth panel also gets high marks from the Williston community.
"I've met with the panel and some of the students who serve on it, and I have really high regard for everybody who volunteers," said Williston Police Chief Patrick Foley. "They work hard at their jobs and take it very seriously."
CVU principal Adam Bunting said his experience participating in a panel with a student accused of a "community safety issue" was "powerful."
"What I witnessed in the student was a transformative moment, where they were able to take some ownership" for their offense, he said. "Some of the anxiety that the student carried into the process was alchemized into something really positive."
Katie Palmer is the director of Two Roads Academy, an alternative high school in Williston for students who've experienced trauma, anxiety, depression and other emotional disorders; there are currently about a dozen teens enrolled. Since her school opened last March, Palmer said, the youth panel has been "extraordinarily beneficial" in helping change the behavior of her students, all of whom have been referred to the youth panel at some point.
"We did not know how powerful this partnership was going to be," Palmer said. "But I can tell you now that I would not run this school without that partnership. It's that impactful."
Key to that success, McSweeney said, is having young offenders being held accountable by people their own age.
"We have 60- and 70-year-old [volunteers] who can't wrap their heads around why kids need nudes on their phones," she said. "With peers, they understand the social pressures of it ... and see how the victims of this really end up traumatized."
"I feel like I can connect with them as a youth myself and maybe understand a little more why they did it," said Kolibas, who plans to attend the University of Alabama next fall to study criminology. "I can put myself in their shoes."
As for Luke's parents, they're appreciative to the youth panel volunteers for giving their son a second chance.
"They acknowledged that we all make mistakes, but you can right yourself from this mistake and help others or give back," Jessica said. "And, it's not going to be a mark on you for the rest of your life."
For more information about community justice centers in Vermont, visit cjnvt.org.