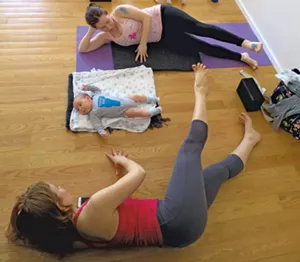 matthew thorsen
Beth Kruger instructs new mom Sarah Cohn with 8-week-old son, Sam
From the outside, it probably looked like we were doing very little. But believe me: It was hard work.
I felt like I'd gotten a workout even before setting foot in Prenatal Method Studio. That's because I lugged my 8-week-old daughter in her infant car seat up two flights of stairs and through a labyrinth of hallways to get there.
Good thing the studio's atmosphere was so rejuvenating. Located in Burlington's Chace Mill, the small studio feels larger because of its high ceilings and huge, south-facing windows. The walls are painted in the palest shade of pink, almost nude; the effect is cozy and nurturing. The moment I walked in, sunshine enveloped me, and owner and instructor Beth Kruger greeted me warmly.
Kruger, 37, grew up in Colchester, but she's spent most of her adult life in New York City. She's been teaching yoga since 2003. Two years into her career, she says, she "fell in love" with the pregnant population when she subbed for a friend who taught prenatal yoga. She quickly became hooked on all things birth-related, registered as a prenatal-yoga instructor and got her certification as a childbirth educator and lactation consultant.
In 2012, Kruger and her two daughters, now ages 7 and 9, moved back to Vermont to be closer to family. She taught at Evolution Yoga in Burlington until opening Prenatal Method last November. Her studio offers a range of classes and workshops that focus on fertility, pregnancy, childbirth and the postpartum period.
I recently visited Kruger's Pee-Wee Pilates class, which she designed for postnatal moms and their newborn babies. Only two of us — with babies in tow — showed up, which made it even more intimate.
My daughter, Mabel, was sleeping in her car seat when I arrived, so I placed it beside me and settled onto my mat.
We began by holding a yoga strap in our hands and opening our arms wide. Kruger guided us through a chest-opening exercise in which we raised our arms up toward the ceiling and slowly rotated them down toward our backs. It felt exquisite after weeks of hunching over to breastfeed my baby.
Next, we lay on our backs as Kruger led us through a series of small movements, explaining the importance of taking things slowly and keeping our belly buttons pulled back toward our spines. The idea, said Kruger, is to "keep your transverse abdominals engaged." Many women develop diastasis — a separation of the abdominal muscles — during pregnancy. Pilates exercises can help knit those muscles back together.
From the outside, it probably looked like we were doing very little — lifting one leg at a time, or doing a slight pelvic tilt. But believe me: It was hard work.
Later in the class, we sat upright on our mats, legs straight out in front of us, trying to keep our shoulders back, tummies tucked in, feet flexed, chest open and legs together. Since giving birth and nursing day and night, my body has spent hours curled into itself. This simple exercise, called a staff pose in yoga, was surprisingly challenging, making me feel shaky and weak.
The Pee-Wee Pilates workout incorporates babies, too. During one exercise, after Mabel had woken up, I placed her facedown on my shins as I moved my legs slowly toward and away from me. She seemed to enjoy the movement. However, she had some fussy moments. Kruger helped with that, too.
Quiet music played in the background while she alternated seamlessly between coaching us and soothing our babies. At one point, she bounced on an exercise ball with Mabel in her arms, while she used her foot to rock the other baby, who was beginning to cry, in a car seat. This took considerable coordination.
During a break between exercises, I introduced myself to the other mom, Laura Bouyea, a speech pathologist who had also taken prenatal classes at the studio. Her son, Talon, was 5 weeks old. Bouyea said she enjoys coming to Prenatal Method Studio because she trusts Kruger to help her get back into shape safely and appreciates her focus on "healthy exercise."
The class "can be an amazing workout and a way to bond with your baby," Kruger told me. I left the Chace Mill feeling energized — and like I had bonded with some great women, too.
Prenatal Method Studio Pee-Wee Pilates meets Mondays at 10:30 a.m.; $15 per class. The studio also offers prenatal and postnatal yoga and barre classes; prenatal yoga-teacher training; childbirth education; yoga for fertility; newborn-care and breastfeeding classes; and community-building groups. Find more information at prenatalmethod.com.