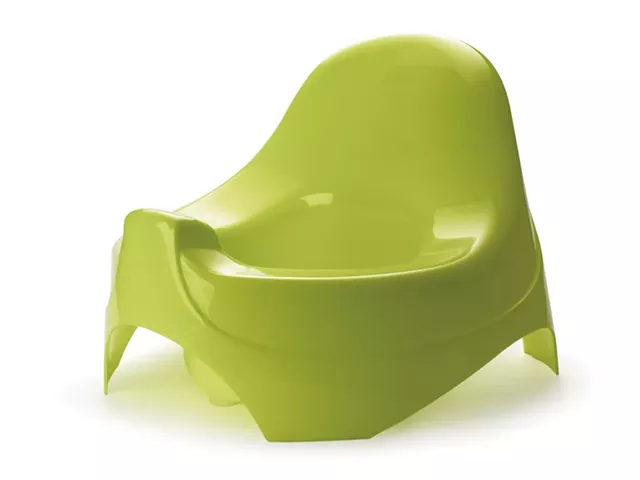 Two weeks into potty training my 3-year-old, Joni, I found a dried-out turd on her bedroom floor. I thought it was a granola bar. I picked it up, brought it close to my face and sniffed it. Oh, the horror.
I washed my hands furiously, then dashed downstairs to my crying 2-month-old, Frankie. As I nursed the baby, Joni played, oblivious to the literal sh*tstorm that had descended on our home since potty training began.
Months earlier, when strangers saw me, heavily pregnant, walking around with Joni, they often asked about the age difference. Three years, I'd tell them, and they'd look relieved, offering, "Well, at least you won't have two in diapers!"
"Ha!" I'd respond, giving Joni's diapered behind a little pat.
At just shy of 3, Joni was passionately attached to her diapers. When I'd ask her if she filled her diaper, she would give me an icy look that seemed to say: You can pry my dirty diaper from my cold, dead hands.
I'd read that this is normal. From day one, babies have a pretty close relationship with their poop. Even if they don't like the feeling of it in their diapers, it belongs to them, and they can get territorial about it.
When Joni first showed interest in the toilet, about 18 months ago, my husband, Daniel, and I bought her a potty seat. We talked to her about how we use the bathroom and let her watch us sit on the potty while she sat on hers.
But she quickly lost interest. When she was ready, we figured, she'd let us know.
Then Frankie was born. Three weeks later, I brought up the issue with Joni's pediatrician. "No kid ever went to college in diapers," he said. "She's going through a lot right now, emotionally. I'd give her six months before you start potty training."
This sounded reasonable. But then Joni got into preschool for the fall. The only requirement? Kids must be potty trained. We didn't have six months; we had three.
Fortunately, a friend lent me Oh Crap! Potty Training: Everything Modern Parents Need to Know to Do It Once and Do It Right, by the self-proclaimed Pied Piper of Poop, Jamie Glowacki. After Joni went to bed one night, Daniel bounced Frankie on an exercise ball while I read it aloud.
Glowacki doesn't believe most kids will decide to use the potty on their own. "The need to pee and poop is a primal one," she writes. "Learning to put it somewhere specific is social, and social behavior must be taught."
According to Glowacki, the magic window for potty-training success is between 20 and 30 months. If your kid is already 3 and not potty trained, she says, you're screwed. Kids that age, she writes, "have free will, and they know how to use it."
Daniel looked at me with dismay. "We have to do this now," he said.
Here's Glowacki's technique: Clear your calendar for a week. Tell your kid she's done with diapers and make a big deal of throwing them out. Then strip her down, don't leave the house and watch her like a hawk all day long. Every time she starts to pee or poop, pick her up and plop her on the potty. By the end of the day, you should recognize what she looks like right before she's gotta go, and she should become familiar with the feeling of doing it on the potty.
Soon, you should be able to get her on the potty before she goes. Eventually, she should be able to get there herself. The process can take as few as three days.
Ours took considerably longer.
Day one: Not a single hit in the potty. Joni peed all over the house, stopping her urine midstream the moment her buns made contact with that seat.
Day two: Miraculously, she got a tiny squirt of pee in the potty. That afternoon, she pooped in the potty. We celebrated by making chocolate chip cookies.
Day three: She peed on her bedroom carpet. Then pooped in her pink Cozy Coupe. I had to scrape it out of deep plastic grooves. Misery.
Day four: The stress of potty training and newborn sleep deprivation don't mix well. I went nuclear, telling Joni we weren't leaving the bathroom until she peed in the potty. We locked horns for 90 minutes. Finally she peed.
The next day we went on an outing to our local library — where, after attempting to go on the toilet, Joni immediately peed on the dress-up clothes.
I recognized a pattern: I'd tell Joni to sit on the potty when I noticed her pee dance. She'd sit but tell me nothing was coming out. Two minutes later, she'd pee on the floor.
It was maddening. I am being played, I thought. Was Joni the kid Glowacki describes as the "child from hell"? The nefarious munchkin who looks you straight in the eye while she pees on the rug? One afternoon Joni squatted over her baby sister's car seat and peed directly into it.
We had nearly abandoned hope when, two weeks into training, we set off on an eight-hour road trip to Long Island. Joni enthusiastically peed in the toilet at our first rest stop. And then, while pulled over on the Long Island Expressway, she peed in the travel potty and tossed it out the window with glee. She had one accident but spent the rest of the week in Long Island using the toilet like a full-fledged big girl.
Joni hasn't mastered the potty entirely. But we're light-years ahead of where we were when we started six weeks ago. Something else has changed about Joni, too: her confidence. The other day at a playgroup, she said she had to go pee. "You stay there," she told me. "I can do it myself."
Parenting a small child often feels like a three-foot dictator rules your life. Potty training reminded Daniel and me who's really in charge. And what a joy to discover, for the millionth time since she was the baby, that Joni is more capable than we ever could have imagined.