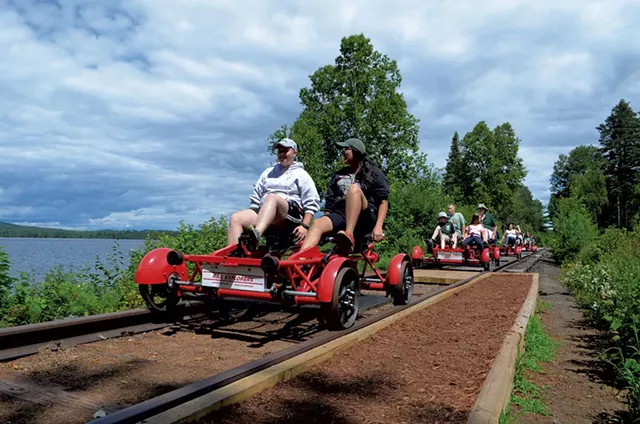 Ken Picard
Rail bikes on a Rail Explorers tour
Just past noon on an overcast July weekday, a line of clacking rail cars pulled into Saranac Lake's historic Union Depot. Through much of the 19th century and the first half of the 20th, this small brick terminal was a hub for 18 to 20 passenger trains that arrived daily on the Chateaugay Railroad from the east or the New York Central Railroad from the west.
More than 50 years have passed since passengers regularly rode the rails in and out of this central Adirondack town. Yet, on this day, 35 passengers waited for the dozen or so fire-engine-red cars scheduled to depart at 12:30 p.m. The vehicles were pedal-powered "rail bikes," used for touring — unlike any train cars that once traversed these tracks. The first of their kind put into commercial operation in the United States, these rail bikes are gaining popularity among people looking to experience the Adirondack wilderness in a new way.
Rail Explorers, the Saranac Lake-based tour company that owns the rail bikes, operates daily excursions on a six-mile stretch of railroad tracks. Launched in July 2015, Rail Explorers hosted 14,000 riders in its first year alone and is on track to log an additional 20,000 riders this year.
Rail Explorers offers two types of custom-built rail bikes: tandems, which can hold two passengers (for $75 per trip); and quads, which hold four riders (for $125 per trip). Guided tours leave from Union Depot every two hours, from 8:30 a.m. to 6:30 p.m., seven days a week. Two tour guides travel with the rail-bike riders, one in front and one in the rear, while flaggers drive ahead in cars to stop motorized traffic at five road crossings along the route. A chartered bus picks up riders at the terminus and returns them to Saranac Lake. It also drops off the next departing tour group, which then begins pedaling in the opposite direction.
Though Rail Explorers has gone full steam ahead with its business, its future in the Adirondacks could be derailed before long. The State of New York, which owns the tracks, has plans to rip them up as early as December to make way for a four-season, multiuse rail trail.
While I still could, I decided to climb aboard a rail bike last week and take it down the line. My guide and pedaling partner for the 90-minute trip was Katie Chodat, a senior at nearby Paul Smith's College. The Malone, N.Y., native, one of Rail Explorers' 31 seasonal employees, positioned me in the first of 12 rail bikes that would leave Saranac Lake at half past noon.
Before our departure, our guides gave the group a brief safety review and explanation of how the rail bikes work. Human-powered rail cars aren't a new idea: They date to the earliest days of railroading, when maintenance workers rode the rails on handcars or pump trolleys. Rail bikes work on the same principle, only the riders power them as though they're pedaling a recumbent bicycle.
The bike itself is open to the elements, without sides or a roof. Each rider sits in an adjustable seat, secured by a seatbelt. The two to four riders on each bike pedal the steel-wheeled contraptions simultaneously, though one rider can stop pedaling without forcing everyone else to stop, too. This feature allows young children, the elderly and the disabled to enjoy the rail bikes without having to pull their own weight.
Each rail bike is outfitted with an umbrella for protection from rain or sun, as well as a metal basket for personal items such as keys, wallets, water bottles and cellphones, which tend to fall out of pockets that don't have zippers.
The right rear seat features a hand brake. That seat's occupant is responsible for braking and for alerting riders behind the car, via hand signals, when the car is slowing down or stopping. Bumpers in the front and rear cushion any slow-speed collisions with other bikes.
Because the rail bikes aren't connected to each other like train cars, riders have some leeway to travel at their own pace. Still, the guides try to keep the group together, both to ease road crossings and to stay on schedule. There are no sidings to allow fast riders to pass pokier ones; if one rail bike stops or dawdles, everyone to the rear must, too. For that reason, speedier riders get put in the front rail bikes, while more leisurely riders go to the rear.
Since I was positioned in the front bike, we maintained a brisk pace. We began the tour pedaling as a group, moving bumper to bumper until we crossed two roadways en route out of Saranac Lake. Once outside town, our guides instructed us to space ourselves 50 to 150 feet apart.
I was instantly struck by how easy it is to pedal a rail bike; as Chodat explained, steel wheels on steel tracks produce little friction. Though she and I were the only riders on our quad bike, which weighs 750 pounds — a tandem weighs 450 pounds — it gained momentum quickly and required little effort to keep moving. Even the uphill stretches were gentle inclines that required only modest exertion, while the long downhill runs let us coast for quite a distance at a healthy clip. Even the most out-of-shape-looking members of the tour chugged along without much difficulty.
Most of the six-mile ride traverses uninhabited forests, meadows and marshes, though one section crosses a scenic, narrow causeway over Lake Colby. It's said to be a nesting ground for eagles and osprey, though I saw neither. Just beyond the causeway, Chodat stopped us at a beaver dam to allow the riders to regroup, take a breather and snap photos.
While we rested, I chatted with a family of four in the quad bike behind us. Jason Wolfe, from Burlington, Pa., was there with his parents and his 14-year-old son, Dylan.
I asked Wolfe what he thought of the ride so far. "It's great," he said. "Dylan's into railroads, so what a way to pass the day."
The teen agreed.
"We don't have anything like this near us," Dylan said. "I don't know why they'd want to tear up something like this."
It's a controversial decision. Last February, the Adirondack Park Agency gave its thumbs-up to a plan to demolish 34 miles of rails running between Lake Placid and Tupper Lake. The goal is to build a four-season, multiuse trail that would serve hikers, cyclists, snowmobilers, cross-country skiers and the like. Those 34 miles include the ones currently being used by Rail Explorers and the company from which it leases the tracks: the Adirondack Scenic Railroad. The Adirondack Railway Preservation Society, which operates the Utica-based historic train, has filed suit against the state, claiming that its ruling was based on flawed data and contravenes existing legislation. A judge will hear that case on August 24.
In a later conversation, Mary-Joy Lu, the CEO of Rail Explorers, admitted that she has a lot riding on the case. Two years ago, she and her husband, Alex Catchpoole, who are both from Sydney, Australia, were looking for a location to set up shop on an Australian railroad. Because of the country's onerous regulations, their plans never materialized.
Lu was doing research online when, by chance, she came across a request for proposals from New York State, which was seeking businesses to invest in the Adirondacks and put defunct rail lines to good use. Lu and Catchpoole submitted their proposal, then approached the Adirondack Scenic Railroad about leasing its tracks. The ASR met with them in April 2015.
"They said, 'Can you be up and running by July?'" Lu recalled. "This is the middle of April, and my husband is kicking me under the table, and I go, 'Yeah, sure!'"
Lu and Catchpoole had barely three months to get their business in gear; they didn't even own any rail bikes yet. But they'd already negotiated a distribution agreement with a South Korean designer and manufacturer, who knew exactly what they wanted. In July, their bikes hit the rails on schedule.
Those bikes were no minor investment; each cost nearly $10,000. The company currently has 13, with another 10 arriving this week. This year's season is expected to run until November, assuming the Adirondack weather complies.
If the state proceeds as scheduled and ditches the railroad, what's next for Rail Explorers?
"At the very least, we knew we would have a working operational model at the end of [our time in the Adirondacks], and we do," Lu asserted. "We've also captured the imagination of a lot of people who were all for ripping up the tracks."
Earlier this year, she noted, the State of Delaware invited Rail Explorers to set up temporary shop on a three-mile stretch of the Wilmington & Western Railroad. Lu and Catchpoole plan to return there next spring, regardless of whether the Saranac Lake operation continues.
The company has also been awarded six miles of track through the Catskills, running from Phoenicia to Boiceville, N.Y. Lu and Catchpoole are exploring yet more options in Newport, R.I., which they hope to finalize by the end of August.
What about coming to Vermont?
"Sure!" Lu said enthusiastically. "We're always open to suggestions."
As my own rail bike tour concluded, along the scenic shores of Lake Clear, I watched as Rail Explorers' staffers turned the bikes around on a hydraulic turntable for their return trip to Saranac Lake. Members of the tour stretched their legs and chatted, and I asked several what they thought of their ride.
Douglas Huie, from Stony Point, N.Y., seemed to sum up the sentiments of everyone in his party.
"At one point we were really moving, and my hat flew off," he said with a wide grin. "It was awesome!"