Photograph from "Pavement From the 4th Floor" series by Michael Wisniewski
PechaKucha Night is coming back! If you missed it the first seven years, when it was held at the Un iversity of Vermont's Fleming Museum of Art — or if you miss it, period — perhaps you'll be glad to know that the event has an invigorated team of organizers, a fresh focus and a new home. Next month, after a year's hiatus, PechaKucha will begin again at the FlynnSpace.
Not everyone who attended it before knew how to say it. PechaKucha, which is Japanese for "chitchat," is pronounced peh-chak-chah.
When PechaKucha Night, or PKN, launched in 2010 at the Fleming, it was an immediate hit, with crowds coming to see 10 or 12 people give presentations about their work. If that sounds kind of ho-hum, making such talks more dynamic is exactly why PechaKucha was invented.
At PKN, presenters talk about a project, a body of artwork, a cause or some other passion while projecting 20 images for 20 seconds each. So, in less than seven minutes, they're done. A pair of architects in Tokyo came up with the "20-by-20" idea in 2003. Why? "Because architects talk too much!" they explain on pechakucha.com.
As a presentation format for creatives of all kinds, the idea spread like virtual wildfire. PKN now takes place in more than 1,000 cities worldwide, according to Susan Weeks. Cofounder of Burlington-based branding and design studio Ruthless & Wellington, she's credited with bringing PKN to Burlington after attending one in Portland, Maine. The idea was enthusiastically embraced by Fleming director Janie Cohen and Chris Dissinger, who handles public relations, marketing and design at the museum and was recently named assistant director. The Fleming hosted quarterly PechaKucha Nights in its Marble Court, with Weeks as MC. (Disclosure: Seven Days was the media sponsor.)
After four years, seeking to broaden the potential field of presenters and audiences, the original team behind Burlington's PKN partnered on events with the Shelburne Museum, ECHO Leahy Center for Lake Champlain and BCA Center. But, while attendance remained strong, the group found it challenging to muster a sufficient number of presenters. The May 2018 PKN at the Fleming was billed as the last.
"Immediately afterward, people came up to me and said, 'How do we keep this going?'" recalled Dissinger. "I said I'd be happy to continue, but we needed a new organizing committee." As often happens with volunteer endeavors, Dissinger found that "everything had fallen on my shoulders."
AIGA Vermont — the state chapter of the American Institute of Graphic Arts — was among those "keen to keep it up," he noted. So Dissinger reached out to previous collaborators Weeks and Drew Frazier, the content manager at Regional Educational Television Network, as well as to new ones including Michael Jager, chief creative officer of brand-design studio Solidarity of Unbridled Labour. "We realized that we wanted to take [PKN] to the next level," said Dissinger, "to find a permanent home well suited to the event."
Frog dissection by Emily Stoneking
After looking at a few locations, he said, "We finally realized the FlynnSpace would be ideal. [Then] we went out to look for sponsorship to help us pay for it." Solidarity client Mascoma Bank, which maintains a community fund, signed on.
"We then signed a contract with the Flynn for four events this year," Dissinger continued. "We're trying to make it more about the presenters; we thought that by really promoting and celebrating [them] and having the events in the FlynnSpace, it would be easier" to attract participants.
While future PKNs will be open call, the organizers decided to "seed" the May 22 session. "In no time, we got 12 presenters ready to go," Dissinger said. They are Ryan Miller, Hanna Satterlee, Paul Budnitz, Luis Calderin, Brian Perkins, Shakuntala Rao, Stephen Stinehour, Trisha Shrum, Ali Dieng, Scott Campitelli, Emily Stoneking and Michael Wisniewski.
Dissinger added that the other three events are almost completely booked already.
Why bring back PechaKucha? "PKN is kind of an escape," Dissinger suggested, "a reminder that we can create change. It's really about creating community through these exchanges."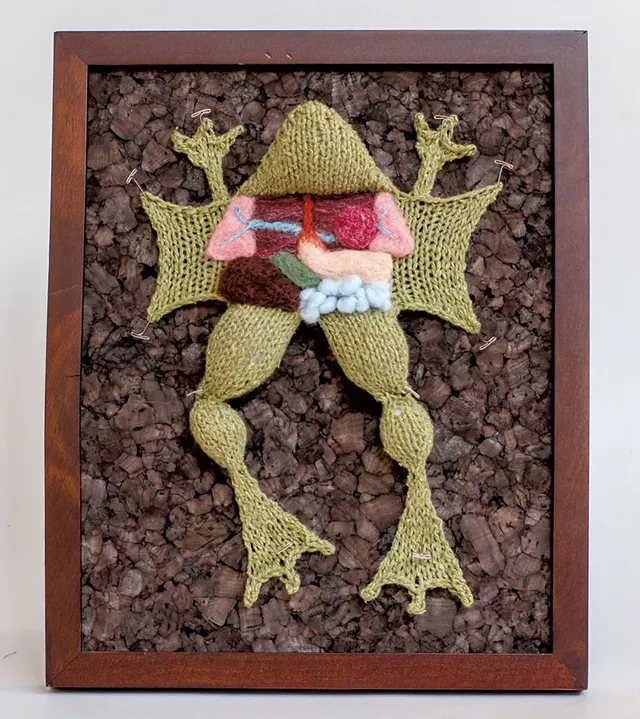 Alien dissection by Emily Stoneking
Jager, who has been donating his time to rebrand PKN in Burlington, considers it "a catalyst for community and cultural curiosity. It's a genius mashup of people shaping their passion."
A presenter himself on multiple occasions — including last May's PKN — Jager said PechaKucha is "brilliantly concise, and to succeed demands editing — something very hard for most humans to do well." He thinks the format should be taught in school.
Whether that ever happens or not, locals on either side of the microphone may find inspiration in upcoming "genius mashups" at FlynnSpace.
"It's a really great space," Weeks said. "It's got intimacy, but also a theatrical/performance side."
Presenters and audiences alike "can feel part of something bigger, be part of a community that really values creative expression," she observed. "I think it will be a great, reinvigorated version" of PKN.