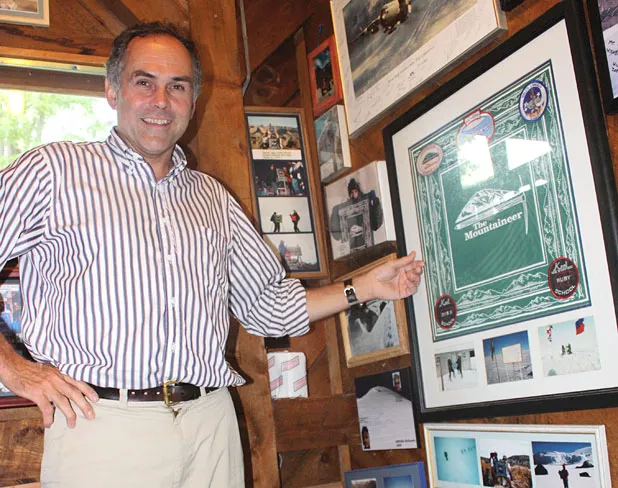 Ken Picard
Vinny McClelland is general manager of The Mountaineer in Keene Valley, N.Y.
Plenty of Adirondack entrepreneurs can claim they've built their businesses from the ground up. Vinny McClelland means it literally.
McClelland is the general manager of The Mountaineer, a rock/ice climbing, mountaineering and outdoor gear shop at the foot of the Adirondacks' High Peaks region in Keene Valley, N.Y., a village of about 1000. Founded by his parents in 1975, the A-frame-style store was built by McClelland and his three brothers using local hemlock and Douglas firs. Since then, it's become a veritable Mecca for local mountain goats, backcountry skiers, and others who crave rarefied air and vertiginous slabs of granite or ice.
McClelland himself is no armchair adventurer. As someone who summered annually in the region since his childhood, he became a "46er" years ago — that is, someone who's summited all 46 peaks in the Adirondacks. Still active and fit at 59, he continues to be an avid mountaineer and skier.
The store isn't massive, but it holds several levels of merchandise that most likely arouse gearheads: ice axes, harnesses, boots, topo maps and books ranging from Fodor's Travel Guide to Thailand to The Tibetan Book of the Dead.
Few retailers can say they've taken their business to the extremes that McClelland has, including Everest, Denali and Antarctica. Lest anyone doubt it, a visit to the restroom features photos of many Mountaineer customers on some of the world's highest peaks, all of them displaying the store's signature bandana.
For his part, McClelland credits much of his success to his small but dedicated staff, who not only sell gear but walk the walk — at times, to the top of the world.
"These guys are pretty remarkable," he says. "They're all hard core."
SEVEN DAYS: What was it like when your family first moved to the Adirondacks?
VINNY MCCLELLAND: Everyone thought we were crazy when we built this store.
SD: Why?
VM: Because there was no traffic through here in those days.
SD: You're the only brother who works in the store?
VM: We weren't allowed to work here when we were kids. We physically built it, but my parents said, "We don't want you working here."
SD: Why not?
VM: They wanted us to go elsewhere and see the world. It's funny, because when I took over the management, I explained [to my staff] that I didn't know the first thing about retail, and I hoped they wouldn't leave. But we have an amazing crew here. They're all really talented.
SD: What's your favorite sport?
VM: I like to climb mountains and ski down them. I also rock climb and ice climb. Mostly, though, I love to slide on skis. I don't really care if it's downhill, backcountry or cross country.
SD: Do you travel the world to climb?
VM: Yeah, I've done a lot of mountaineering. I have two brothers in Jackson Hole [Wyo.], so I go out to the Tetons every year. Chamonix in the Alps a little bit, volcanoes in Latin America, Banff in Canada.
SD: Tell me about the community events the Mountaineer organizes.
VM: We do three events a year: a mountaineering festival, a backcountry skiing festival and a trail run. They're all charity events … The trail run fills up in 20 minutes, and we keep it limited to 60 people. All three events we try to keep small and really high quality.
SD: So the store also has a social mission?
VM: We support two fire departments and the school right here in Keene Valley. We also support the hospice, the preschool, the New York Ski Educational Foundation, the Nature Conservancy … With Mountainfest, we generate anywhere from $3000 to $7000. We also started a fund in the Adirondack Community Trust. Basically, they pool money and create endowments. So, every event we hold, we put a little money aside so that when the McClelland family leaves the scene, or if something happens to the Mountaineer, that fund will continue to make donations to … an educational cause, because my father was an educator.
SD: Why do climbers seek you out?
VM: First of all, we're located in a very nice place. And we have very competent employees, and they know what they're talking about. We pride ourselves on being able to fit people. We test everything that's in the store. Every boot on that wall, every shoe, every backpack, every snowshoe. If the company won't give us something to test, we don't offer it. So we know the products; we know how they perform and use them ourselves.
SD: Tell me about your famous bathroom.
VM: If you make the bathroom wall at the Mountaineer, you've made the temple of notoriety. That could be [by going to] Mount Everest, the South Pole, the North Pole … Mount Elbrus [Europe's highest peak], Mount Robson [the highest peak in the Canadian Rockies]… But it doesn't matter how big or small the mountain is. This has become a really fun thing for us.