Molly Walsh
Keene Town Supervisor Joseph P. Wilson Jr. at Chapel Pond, a popular swimming spot
Outdoors enthusiasts preparing to hike through old hemlock forest at Giant Mountain or dip their toes in the crystal waters of Chapel Pond have a new sight to contemplate along this stretch of Route 73 in the Adirondack High Peaks region: "No Parking" signs.
They are posted every 200 feet along a four-mile stretch from Keene Valley to St. Huberts. The narrow, winding state highway leads to some of the best hiking trails, rock climbing and rugged wilderness views in the region.
It might be too beautiful, though. This section of the vast, 6.1 million-acre Adirondack Park has become uncomfortably crowded on summer and autumn weekends. The new signs were erected this summer after several years of other restrictions, some temporary, designed to address the conundrum of too many cars and people.
Small trailhead lots often fill by 9 a.m. on weekends, and the limited public shuttle service in the region does not run on most of Route 73. State and town officials say overflow parking along the highway was creating a hazard, with selfie-snapping tourists and hikers wandering into high-speed traffic. On the trails, erosion and the trampling of fragile alpine plants are symptoms of overuse, conservationists say.
The new restrictions mean spots along Route 73 that accommodated several hundred vehicles outside of trailhead lots are now off-limits. New York Department of Environmental Conservation forest rangers and police officers have issued approximately 90 tickets since early June along Route 73, according to DEC public information officer Ben DeLaMater.
Fines vary but can top $250. Midweek the crowds, and many of the problems, evaporate.
But the restrictions are a big problem on the weekend, according to Lola Porter, who ran the popular Noon Mark Diner in Keene Valley for more than three decades and sold it to a new owner last week. Business has dropped about 15 percent this summer due to the parking restrictions, and many weekend hikers have complained, Porter said. She shared her views at the diner on July 17, the day the sale closed, while patrons wolfed down raspberry pie and grilled cheese sandwiches.
The DEC announced the expanded restrictions on May 28. They eliminate 45 formerly legal spots and apply to many more where people often parked illegally but were rarely ticketed. "They just all of a sudden implemented it and, boom, they are handing out tickets left and right," Porter said. It's the equivalent of rolling out an unwelcome mat to tourists, she continued. "If somebody gave you a $300 parking ticket, are you going to stop somewhere here to eat, or are you just going to take off?"
She placed a copy of the Adirondack Daily Enterprise newspaper on the counter and pointed to a front-page headline that shouted, above the fold: "Tempers flare over trailhead parking."
The story centered on a July 6 dispute between Keene Town Supervisor Joseph P. Wilson Jr. and a couple from Montréal who had just parked in the crowded Roaring Brook Falls trailhead lot off Route 73. It was around 7 a.m. and Wilson was at the lot to help explain the parking changes.
Wilson said he politely told Michael Farmer that he was parked in an illegal spot and might be ticketed if he left his BMW there. The couple reacted rudely, blocking Wilson's path repeatedly as he attempted to walk to his truck, Wilson told Seven Days.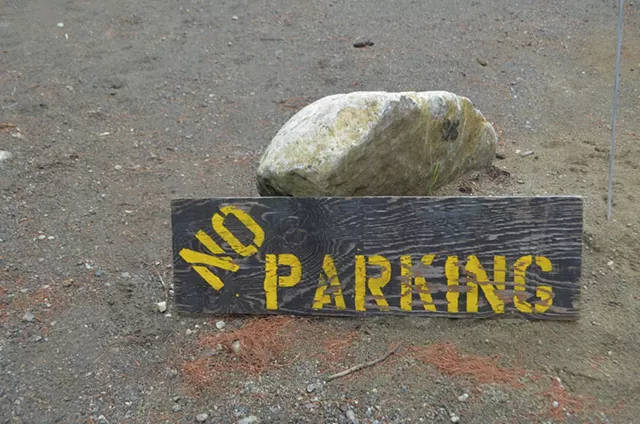 Molly Walsh
Sign at the Garden trailhead
Farmer said there was no sign indicating the spot was illegal. He and his girlfriend had arrived early hoping to beat the parking crowds and hike Giant Mountain. "I'd done most of the 46 peaks, but I'd never done this one," Farmer said in an interview with Seven Days.
Wilson "raced over" and shouted at the couple that the spot was illegal, then told Farmer, "I'm gonna knock you on your ass," according to Farmer, a vice president at TD Bank in Montréal. If that's the way local officials are going to behave, he continued, "Guess what, I don't need to come."
Wilson said he regretted losing his temper with Farmer and admitted threatening to "kick his ass" — but only after the couple called him "all sorts of names" and would not let him pass.
The son of Olympic skier and trails designer Joseph Pete Wilson, the town supervisor grew up in Keene and remembers when summers were the slow season. That's changed, and the parking restrictions are needed, he said. Most people understand, he added.
Still, the July 6 incident reflects some of the unhappiness people feel when their hiking plans are unexpectedly shut down. "They get here; there's no parking; they are frustrated," Wilson said, adding that the town is trying to get the word out with website advisories about less crowded hiking and parking options.
Other supporters of the parking restrictions on Route 73 say that they are overdue, for both road safety and trail crowd control.
"There's just too many people for a wilderness experience that is supposed to emphasize solitude and relative peace and quiet," said Neil Woodworth, executive director of the nonprofit Adirondack Mountain Club.
The alpine resource is also being damaged and should be protected, he added.
What's driving people up the mountains? Woodworth said a new generation of hikers covets athletic challenge and social media posts touting each new summit reached. That's fueling a wave of interest in the quest to climb all 46 of the major peaks in the Adirondacks. Most (but not all) are over 4,000 feet and located in the High Peaks region, including the tallest summit in the state, 5,344-foot Mount Marcy.
While the lure of the big ranges is understandable, bagging another peak and posting about it on the Adirondacks 46ers club Facebook page isn't the only way to enjoy the area, Woodworth said. There are many beautiful and less traveled mountains, he continued, where people could "actually have a better outdoor experience, not climbing a conga line up some of the more popular mountains."
He supports parking restrictions and a step that could be more dramatic: requiring hiking permits for some peaks. While permits are used at some big national parks out west, they are uncommon in the Northeast. Only one state park under the jurisdiction of the New York DEC requires a hiking/exploring permit, the Blue Hole area in the Catskills. It was instituted to reduce crowds.
Discussion of a permit system in the High Peaks is in the beginning stages and will involve businesses, governments, tourist organizations and outdoors groups, according to DeLaMater.
"DEC continues to work with Adirondack Park stakeholders to examine a variety of means for managing use in the High Peaks, including a shuttle system, sustainable trail construction, permits and other ideas. However, no decisions have been made at this time," DeLaMater said.
Meanwhile, hiker traffic at popular destinations in and around Keene and Lake Placid has increased sharply, based on hiker sign-ins at trailheads, according to the DEC, which oversees the park.
Between 2007 and 2017, hiking traffic increased 77 percent — from 68,502 hikers a year to 121,219 at four major trailheads: Adirondack Loj, Cascade Mountain, Adirondack Mountain Reserve and Mount Van Hoevenburg. Cascade had the biggest increase of the four, a jump of 136 percent, from 14,737 to 34,847 hikers.
The increase shows both on the trails and Route 73, which was dangerous when "hundreds and hundreds of cars" parked there, said Bob Rose, a scenic flight pilot who lives in Wilmington. As he browsed at the Mountaineer gear shop in Keene Valley, Rose said he supports parking restrictions to protect the "spectacular" resource of the Adirondack Mountains.
Marcus Moench stood near displays of climbing rope, chocolate bars and hiking boots as he also endorsed the parking restrictions. The Boulder, Colo., resident has been coming to a family place in the Keene area all his life. "I can see exactly why it would be really frustrating for people not to be able to park, but I can also see why it would be insane" not to do something about the problems, Moench said.
Adding to the parking crunch, the parking lot for the popular Garden trailhead is temporarily closed this summer for a bridge replacement along the access road. The Town of Keene has increased shuttle service to the spot.
Moench suggested that a new shuttle route might ease the competition for spots on Route 73; it would also give drivers and hiking stewards more opportunities to educate hikers. While you "can hardly complain that people are getting out and experiencing" the High Peaks, Moench said, he's seen unprepared hikers who could benefit from basic reminders, such as "Do you have extra water, and do you have something to wear in case it pours while you are up there?''
Safety is a growing concern, the Adirondack Club's Woodworth agreed.
"Part of the problem is that a number of people who are trying to climb the High Peaks ... just don't have the background that my generation did. We were taught basic outdoor skills in the Boy Scouts, in high school clubs," he said.
These days, many hikers don't know how to use a compass — if they carry one — when their cellphone GPS systems don't work, he said, adding that the club offers a two-hour course on that.
But bigger problems might need bigger solutions.
Keene Supervisor Wilson is floating the idea of an information building with staff to offer advice on hikes and parking, as well as to provide bathrooms. Keene spends $9,000 a year on portable toilets in parking areas, and they aren't meeting demand, Wilson said.
It would be too expensive for Keene, population 1,100, to run the info center alone, but Wilson hopes to partner with the DEC. In total, the Adirondack Park system attracts 7 million to 10 million people a year, and the High Peaks region about 3 million.
Meanwhile, hikers such as Tom Anglin of Bloomingdale, N.J., say they manage to hike in the Keene Valley despite competition for parking spots. He sipped a coffee outside the ADK Market last week in a light rain and recounted an outing with his 12-year-old son a few days earlier. They had managed to snag a legal parking spot, even on a Sunday.
Anglin has not set out to be a 46er but admitted he's intrigued by the challenge.
"If my son's into it, I would consider doing it," Anglin said. "We'll see how it goes."