Caleb Kenna
Sam and Kathryn Wyatt in their Lincoln home's front gardens
The gardens in front of Sam and Kathryn Wyatt's Lincoln home are a work in progress. There are stone pathways and clusters of chamomile, a birdbath and stalks of allium. Vegetables grow among the flowers and herbs, and Kathryn says she'll plant more in coming years.
"Gardens are never done," Sam says. "That's the point."
He's not allowed in hers, Kathryn says, lest he pull a "weed" that isn't a weed. Yet Sam is the garden designer by profession. His small firm, Studio Roji, does nature-based landscaping with a particular focus on creating spaces that provide a sense of solace. Roji is a Japanese word for the ground on which people walk on their way to a tea ceremony — a passageway that might be transformative.
Such spaces can be created by numerous means, including an arbor that serves as a gateway between a driveway and a garden, a series of strategically placed plantings and stones that act as guideposts along a path, or steps that slow a person's pace as they approach a certain area of the garden.
"The more we can live with nature and natural forms, the happier we'll be here," Sam says. "It's very good for our souls."
The Wyatts live with their two children on 10 acres in Lincoln, where they moved three and a half years ago from Mount Desert Island in Maine. They came to Vermont to be closer to family and because they were "too young to be this isolated" on a dead-end road in coastal Maine, Kathryn explains.
The couple met at the Massachusetts College of Art and Design in Boston about 20 years ago, when they were assigned to work on an interdisciplinary project together. He was a sculpture student; she studied fiber art. Together, they made a woven scroll based on the changing seasons.
"It was the best collaboration pretty much from the start," Kathryn recalls.
These days, working in a shared home studio, the Wyatts are bound by a common aesthetic theme: incorporating natural elements into their work. They use a variety of techniques to make botanical art.
Sam presses flowers in a vintage cast-iron plant press dubbed "Howard the Beast"; combined with color washes, these are sold as originals or limited-edition giclée prints on the Studio Roji website. Kathryn uses flower pigments in her printmaking, extracting color by making a stack of flowers sandwiched between pieces of paper, placing the stack in a canning pot with a weight on top and simmering it on the stovetop for two hours. The flowers leave their impressions on the paper in lovely shapes and interesting colors. Her prints are also available for purchase online.
Caleb Kenna
Kathryn Wyatt holding a flower print created at Studio Roji
"It's a really nice way to spend time in the garden and bring that inside," Kathryn says. "And keep it, indefinitely."
The studio also holds a drafting table for Sam's garden-design projects. He began this work when the family lived in Maine and, after moving to Vermont, continued it at Rocky Dale Gardens in Bristol. Two years ago, Sam opened Studio Roji, a design practice that draws on his experience studying garden design in Japan. More recently, he earned a certificate in health care and therapeutic garden design through a program of the Chicago Botanic Garden.
In his designs, Sam's intention is to create spaces that possess restorative energy and "therapeutic value," he says, "rather than landscaping as distraction or wallpaper." He says these qualities can be cultivated in a Burlington backyard or on a rural acreage. (See sidebar for Sam's tips on crafting such gardens.)
"I'm really interested in building calming and beautiful places that take you away from the stresses of everyday life," Sam adds. "People are intuitively seeking those types of places."
In 2015, he collaborated on a project with Will Wallace-Gusakov of Goosewing Timberworks. For a garden that is tucked in the corner of a backyard in Bristol, the Lincoln woodworker built a meditation/yoga hut. Sam contributed a stone-carved water basin that complements the black cherry and white cedar structure and nearby tall grasses.
The beauty and fascination of a garden, Sam says, is derived in part from the intersection of what the gardener intends and what actually results. "There are the hopes and dreams of what the garden is going to look like, and then the reality of what happens because of ... nature throwing unexpected accidents at you."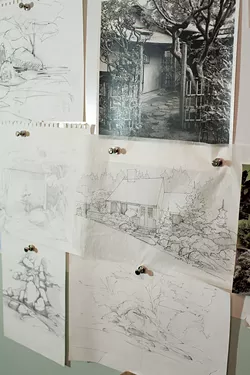 Caleb Kenna
Sketches on the wall at Studio Roji
An observant gardener can turn an "accident" into a landscaping feature. An example of this can be found on the Wyatts' property, where a dead black cherry tree has been left in its place.
The trunk of the tree has split and cracked, and one end of it rests on the ground. The tree's mangled configuration forms a natural gateway, or threshold. Sam values this kind of landscaping feature, he says, because it helps guide a person from one space to another, and even from one state of mind to another.
In this instance, the naturally felled black cherry forms a passageway from the family's backyard to wilder landscape down a steep grade behind the house.
At the foot of the hill, a captivating, sometimes fast-moving stream, Beaver Meadow Brook, flows into the New Haven River. The Wyatts' property encompasses pools and falls along the brook, as well as swimming places and sitting spots. The two are mindfully and incrementally building garden-like spaces beside the stream — clearing paths and cultivating areas for hanging out, reflecting or playing.
Right now they're in an "editing" phase, describes Sam, pruning and removing plants and trees to see more clearly what is there so they can highlight interesting features. For example, a century-old hemlock tree that stands sentinel by the river and a big rock across the path together form a natural enclosure. It's a place that sparks the Wyatts' gardening imagination. A lone European ginger plant, peeking up from the forest floor, has been noted and tended.
Looking into the future a decade or so, the couple envisions building workshops in the woods for visiting artists.
"We like to expand the definition of what a garden is," Sam says, "from cultivated flowers and vegetables to a dialogue with our whole property."
Seven tips for creating a calming garden
Caleb Kenna
A meditation/yoga hut for a client in Bristol
Create Enclosure: Develop the feeling of a sheltered retreat. When we feel safe and secure, we can let down our guard and enter our surroundings through the senses — the fragrance, the sound of birdsong, the feeling of wind on our skin. These sensations are magnified when we are at ease.
Tone It Down: Use restraint in choosing plants and materials. Rely on the soft textures of foliage and the many shades of green, blue and white, rather than on bright, bold colors. Utilize local materials such as natural stone and untreated wood rather than slick, manmade products. These have a calming effect on the mind and create understated elegance that stands the test of time.
Be Aware of Thresholds: Be mindful of stepping from one space into another. Find ways to heighten these transitions to allow a shift in mental state. Build an arbor or gate to pass through, add a large stepping-stone, or plant a tree to walk under.
Create a Garden Ritual: Sip a cup of morning coffee in your favorite spot, or take a slow stroll along a cultivated path. Develop a habit that strengthens your connection with your garden.
Bring the Garden Inside: Cut plants and bring them into your home. Hang artwork that reflects natural forms. Design the view from your kitchen sink or other garden-facing window. The more we can blur the line between inside and outside, and invite natural beauty into our daily lives, the more connected we feel to our environment.
Find Inspiration in the Natural World: Seek out places that you are drawn to in the wider landscape. Spend time in them and look at what makes them unique. Is the place under dappled shade, or is it made up of dramatic ledge stones? Does it include a beautiful view? Take these ideas and elements into your own garden, distilling their essence on an appropriate scale. A mossy boulder under a yellow birch can evoke the same emotional response as a deep mountain ravine.
Genius Loci: Try to tap into your garden's "sense of place." Enhance the atmosphere that makes your personal space unique and settled within its surroundings. Be aware of your specific growing conditions and work with them, not against them. Native plants are constant allies.