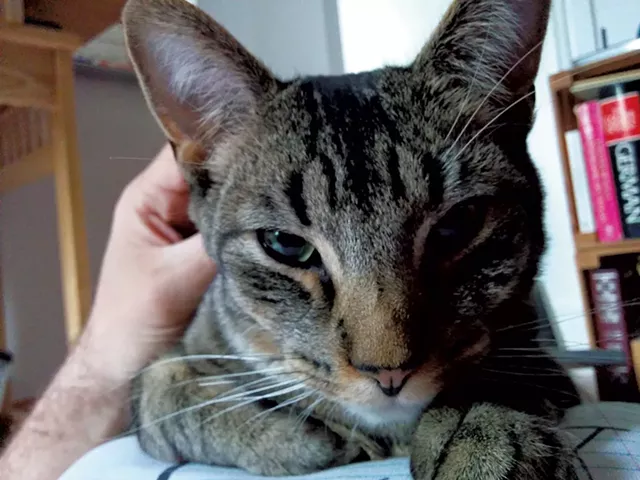 Courtesy Of Orson Bradford
Lumen
When Orson Bradford's brown tabby, Lumen, ran off last November, the Burlington resident was heartbroken. So it was only natural that he has spared no expense trying to find his missing pet. He twice hired a woman with a bloodhound to track the kitty, installed infrared game cameras outside his Woodlawn Road home and throughout the New North End, and sent a direct mailer to 4,000 neighbors — spending more than $2,000, he estimated.
No dice.
Bradford and his wife already had a few felines when they adopted 9-month-old Lumen from a friend three years ago. Bradford was reluctant at first to take the kitty in but soon formed a close bond with him.
"He was a little bit like a dog in his behavior; he would follow me around," Bradford recalled. "I work from home, so he would sit on my desk constantly."
An indoor cat, Lumen often snuck into the garage to play. But one day, Lumen, who is not microchipped, got loose. Bradford's camera captured his image a week later, but he hasn't been seen since.
"I miss him every day," said Bradford, his voice breaking. "It's a family member. We don't have children ... It's like having your child wander out into the world and you don't know what happened to them."
Bradford used GoFundMe to raise $780 for his expenses, including a thermal imaging scope. On his Facebook page, Bring Lumen Home, he posts updates such as: "06.06.2018: Sighting on Lopes Ave. Big tabby coming through back yard."
He also posts photos of other cats that show up on the four trail cameras he installs wherever tabby sightings are reported.
Some pawsitive developments have come out of Bradford's cat-astrophe. He's built an online community of feline lovers and returned a missing kitty to its owner. Bradford also caught six strays while looking for Lumen. He kept one, and four were adopted by others. Bradford and Affectionately Cats, a veterinary clinic that neuters strays, decided that the last cat was too feral for adoption. It was neutered and released.
For now, the search continues. Bradford knows Lumen may have been eaten by a predator or hit by a car, but he is holding out for a miracle.
"I don't know when I'll finally give up hope," Bradford said.