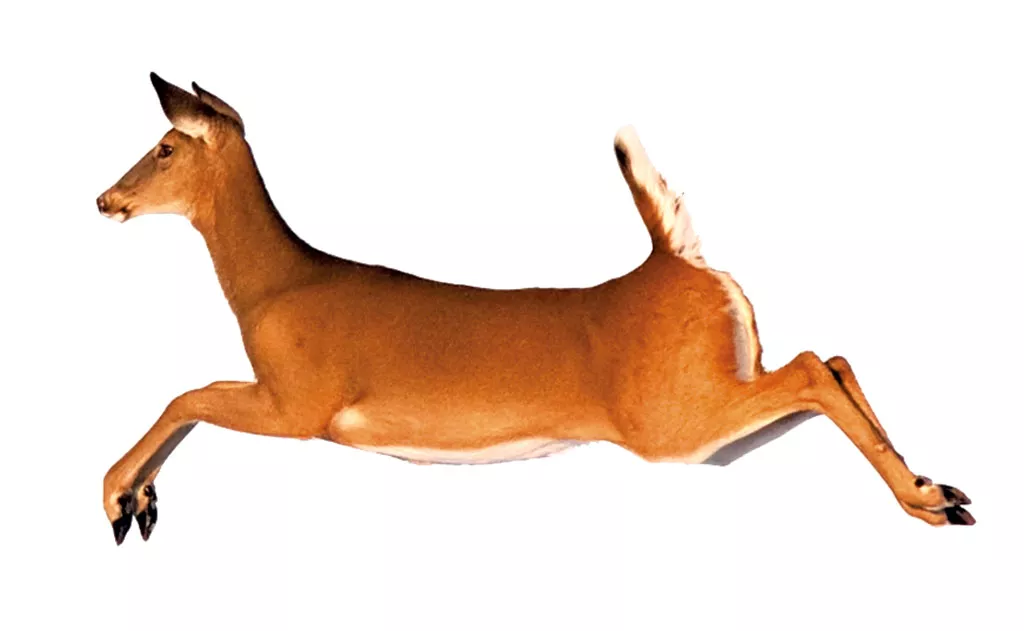 "Last night it was pretty bloody in here," Jeff Houde said with a slight grin, gesturing around his East Burke trailer. Dressed in camo Crocs and a Nike T-shirt, Houde explained that a game warden had stopped by with a dead moose that had been hit by a car.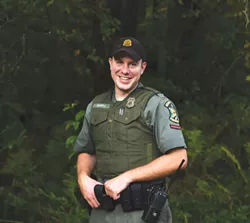 Sarah Priestap
Jeff Whipple
By the next day, Houde, a soft-spoken man with a bearish physique, had cleaned the house, and the meat was vacuum-sealed and stored in the freezer.
Wild game is a staple in the Houde household. Between Jeff, his wife, Val, their son and their three adopted grandchildren, they consume a lot of it.
They aren't the only people who've received roadside bounty from the Vermont Department of Fish & Wildlife, which divides the state into 32 districts, each of which is patrolled by a game warden.
Disposing of roadkill counts among their less glamorous duties. After recording some basic biological data about the deceased creature — gender, approximate age — it falls to them to clean up the carcasses, which generally get dumped at designated spots on state land.
But Vermont game wardens periodically encounter what they call "salvageable" roadkill. Many maintain "deer lists" — names and numbers of local residents with a taste for free-range cuisine. Warden Chad Barrett of Waterbury keeps three lists in a notepad in his truck — one for people who prefer venison, one for bear and yet another for moose.
"With an average-sized whitetail deer, you can get 80 pounds of meat off it," Barrett estimated.
"We don't always want to be the person out there writing tickets," explained Greg Eckhardt, a 17-year veteran whose district includes the towns of Londonderry and Windham. "If you can help someone out, it's pretty cool."
Most wardens have long-standing relationships with churches, fire departments and other institutions that hold game suppers. Eckhardt supplies the Weston Rod & Gun Club, which hosts a December dinner. "If it weren't for him, we wouldn't have moose," said club president David Johnson.
Like a restaurant with a secret menu, wardens don't advertise the service; you have to know to ask about it. Only Vermonters are eligible, because it's illegal to transport roadkill across state lines.
How much meat can be had depends on the district. Warden Rob Sterling said roadkill is relatively rare in his region in the Orwell area, which has a protected forest but no major highways. Sadly for the animals, roadside carcasses tend to be more plentiful in districts intersected by interstates 89 and 91.
In 2014, Vermont Fish & Wildlife documented 98 bears, 142 deer and 58 moose killed by vehicles. Because not all incidents are reported, the actual count is likely much higher.
Wardens usually expect people to pick up the meat and process it themselves, so their lists include a lot of hunters.
"Most people don't have the means to cut up a moose and ... don't want to be called at midnight," explained Nick Doane, who works for the highway department in Londonderry. Previously the proprietor of a butcher shop, he'll take a call from Eckhardt at any hour.
When the weather is hot, animals will spoil within a couple of hours; telltale signs are bloated bodies and bluish hues. But during the winter, cold temperatures can preserve an animal on the side of road for several days. The downside to winter, according to roadkill connoisseurs, is that venison doesn't taste as good after months of frigid temps, during which deer rely on a hemlock-heavy diet.
Harvesting roadkill is illegal in some states, but in Vermont, dead animals are fair game — as long as people don't break any laws to get them. Especially zealous collectors have been known to listen to police scanners for accident reports. Before removing roadkill, the harvesters must first call the local warden, who'll give them a tag — a five-digit number unique to that animal — before releasing it to them.
Some western states have outlawed roadkill consumption out of concern that people might target valuable game such as elk and claim it was an accident. But that rarely happens in Vermont, according to the state's chief warden, Jason Batchelder.
His colleagues say their informal distribution system has been in place for as long as any of them can remember. Most people want venison, which, like moose meat, tends to be lean and rich; bear, according to aficionados, can be greasy, making it more of an acquired taste. Smaller animals rarely make it out of a crash with their internal organs intact — one of the criteria for what's edible.
Houde's roadkill interests, however, are more catholic. He grew up in a family of 14 on a 550-acre dairy farm in the Northeast Kingdom and is experienced at "cutting up animals," he said. Salvageable meat goes in one of several large chest freezers to feed his family of six. He grinds up bruised meat to use as coyote bait and dumps carcasses in the "boneyard" across the road, which gives off a putrid odor.
Although arthritis and degenerative disk disease prevent him from doing much hunting, Houde's still an avid trapper; it's a family tradition. Before an interview last Thursday, he picked up his camo-clad teenage granddaughter, Cindy, who'd been out bear hunting alone.
Last year, Houde used his tax refund to set up shop as a taxidermist. With help from YouTube and a few DVDs, he's already preserved 43 "critters," as he affectionately refers to them — including skunks, raccoons, coyotes, ermine, bobcat and otter, some of which were salvaged from the side of the road. The skunks serve a dual purpose: Using a syringe, Houde extracts the pungent scent from two glands on either side of the anus. He sells it for $15 an ounce to a Canadian man, who ships it to China, where it's used in perfume, according to Houde.
"We don't eat the skunk!" his wife, Val, clarified from across the room. She depends on domestic animals for her hobby: fashioning angels, dragonflies and other figurines out of pheasant and rooster feathers — some dyed with Kool-Aid — and hot glue.
Houde is also a firearms safety instructor who helps train new hunters, some of whom consider wardens to be adversaries. He thinks roadkill handouts help the outdoor enforcement officers demonstrate that they're "not just big green men" policing the woods.
Warden Jeff Whipple certainly fits that color scheme. Wearing Army green fatigues and an olive-colored bulletproof vest, he hopped down from his green state-issued Chevy Silverado truck, which had an ATV parked in the bed. The 28-year-old from South Charleston, whose district covers parts of Orange and Windsor County, idolized game wardens as a kid. From the way he describes poaching investigations, it's clear that, six years after getting his badge, Whipple still reveres the profession. A hunter since age 11, he's got no tolerance for people who break the law.
One evening last November, the day after muzzle-loader season ended, Whipple got an anonymous tip about a poached deer. His investigation — which included taking DNA samples of blood left at the scene — led him to Kevin Sawyer of South Royalton.
When Whipple paid Sawyer a visit and saw blood in the driveway, "We knew we were headed in the right direction," he recalled.
The 34-year-old father confessed and was cooperative, according to Whipple. Most poachers pay a fine and lose their hunting license for a few years. But Sawyer had a bigger problem: He was on probation after 11 months in prison for aggravated assault and wasn't supposed to have a firearm.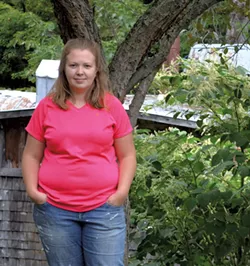 Alicia Freese
Nicole Sawyer
Sitting in a lawn chair under a crab-apple tree last week, Sawyer's wife, Nicole, 31, took a break from shucking corn to recall the incident. She said Kevin was under the impression that muzzle-loaders were exempt, and she noted that he'd shot that deer to feed his family.
Nicole had struggled to make ends meet as she cared for her two kids while her husband was locked up. Her job housekeeping at a hotel didn't make up for the loss of income from his roofing and siding job. Financially, "It was just really, really tight," she said. Ramen noodles and SpaghettiOs were a major part of their diet, and "the exciting meat we had was the cheapest, grossest hamburg you could buy."
So it was crushing when her husband was sent back to prison, two weeks before Christmas. It was even harder to break the news to their kids. "I probably sat in the parking lot after they took him away for 45 minutes, just crying and trying to put myself together for the kids," she said. Their 4-year-old son was especially devastated.
Whipple had seized the deer as evidence, but he was also sympathetic. Nicole recalled him saying, "Well, you guys could have called me. I give away meat all the time."
On Christmas Eve, Nicole got a call from Whipple asking if she was home. He showed up with large container. "This box was chock-a-block full of venison and moose meat," she said. "He even had venison bratwurst, wrapped, taped, labeled and everything." Whipple had processed it himself.
On Christmas morning, Nicole made venison steak for her family's breakfast. "I couldn't believe it," she said. Her husband, released sooner than expected, joined them, she said.
Whipple isn't the only warden who has given roadkill to someone he's arrested. Eckhardt recalled apprehending a young man for poaching a deer, whose family, he knew, "could use the protein." He told them: "OK, how come you're not on my list?"