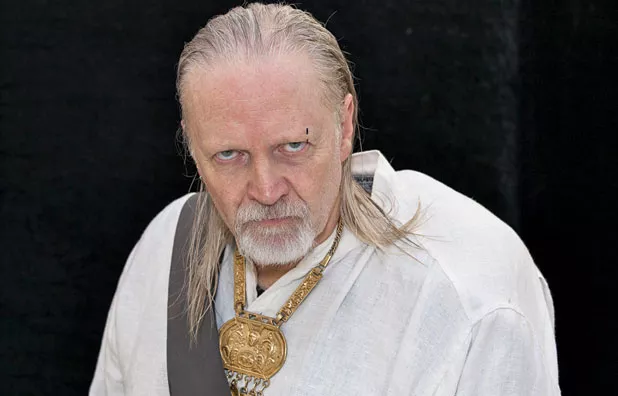 Apart from the black tooth of a comb wedged into an old piercing in his left eyebrow, Paul Schnabel doesn't look the least bit "deformed, unfinish'd" — which is how Shakespeare describes Richard, Duke of Gloucester, soon to become Richard III. But Schnabel will take on that scheming, dynamic role, a dream for many actors, in a Middlebury Actors Workshop production that opens this Thursday night.
At 60, Schnabel retains the good looks of the leading man he's been in a few films and theatrical productions, in London and New York as well as in Vermont. His classical features are framed by whitened stubble and thinning, shoulder-length hair. Schnabel has a pearly smile that he flashes frequently during an interview at Radio Bean in Burlington.
He may look like a star of the stage and screen, but associates say Schnabel exhibits none of the egomania of a Broadway or Hollywood prima donna. "He's kind of a dream actor to work with," comments Melissa Lourie, artistic director of the Middlebury troupe. "He's incredibly talented and intuitive and not at all needy."
Steve Goldberg, a prolific Burlington playwright who has worked with Schnabel on several shows over the past 20 years, adds that "he's actually been an inspiration to me." Goldberg says he wrote a few of his plays expressly with Schnabel in mind. "I imagined him in certain roles. But he also develops parts and doesn't decide right off the bat how he's going to play them," Goldberg relates.
In the case of Richard, Schnabel says he's "still shaping the character" a few days prior to the show's opening. He's been working for the past six months on a part that involves "a massive amount of memorization."
It's a lot to pour into a piece that will run for only six performances. How frustrating is that? Schnabel is asked. "Very," he replies. "You feel like you're just getting into a complex piece — really starting to develop it — and then, bam! ... it's done."
The under-two-hour version of Richard III Lourie is staging is less demanding than the three-hour-plus productions in which Richard has been played by the likes of Al Pacino, Laurence Olivier and Abraham Lincoln's assassin, John Wilkes Booth. Shakespeare's history play, written in 1591, poses knotty challenges to contemporary audiences even in abridged form, Schnabel notes. He points to its "dense, poetic language and lots of references that nobody gets anymore."
But Schnabel will help make the Middlebury show accessible because he's adept at stressing the key words in the bard's more oblique passages, Lourie says.
Shakespeare depicts Richard as a sociopathic hunchback, which may or may not square with our evolving knowledge of the historical figure who was slain in the Battle of Bosworth Field in 1485. A recent archaeological discovery in the English city of Leicester may confirm that Richard did indeed have a curved spine. But the excavation of what's believed to be the king's skeleton could also lead to a favorable revision of accounts of his brief reign — one for which Richard's apologists have been advocating for centuries.
"He was a man of his time," Philippa Langley, the head of Britain's Richard III Society, tells the New York Times in a September 23 story on the Leicester dig. "But what we know of him doesn't stack up to his being a brutal man and a serial killer."
In his own interpretation of the role, Schnabel says, "I'll be playing him as a psychopath, because, given the way Shakespeare wrote it, how could you not?" At the same time, the actor recognizes that "the play was created as a sort of propaganda piece — an entertainment." Shakespeare also incorporated comic elements into Richard III, Schnabel says, which he will be sure to educe.
The star is being outfitted with "a very realistic hump we made for him," Lourie says. Schnabel will also embody Richard by seeming to have a splayed foot and a withered hand, the artistic director adds.
The actor brings professional familiarity to his latest role, having played Clarence, the king's brother, in a 1999 Lost Nation Theater production of Richard III. That's one of "nine or 10" Shakespeare plays in which he's had parts during his 30-year career, Schnabel says.
For any part-time actor, however, versatility is a necessity. Schnabel has played a wide variety of roles, none of them Shakespearean, in his work with the New York City-based Riot Group. "Our mission is to create and perform controlled burnings," declares the website of this "experimental tragi-comedy" group, whose current production — from a prominent Mexican playwright — is entitled I Hate Fucking Mexicans.
Schnabel says he greatly enjoys being a company member of the Riot Group because of its "high-level artistic caliber." He also draws about half his income from those performances.
The rest comes from painting and carpentry work Schnabel picks up in and around his native Burlington. He doesn't make much from either his theatrical or manual-labor gigs. "I live pretty much on the margins," the Old North End resident says.
Schnabel donates a large portion of his time to Off Center for the Dramatic Arts, which bills itself as "Burlington's Black Box for Cutting-Edge Theatre." He cofounded Off Center two years ago and now serves as its president. "Without Paul, that thing would never have gotten started," says Goldberg, another of the cofounders. "He's really generous with helping local theater."
Schnabel affirms that "the scene here is very important to me, and I'm really interested in helping grow the scene." Despite his connections to the Off- and Off-Off-Broadway worlds, Schnabel is no Manhattan-centric snob. "There's good theater and there's bad theater everywhere, including Vermont and New York," he says, and adds that he doesn't rue not having lit up the Great White Way.
"Friends of mine who moved to New York — almost all of them just do auditions," Schnabel says. "But I've gotten to play some great roles here. I wouldn't want to trade places."
Richard III, produced by the Middlebury Actors Workshop. Thursday through Saturday, November 1 to 3, at 8 p.m.; Sunday, November 4, at 2 p.m. at Town Hall Theater in Middlebury. $20; student rush rates at the door.