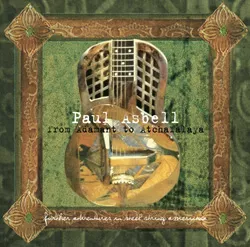 (Self-released, CD)
From Adamant to Atchafalaya, the third in a series of solo CDs that venerable Burlington musician Paul Asbell has produced over the past 10 years, is final proof — in case there was any doubt — that he is a guitarist to be reckoned with. The 13 tracks on this disc showcase the breadth and depth of Asbell's knowledge of the music and his technical mastery over his instrument. The album will also be an eye-opener for fans who had only seen him wielding an electric guitar onstage while playing with the Unknown Blues Band or seminal local jazz band Kilimanjaro.
Asbell is a connoisseur and collector of fine acoustic guitars. And on this recording he brings out some of his favorite ones and shows them off on some of his favorite performance pieces. The first track sets the scene. Asbell's version of "Bill Bailey, Won't You Please Come Home" could also be named — if it were a special on a Chinese restaurant menu — "Bill Bailey in Many Ways."
We are treated first to classy fingerpicking à la Big Bill Broonzy — one of the great masters of acoustic blues who often was a guest at the Asbell house when Paul was a youngster. Then we get a sizzling slide version on a resophonic guitar — a 20th-century invention that uses a metal "pie plate" to amplify the sound of the instrument so that it's loud enough to compete with a big band. And then the song morphs into a jazzy, swing-time version. This track really, moves and, as he sails through it all, Asbell hardly seems to break a sweat. Lush and precise playing is his specialty, and he has filled the disc with a signature style and richness that has inspired many local guitar students over the past 40 years.
It must have been challenging for Asbell, who plays such a wide variety of music so well, to winnow the many options that could have been included on Adamant to Atchafalaya. The title, by the way, refers to the hometown of a classical music school in central Vermont and to a huge, swampy basin in south-central Louisiana that is one of the centers of Cajun culture. In this case, the variety comprises a satisfying combination of standards and surprises.
After treating his listeners to the likes of Blind Blake's country-blues classic "Police Dog Blues" and Steely Dan's "Deacon Blues," Asbell wraps it all up with a lovely rendition of "I'll Be Seeing You."
Paul Asbell will perform at a CD-release concert at the FlynnSpace on Saturday, November 16. Lots of beautiful guitars and some amazing music guaranteed.