courtesy of David McClister
Patty Griffin
In 2012, 53 million unmarried women accounted for more than half of potential female voters in the U.S., and made up 25 percent of all eligible voters, according to the Voter Participation Center in Washington, D.C. Those are the kinds of numbers that can swing elections — and have. For instance, 67 percent of unmarried, voting-eligible women helped assure President Barack Obama a second term in the White House.
As with any key demographic, the challenge is getting voters to the polls — and before that, getting them registered. In 2010, nearly 40 percent of eligible single women were not registered to vote. That means a lot of voices aren't being heard in politics. In Patty Griffin's view, it's a big problem — one the Grammy-winning singer-songwriter aims to help solve.
Griffin, along with Nickel Creek's Sara Watkins and Vermont's Anaïs Mitchell, recently launched a national tour called Use Your Voice. Its mission: to encourage women voters to wield their power at the polls.
Griffin and co. will perform at the St. Johnsbury Academy's Fuller Hall on Tuesday, March 8. In advance of that show, Seven Days spoke with Griffin by phone about the tour and the impact women could, and should, have in politics. We also solicited questions for Griffin from Mitchell and Watkins — because why should a male journalist have all the fun?
SEVEN DAYS: I gather that the Use Your Voice tour is sort of a songwriters-in-the-round setup?
PATTY GRIFFIN: We're doing it in the round: round-robin. But it's also almost a full-band setup. So we're all jumping around all night long, playing on each other's music. Some of us are a bit challenged, technically. But we're learning a lot. It makes the night fly by. Sometimes it's scary, but it's fun.
SD: I assume you were a fan of Sara and Anaïs before the tour. Have you developed a new appreciation for their music after playing with them a bit?
PG: I was a big, big fan of both before I got here, and I'm a bigger fan now. We're playing a lot of material I hadn't heard before, and I think [Sara and Anaïs] are among the best of their time. It's really exciting to get to stand next to them every night.
SD: The purpose of the show is to raise awareness and encourage women to get out and vote. Why is that such an important issue to you?
PG: Well, women are really different from men. I heard Katharine Hepburn in an interview with Dick Cavett in 1971. There was a really young, hip women's liberation movement going on, and he asked her about that, because she was sort of seen as a feminist. And she said that women are simply not the same as men, and that if the women's liberation movement ignored that fact, they would be missing something important, and maybe failing where they should succeed.
As I age, I understand that not only are we different, but that those differences are really important. We have to contribute our understanding back into society. And society isn't really structured, anywhere in the world, for women to be able to participate on an equal basis politically. So we have to get women in the mind-set that, well, using your voice is to participate in their communities and have a say in how things go. I really feel like our survival depends on it, as a country and as a planet. We need to get ourselves involved and not apologize for it.
SD: Why do you think women might be reluctant to do that?
PG: I don't think we're in the habit of doing it, as females. You might get the idea that you don't have as much of value to contribute in a political world. But you do. A woman's point of view in politics might be sort of new to all of us. But we need to start contributing.
Single women are a [large bloc] of eligible voters in this country. I don't think a lot of people are aware of that. I wasn't until a couple of years ago. So consciousness raising, hopefully, leads to some kind of system that makes it easier for everyone to vote, and to more women participating with more regularity.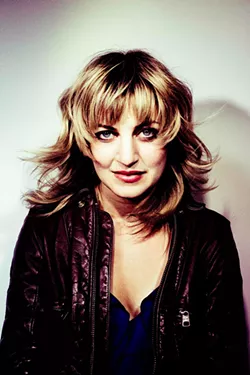 courtesy of Jay Sansone
Anaïs Mitchell
SD: Do you think the tenor of our political discussions might change if more women's voices were involved?
PG: Yes. It would absolutely change. Just watching some of these debates, they don't have anything to do with what I view as reality. And I wonder, if there was more female participation, if that might shift to more practical issues and discussions.
SD: It seems worthwhile to find out.
PG: It's worth a shot, right? Let's just try it and see what happens.
SD: Agreed. So, I solicited questions from Sara and Anaïs to ask you.
PG: For me? Uh-oh.
SD: [Laughs] They took it pretty easy on you. This first one is from Sara. She asks: "You have accomplished so much in your career but still maintain such great ambition. Are your goals more creative, based in simply refining your art, or do you have milestones or new things you want to do?"
PG: I think the ultimate goal is really to pull stuff out of the air. If you're an artist, that's what you live for, living deep inside that. So the goal is to continue on with that in my life.
But I would like to have my work be applied in a more personal way, which I feel like we're trying to do with this tour. To help in our time and society and culture, to get off my butt a little more often and do whatever I can to help with the future. And that's a goal which is new in the last four or five years.
SD: Do you think that's a by-product of experience, of growing older and wiser?
PG: Yeah. I'm gonna be 52 in a few days, actually. So it's about half over for me, I would guess. Unless I'm gonna be the lady who gets to visit the president in fiftysomething years. You never know. But your priorities automatically shift at that point, and you have to think about how you want to live the remainder of your days.
To me, that's developing growing kindness, helpfulness. I've spent a lot of time growing this career, which takes a lot of me, me, me stuff. And I've pulled a lot out of it. So I'd love to start finding ways to — this is such a cliché — but to give something back.
courtesy of Aaron Redfield
Sara Watkins
SD: Here's Sara's next question: "When you are writing a song, do you stay on it until it's done, or are you comfortable having lyrics and ideas sit around for a few weeks, months or years?"
PG: I'm not necessarily comfortable with it, but I feel like they show up when they show up. Sometimes you can push a song and pull things out. But some things want you to wait. Some ideas just say, "Don't push me." So you might get a tidbit and then sit on it for 10 years. That's definitely happened.
SD: These next questions are from Anaïs: "Your lyrics feel so intuitive to me, like you hit an open portal and channel them. I'm curious what your songwriting process is like, and whether you do a lot of editing."
PG: It depends, again, on the song. There are different ways you go about it. Sometimes you think you're writing to just be sort of crafty. And sometimes you've got something that's just a little thought. And there is such a variety of ways to make up songs. The ones that just show up fully formed, those feel great to write. We all live for those.
SD: Her next question: "What have you learned during your time in the studio with different producers about your favorite approach to making records?"
PG: My favorite approach has to do with the ability to live with spontaneity. Everyone always says, "It's all about performance!" But what does that mean? We live in a time when it's so easy to go back and correct. There's pitch correct. Everything's got a correctness, which I don't even know what that means when it comes to music. So my favorite experiences in the studio have been when we work for a performance, for a feeling. And it may not be perfect, but it's the right performance. There might be a pitch issue, or you might not have sung something just the way you wanted. But I'm not Aretha Franklin. So it's always a problem.
That final take is never going to be exactly perfect. But that's my voice. It is what it is. So you have to find somebody to work with who understands how to get the most vulnerable, open performance. And that takes a lot of patience and kindness to do that.
SD: Here's Anaïs' last question: "You are a New Englander but adopted Austin, Texas, as your home. What do you love about the Northeast, and what were you eager to leave behind?"
PG: I can answer the last part of that first: the winter.
SD: I had a feeling you might say that.
PG: I'm not a winter person at all. But there is something haunting about New England to me. It's always in my dreams. New England is the home inside of me. It's where most of my dreams are from. I grew up in Maine. There were failing paper mills, a rough landscape, the smell of pine and the smell of the ocean. There are specific things about where you grew up that will always be with you and make you go. They're the gasoline. And New England is always going to be that for me.