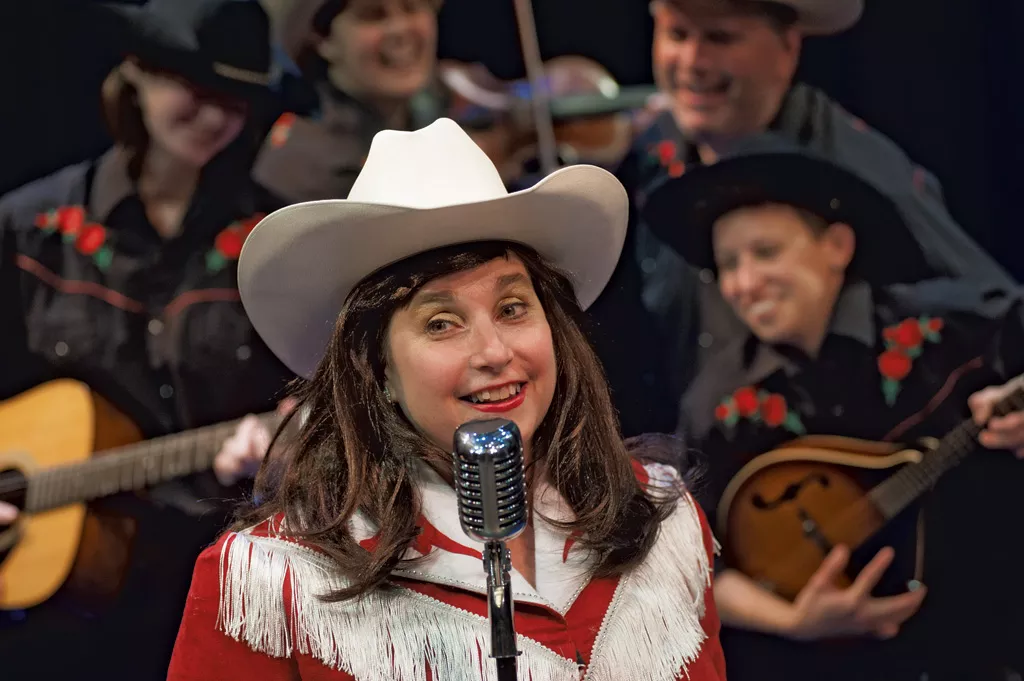 courtesy of rob eddy/first light studios
Kathleen Keenan
The musical Always... Patsy Cline runs only two acts in 90 minutes. In her actual life, the country and pop music star only got 30 years — she died in a plane crash in 1963. But her short time in the music business brought Cline remarkable success. Her hit songs are still well known today: "I Fall to Pieces," "Walkin' After Midnight" and "Crazy," to name a few. Posthumously, she was the first female singer inducted into the Country Music Hall of Fame. And country isn't alone in claiming her: VH1 included Cline on its 100 Greatest Women in Rock and Roll list in 1999.
Cline's endurance goes without saying, so it's no wonder that music-theater veteran Ted Swindley created a show about her. This week, Montpelier's Lost Nation Theater begins its own production, with LNT cofounder Kathleen Keenan in the title role.
Always... Patsy Cline isn't just a concert — though, with 27 songs, the production has plenty of music, and a live band led by music director Mark Howard Hanson. There's also a story line, which Swindley built around the real-life relationship of Cline and "super-fan" Louise Seger. Letters read aloud onstage give the audience glimpses of the highs and lows of Cline's life, as well as of the two women's remarkable friendship. Swindley took the title of his show from Cline's classic sign-off in her missives to Seger.
Directing the show for LNT is Tim Tavcar, a familiar name in Vermont's music and theater circles (who remembers WordStage?). Tavcar moved back to his hometown of Cleveland several years ago, but returns at least once a year to work with LNT on a show. He has a fleeting personal connection to Always... Patsy Cline: When Tavcar was working in Houston, Texas, in the early '80s, so was Swindley, albeit at a different theater. "We never worked together, but we saw one another socially, and at events promoting the then-fledgling theater scene in Houston," Tavcar writes in an email.
Under Tavcar's direction, the show "will underscore the relationship between these two women, Patsy and Louise," he says. "I was attracted by the [transformation] of the Louise character from 'super-fan' to lifelong loving friend and constant emotional support" for Cline.
Keenan — briefly aka Patsy Cline — shared her thoughts about the upcoming production with Seven Days.
SEVEN DAYS: American Theatre magazine says that Always... Patsy Cline is one of the most produced musicals in the country. Why do you think that is?
KATHLEEN KEENAN: Patsy Cline is one of America's greatest singers; her voice and artistry is indelible, defying and expanding genres. Patsy was a gutsy, determined woman who trail-blazed the way for other woman artists. So the show is popular because of her popularity and the fact that it features 27 of her signature songs. But I think the secret to its success is that it's not simply a concert — or a Las Vegas impersonation act — but a play with music, based on a true story of a chance encounter with a super-fan, Louise Seger, that blossoms into a lasting friendship. Louise allows you to see the woman behind the hits.
SD: Why did you choose to do this show?
KK: We thought [audiences] would enjoy the chance to see the show in an intimate environment like ours. We knew it could provide some terrific opportunities for folks in our company/creative family — whom we also knew were well suited for the roles. Maura O'Brien has the heart, emotional availability/intelligence and the comedic skills needed to bring Louise to life. And to get the chance to [sing] Patsy Cline was too good for me to pass up.
SD: Patsy made it sound effortless but had a wide range and agility in her voice. What's the greatest challenge for you in performing her songs?
KK: It's such a gift as an actor-singer to work on material that demands so much of you. I'm spanning 3.5 octaves to sing the show. That's pretty unheard of in most musicals. Add to that her exquisite phrasing and her amazing breath control — and, you're right, it's a tall order. Her expressiveness is something as an artist that I can really relate to and mine in my own performance.
SD: Of course, this isn't just a concert — you also have to becomePatsy onstage. How do you find and express your inner Patsy Cline?
KK: Before running a theater consumed my life, I enjoyed the singer-songwriter career, playing in bars, clubs and in venues like Folk City and Speakeasy in NYC. So I'm familiar with that struggle. Of course, I did a lot of research on Patsy. She was a woman who went for her dreams and didn't let much get in her way. That's pretty inspiring. But I think mostly my inner Patsy comes out in the great joy of making good music and singing with truth, commitment and emotion.
SD: Tell me about that cute red cowgirl outfit. Did someone make it for you?
KK: You bet. My good friend and colleague, costume designer/actor/singer Shawn Sturdevant, custom-built it — inspired, of course, from Patsy's outfits.
SD: The musical is told via letters between Patsy and Louise Seger. Can you describe the women's relationship?
KK: You ever have a friend with whom your bond was instant and full-blown? Where it felt like whenever you saw one another, you had an almost "chemical" reaction on each other? I think that was Patsy and Louise. Louise was a divorced mother of two when she and Patsy met. Patsy was away from home for the first time since her baby was born — sent on tour by her label without any assistance — and awfully glad for a friendly face who would treat her as a person. They kick up a lot together in the show! And they also let their guards down.
SD: Tell me more about Maura.
KK: Maura's been working with LNT since 1998, I think! She's done lots of work with us over the years, and is considered a company member. She moved to Montpelier about seven years ago.
SD: Who's performing the music?
KK: We've got a combo that features Mark Howard Hanson leading from the piano. George Seymour handles the pedal steel and fiddle. Dov Schiller is on drums.
SD: Mad Libs question: The last night of Always... Patsy Cline has ended, and I feel [adjective]. The audiences [verb, past tense] the show. Now I'm going to go home and [verb].
KK: Bereft but exhilarated; went crazy over; sleep!