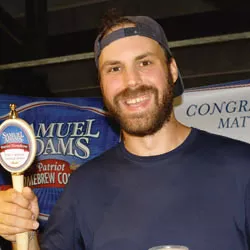 Last week was a good one for Matthew Welz: He successfully defended his mathematics dissertation (in abstract algebra) at the University of Vermont; and a few days later, he found out that one of his homebrewed beers had been chosen to flow at Massachusetts' Gillette Stadium this winter.
A robust smoked porter brewed by Welz won this year's fifth annual Samuel Adams Patriot Homebrew Contest, which means that it will be served to New England Patriots fans all season.
"I feel lucky to get this attention," says the understated Welz, 32, who lives in Cornwall and is the first Vermonter to win the competition.
Welz began homebrewing seriously about three years ago. "A lot of stuff started out on the stove top. Once I got more serious, I went to all-grain brewing and mashing; I started brewing outside with a propane tank for my heat source," he says.
His first efforts were "hoppy, American styles," Welz says, but he later branched out to German styles, as well. For his winning beer — and first stab at a smoked porter — he used five different kinds of malt, including smoked varieties, and German noble hops "for spiciness." The final product has a "maltlike sweetness," Welz says, and the roasted espresso notes that some judges detected are a byproduct of the carafe malt.
Sam Adams — which is owned by the Boston Beer Company — started the homebrewing contest in 2007 as a way to encourage Pats fans to brew their own beers. Since then, Gillette spectators have been exposed to a Baltic porter, a rauchbier, an oatmeal stout and an India pale ale.
When Welz was named a semifinalist earlier this year, he shared his recipe with the Boston Beer Company; last week, he tried the corporation's replication of his beer at a preseason Patriots game. "I was somewhat surprised by how close it was to what I did at home," he says. (For the record, Welz is an enthusiastic drinker of Zero Gravity brews, the Alchemist's Heady Topper, and beers from Hill Farmstead Brewery and Lawson's Finest Liquids.)
Although Welz has judged a few beer contests, he currently plans a career in academia and has no intentions of taking up commercial brewing — "though I might consider it if it was a chance to be creative," he says.